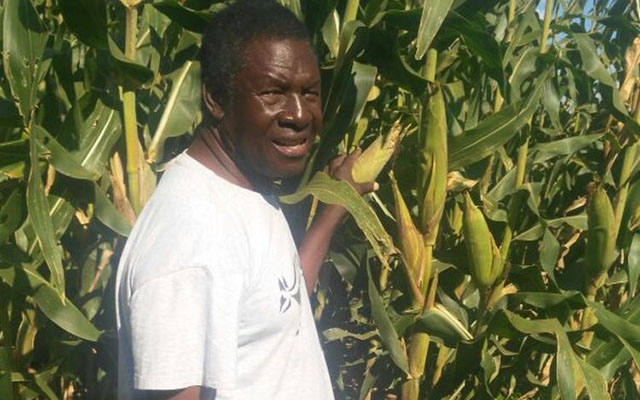 The ManicaPost
Freedom Mutanda  Post Correspondent
A Middle Sabi farmer, Mr Lucky Mhlanga, has joined thousands of farmers who are set to reap rich rewards from their involvement in the much vaunted Command Agriculture that is set to change the face of industry and the economy this year.
However, his road to success was not a walk in the park. In spite of those hurdles, he came out with a good yield.
''I put 30 hectares under maize under the auspices of the Government-initiated Command Agriculture programme. Over the past years, I had consistently utilised 10ha for the growing of green mealies and that paid off although with the advent of Command Agriculture, I expect to get worthy products,'' the affable Mr Mhlanga said as he was flanked by his son-cum manager, Chris.
They say: "Kugara nhaka kuona dzavamwe'' and going back in history, the USSR and China went about the business of supporting farmers and the results are China is able to feed its citizens.
''Government provided us with seed, herbicides, fertiliser, tillage and fuel to kick start the programme and I have never looked back ever since. I am grateful to the new Government policy which places food security right at the top of it programmes,'' said Lucky Mhlanga as he surveyed his crop.
Mr Mhlanga has provided the much-needed employment as he battles the fall armyworm and the armoured crickets that threaten to decimate part of his field.
Since the outbreak of the fall army, he has battled it head-on with initial failures and subsequent successes owing to a diligent farm manager and workforce.
''We have 10 permanent employees and temporary employees come in when there is need for that. For a time, we fought a successful battle against the maize stalk borer.
However, the fall army worm presented problems as initially we didn't know it. It resisted Carbaryl, Lambda and Fenvelarate, but Chlopyrifos and Karate Zeon produced the desired results,'' Mr Chris Mhlanga, the manager, said.
He will pass the mandatory five tonnes per hectare that Government requires for the strategic grain reserve and that will go a long way in exorcising the famine ghost of 2008 when the local Grain Marketing Board depot was inundated with a legion of people who wanted the scarce grain.
''I believe we will have a bumper harvest. Surely, mechanised equipment ought to be used to harvest for human labour can't do the job and finish it. I would like to appeal to Government to avail centre pivots in-order to maximise water use. Our workers devised methods to raise the pipes above the maize every four to six hours and that is unhealthy,'' said Mr Mhlanga
With Government intent on replicating the Command Agriculture for winter wheat production, Mr Mhlanga stands ready to help Zimbabwe regain her bread basket status in Africa.
There are five farmers involved in the maize production in Middle Sabi under Command Agriculture. One hopes that more farmers would join the bandwagon in the command agriculture targeting wheat production.