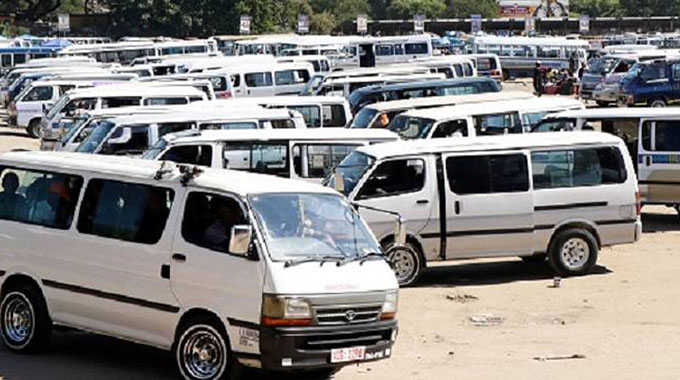 The ManicaPost
Abel Zhakata Senior Reporter
Commuter omnibuses and pirate taxis (mushika-shika) are defying Government directives on the ban of private players plying inter-city routes, with some of them even advertising their services on the social media, The Manica Post has established.
With the country's Covid-19 cases having increased to 1 089 as of Wednesday, including 346 local transmissions, Cabinet early this week resolved that Government shall be solely responsible for inter-city travel for people who really need to travel, especially those who need to seek medical attention.
The Zimbabwe Republic Police has therefore tightened the noose on defiant private players, with a total of 326 pirate taxis and commuter omnibuses impounded during the past week in Manicaland alone for flouting Covid-19 regulations.
However, it is almost business as usual for some private players as some bad apples within the police force have been accused of facilitating the illegal activities.
Initially during the first weeks of the ongoing national lockdown, people would travel at night in an effort to evade the police.
Now more than three months into the lockdown, the private players seem unfazed and are operating openly.
Some have even engaged touts to help them lure passengers to their vehicles.
Surprisingly, some of the pick-up points are just a stone's throw away from mounted roadblocks.
In Chipinge, commuters are being picked at the NSSA complex.
In Mutare, the kombis and mushika-shika are picking commuters at Mutare Teachers' College, Dangamvura Link Road, Sakubva Swimming Pool, Paulington Post Office, Zesa Megawatt Building, Victoria Chitepo Provincial Hospital, Zuva Christmas Pass Service Station, Penhalonga Turnoff and Magamba Training Centre.
Pirate taxis plying the Mutare-Harare route then pass through roadblocks at Zuva Christmas Pass Service Station, Penhalonga Turn-Off, Nyazura, Rusape, Headlands, Macheke, Marondera and Mabvuku turn-off.
Private operators who spoke to The Manica Post claimed that they are buying their passage through greasing the palms of unscrupulous security details at the check points.
As a result of the uncouth and pricey practice, fares from Mutare to Harare are pegged at between US$8 and US$10.
Mr Tawanda Chisoni, a pirate taxi driver who plies the Harare-Mutare route, vowed to continue doing business despite the increasing Covid-19 cases and Government's directives.
"Never mind the roadblocks, I will always find my way to Harare," he said.
Although Mr Chisoni's Toyota Wish has the capacity to carry seven passengers, on average he carries 11, with the front seat occupied by three people, including the driver.
"You just have to sit down and come up with a good fare which caters for all the 'inconveniences' you encounter along the way. Currently, I am charging US$10 for a trip from Mutare to Harare.
"You can easily bypass traffic cops. A $5 note will buy your passage at the roadblocks, even if you are carrying excess passengers," claimed Mr Chisoni.
"However, I only pay the cops when it is absolutely necessary to do so, otherwise at times I circumvent the roadblocks by using some roads that we have created to bypass them," he said.
Mr Chisoni revealed that at some of the roadblocks, he asks his passengers to disembark from the vehicle, walk through the check points, before he picks them after driving through.
"Passengers understand our predicament considering the current transport challenges. In some instances when traffic cops had impounded my vehicle, the passengers rescued me by volunteering to pay the fines so that we could continue with the journey."
Mr Chisoni also revealed that he is using social media platforms to inform passengers of his traveling schedules.
A passenger who was travelling to Harare early this week, Mr Nigel Muchina, said he has a family in Mutare, but works in Harare, hence his need to travel regularly.
"I know it's risky to use this pirate taxis but I need to constantly visit my family. I have witnessed a lot of rot on the highways but l have to turn a blind eye to this because l am only concerned with reaching my destinations.
"I am in one of the groups created by our usual transporter who usually sends messages informing us his schedule, especially on Fridays and Mondays.
"This is a well organised syndicate that also involves fuel attendants as the pirate taxis get preferential treatment at some service stations," said Mr Muchina. 
When contacted for comment, Officer Commanding Manicaland Police Commissioner, Dr Wiklef Makamache said the police force has put in place measures to flush out the bad apples that are receiving bribes at roadblocks.
"The health of a nation cannot be put at risk by rogue elements who accept bribes and give passage to these pirate taxis. Measures have been put in place to check compliance and ensure that as the police we do our part to stop the spread of the virus," he said.
Dr Makamache said screws are now being tightened on the highways.
He said besides increasing the number of roadblocks on the highways, most of the check points will be mounted 24 hours a day to ensure compliance.
"The law is coming hard on those found on the wrong side. These private transport operators should not cry foul when the law catches up with them because everyone should abide by the Covid-19 regulations.
"Local transmission cases are rising and as the police, it is our duty to enforce Government directives," he said.
"Those vehicles are not licensed to transport people so the public should desist from using them. The same goes for those moving around with vehicles without number plates, we will impound those vehicles and arrest the offenders. We are saying no to mishika-shika.
"The police have since studied how these pirate taxis and kombis are operating and we have come up with appropriate measures to counter their activities. We know what they are doing and the net is closing in on them fast.
"The Covid-19 pandemic is real and the police cannot stand by while some rogue elements fuel local transmission by transporting people randomly across cities," he said.