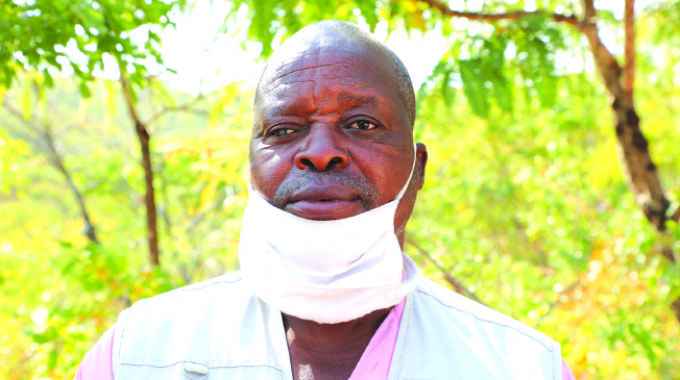 The ManicaPost
Cletus Mushanawani
News Editor
Descending into hideous mine shafts to handle desiccated human remains that break at will can be a great strain to many.
The feint-hearted can easily sweat at the thought of handling human skeletons, with their minds and spirits giving way.
But for the past four decades, some high-willed individuals have been exhuming the remains of fallen heroes from the length and breadth of Zimbabwe.
The suffocating stench and the possibility of getting in contact with dangerous acids does not faze the exhumers as they separate human bones from those of dogs and horses.
In this job, coming across a human skull with a bullet lodged in it, or a skeleton with missing limbs, is "normal".
These are people who succumbed to the Rhodesian bullets and bombs during the liberation struggle and were buried or dumped in mass graves and mining shafts.
The daily experiences of exhumers under the Zimbabwe Fallen Heroes Trust (ZFHT) demonstrates the bloody character of the country's liberation struggle as thousands of lives were lost during the period.
The places where liberation war victims were buried were deliberately concealed by the Rhodesians and several families are yet to achieve closure on the loss of their loved ones.
The ZFHT's chief exhumer, Cde Anyway Chinyani, has to endure long periods of being away from home as he seeks to bring relief to those who are still missing their relatives 40 years after Independence.
He hails from Matepatepa, Bindura, and has two wives and eight children. However, he is rarely home due to his line of work.
Last week, the affable Cde Chinyani was presiding over the reburial of 300 remains of fallen heroes at Matumba Six also known as Herbert Mine near Old Mutare Mission.
The departure of his colleagues in arms, Cde Jimmy Motsi and Cde Bunjira, has not deterred him.
Cdes Motsi and Bunjira passed away before giving the fallen heroes some decent reburials.
One school of thought is that the pair succumbed to the gases and chemicals they were exposed to during the exhumation exercises, especially in mining shafts.
Cde Chinyani revealed that at times, they are forced to use bare hands in exhuming the remains when their latex gloves tear off during the process.
He said in such cases, they take this as a sign that the fallen cadre will not be happy to have their remains handled by covered hands.
"I am not a liberation war veteran but I actively participated during the liberation struggle as a collaborator," revealed Cde Chinyani. We are cognisant of the risk associated with this kind of work, but it is a calling that one cannot resist. Trying to resist saw the fallen heroes coming to us in our dreams or in spirit, asking for our intervention so that they could be reunited with their families.
"Some might think that there are financial or material rewards for what we do but there is none. We voluntarily offer our services for a national cause," said Cde Chinyani.
The chief exhumer is also a prophet in the United African Apostolic Church, but has managed to balance the two roles well.
His tour of duty, which started in 1981, has seen him exhuming remains at Chibondo (Mt Darwin), Rushinga, Butcher (Rusape), Matumba Six (Old Mutare), Chipinge, Chiwere or Ardwell Mine (Mutare District) and Chimoio in Mozambique.
"Whenever we decide to go back home and rest, the spirits of some of the fallen heroes visit us accusing us of abandoning them in shallow graves. We usually endure sleepless nights and most people do not understand what we go through as these heroes need to be accorded decent burials.
"At times we receive calls from the relatives of the fallen heroes as they need us to help them put closure on some of the liberation war mysteries. Some people disappeared without any trace. We do not just enter the mining shafts without engaging security forces and other relevant stakeholders like the Department of Museums and Monuments. They have to confirm that the remains we would have exhumed are of fallen heroes," he narrated.
Cde Chinyani added: "Whenever we get in contact with the remains of the fallen heroes, some of their spirits begin manifesting and they give us names and contact details of their relatives.
"At Chiwere, we received contact details of a hero's relatives in Chipinge. This cadre died well before the cellphone revolution, but his spirit was able to give us his relative's mobile number. When the relative was contacted, he confirmed that they were missing their sibling who never returned from the liberation struggle."
He said they have also managed to dispel misconceptions that some of the remains being exhumed from the mining shafts are those of people who died after the country's Independence.
"In the mining shafts, we are also coming across bones of horses and regalia that was commonly used by liberation war fighters. The Rhodesian Grey Scouts were synonymous with using dogs and horses during their patrols, and the dogs and horses that were killed during the battles were dumped in these mining shafts. We are also unearthing scrap metal from Rhodesian Army vehicles.
Quizzed on how the Trust rebuilds the skeletons, Cde Chinyani said the spirit guides them accordingly.
"We have to rebuild the bodies from the remains of hundreds of people buried together, and are guided by the spirits in this task.
At times the spirits of commanders buried in the mass graves assist in identifying some of the remains of their fellow cadres," he said.
National Museums and Monuments of Zimbabwe eastern region director, Dr Paul Mpira said it has been fairly easy to ascertain if a mass grave is holding both freedom fighters and civilians due to their clothing and personal belongings.
"Some of the victims were buried with coins, National Identification cards, belts carrying bullets, the oil pens used to clean guns, the popular brown and green sting and the stripped camouflage that was used in the eastern countries that supported the liberation struggle.
"Some will be wearing the freedom fighters' hunter shoes or the super pro shoes that were popular before Independence.
"However, we are certain that the bodies could have been injected using a certain chemical to aid deterioration. Whatever was used destroyed even teeth and the skull. This is only the beginning on the research to establish and document the history of the camps.
"There is no systematic burial in the graves. Some bodies were buried in body packs while others were only covered by plastics or blankets," said Dr Mupira.
As Cde Chinyani and his team soldiers on, the Ministry of Home Affairs and Cultural Heritage has drafted a Liberation War Mass Graves and Human Remains Management Policy.
The new policy seeks to improve the management, preservation and protection of mass graves; enhance the documentation, exhumation and protection of mass graves as well as accord recognition, decent burial/reburial and closure on certain persons killed during the liberation struggle.
Following last week's reburials, Home Affairs and Cultural Heritage Minister Kazembe Kazembe said: "The reburials conducted at Matumba Six will not be the last. We know that there are other places across the country with liberation war burials that require our attention so that they become respectable final resting places for the war dead. To successfully deal with future cases, it is Government's observation that a policy framework to guide this work must be put in place.
"Reburial, whilst very important, should, where possible, be accompanied by identification of victims. Identification of victims helps the relatives who have had questions on the whereabouts of their loved ones since the end of the war."