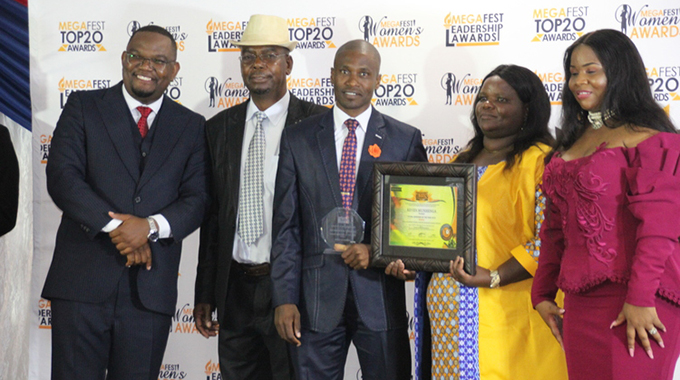 The ManicaPost
Morris Mtisi Post Correspondent
MEGA Market (Pvt) Ltd won the 2018 Megafest Holdings Company of the year award. In a colourful awards ceremony held at the Holiday Inn in Mutare last Friday, Mega Market proved a cut above the rest even in an economic environment difficult to endure.
Credit goes to the top-drawer thinking and strategic shrewdness of the administrative and marketing teams of this all-weather business enterprise.
To prove that Mega Market is galvanised by expert administrative and marketing management its young human resources manager individually won the coveted young manager of the year 2018 award.
Mr Keven Munhenga (35) grew up in the rustic but beautiful Honde Valley. Very humble and smart, he defied all odds and proved what he is made of.  At Mega Market he teamed up with the rest to steady and stir the Mega Market ship to shore despite obvious economic storms.
Megafest did not fail to identify talent in Mr Munhenga and vibrancy in the business of Mega Market as a whole. Asked what he thinks were the attributes that influenced Megafest Holdings, he said: "What you see is what you get…" And indeed what we saw was what we got.
Young Munhenga is steady in character; he is smart, quick-witted, alert and energetic. He has a forward-looking God-guided approach to life.
Mega Market specialises in packaging and distribution of foods, particularly branded varieties of rice and Kapenta. They are also into maize-milling within the Mega-Market brand.
The Manica Post wishes Mega Market all the best in business. We also wish award-winning Mr Munhenga's star to continue to shine brighter and higher.