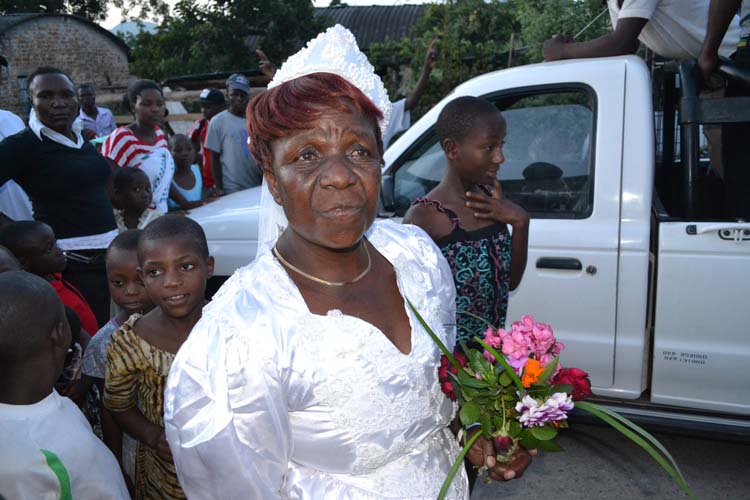 The ManicaPost
Liberty Dube Weekender Correspondent
FIFTY-SEVEN year old popular Sakubva socialite, Sophie Masikuka, popularly known as Mbuya Sauti, pulled a shocker over the weekend when she wedded her 29-year old man – disclosing that she has a spirit of a mermaid that attracts young men.
The popular granny, who once grabbed the headlines for running an infamous brothel in the same suburb, tied the knot with the love of her life – Wellington Mabhiza – in a two-lagged colourful ceremony held at two different places in the suburb's Chineta location on Saturday.
Business was brought to a halt as scores of people jostled to catch a glimpse of the proceedings.
Mbuya Sauti, who was clad in beautiful white apparel, passionately kissed the "apple of her eye" Mabhiza who was visibly charmed by the former's childish blush and candid face. The chemistry was there for all to see.
It was a special day for the couple, despite it being unique and strange in so many ways.
Strange, indeed, as there was no marriage officer or cleric to solemnise the wedding. Despite all this, the controversial granny was the happiest of them all. She was on cloud nine and in her own words she said it was a union made by the gods.
The Weekender learnt that Mabhiza was once married. He divorced his wife before settling for the seemingly aged Mbuya Sauti.
The duo met about two years ago when Mabhiza was a tenant at one of Mbuya Sauti's houses in Chineta. When The Weekender visited her on Monday, she was confident that the marriage would work, despite her having reached menopause. Menopause is the absence of menstrual periods for 12 months.
It is the time in a woman's life when the function of the ovaries ceases and it means, in this case, Mbuya Sauti would no longer be able to bear children.
"Our hearts, our spirits lured each other to be in a relationship like this. I have a spirit of a mermaid that attracts younger men," said Mbuya Sauti. She revealed that she once dated a 35-year old man before she settled for Mabhiza.
"I love him and I know he loves me. That explains why people gathered to see us exchanging vows. The wedding went on well. There was no need for us to have a marriage officer because we felt it was not necessary.
"We are now living under the same roof although we have not yet started having sex. We need to work on something before we do that," she said.
She paid tribute to several people, who came aboard with some assistance, notably former Mutare City councilor Cecelia Gambe. Mbuya Sauti called Mabhiza on his mobile phone after our news crew had requested to see him but he said he was busy.
"I want to buy him a car. I want to make him happy. He is a hard worker. I told his mother that he is free to have a baby with another woman since I cannot bear a child with him," she added.