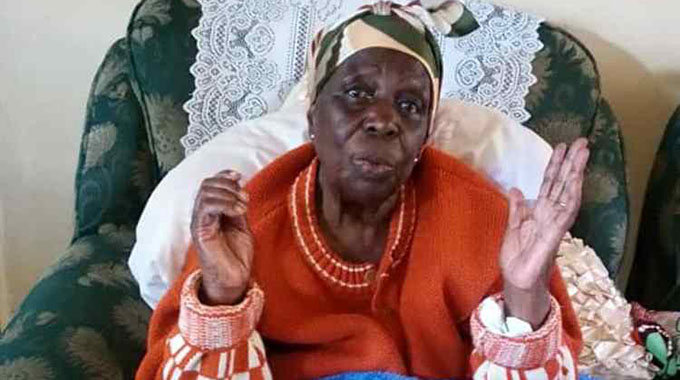 The ManicaPost
Dorcas Mhungu Post Correspondent
At 90, her memory is as sharp as a needle, as she articulately shared her childhood story and intense passion for the profession she chose.
Mbuya Esther Mukome born Sagonda, is a replica of Florence Nightingale and one of the first few girls who ventured into the medical profession as a nurse. During her 25 year-stint as a nurse, she cut many umbilical and among them renowned personalities.
"I was accepted in the forth intake at Bonda Mission Hospital and we were only six girls. But, only four graduated. The other two were expelled after falling pregnant while training," she reminisced with glittering eyes and a triumphant spirit. In 1946 she started training in general nursing and midwifery under a strict Dr Taylor and she graduated in 1948 and worked at St Augustines Mission hospital for two years before moving to Mutare in 1951.
But not before she tied the knot with the love of her life Lucian Mukome, a teacher on December 9, 1950. "My husband shared rented accommodation with Oppah Muchinguri's father John. They were still bachelors and he later married Oppah's mother Rose. I was the midwife when Oppah was delivered. As for Irene Zindi, I was also the midwife and we shared the water tap in Chineta, Sakubva with her parents."
After leaving the mission hospital, Mbuya Mukome in 1951 got employed at the Mutare Venerial Diseases Hospital popularly known as Nazareth those days. She left in Sept 1955 to study district nursing an opportunity that had arisen in the Umtali Municipality. That time the municipality introduced a home deliveries system for black women because the then Umtali General Hospital could not cater for the increased numbers of pregnant mothers after the expansion and completion of the locations in Sakubva.
"When I was still at the Nazareth, I had learned how to use the home delivery kit. It was a scheme where the expectant mother paid the kit and I got paid for delivering the baby. It was a very rewarding scheme," Mbuya Mukome said.
On why she chose nursing, she said the profession suited her personality and wanted to join the profession that was people orientated. "It was appealing to me and my parents and uncle supported my choice.
"Nurses who trained and practised during our days were real Florence Nightingales and were passionate about their profession," the retired nurse said regretting the attitude of most of today's crop.
"We were trained to be kind to patients and not to scold women who are in labour and patients in pain. Today's nurses work constantly watching their watches and will tell a patient they cannot help because their time is up. We never refused to help patients because time is up but we worked until all the work supposed to be done was completed," she said regrettably."The nurses of my era were loving because we were taught that a patient recovers faster if she is cared for with love."
She added that it was sad that today's medical staff value money more than the well being of patients. She said even doctors are rushing to do Caesarean deliveries just for money and not because it is necessary.
Mbuya Mukome said she has received the raw treatment during hospitalisation by some nurses who did not know she is a veteran nurse . "Those who later knew I was once a nurse changed their attitude," she said. Although Mrs Mukome has not been well for some time, she is determined to get strong and insists on getting up unassisted and walked to the bathroom with a walking aid alone.
She said she grew up in a strict Christian family whose rule was "no church no meals."
In 1974, Mbuya Mukome hung up her nursing gloves to concentrate on running the family businesses in Katiyo. It was at the height of the liberation struggle and according to her, she was back to nursing again secretly treating comrades who were wounded and had other medical ailments.
"I can say I fought the war. I treated the freedom fighters and they came and took supplies from the general dealer in Katiyo. We did a lot for the comrades and they told us our immense contribution would be rewarded and that our name was on the party list in Mozambique. I was never rewarded nor acknowledged but it doesn't matter now," Mbuya Mukome said.
Mbuya Mukome has 17 grandchildren and 19 great grandchildren.