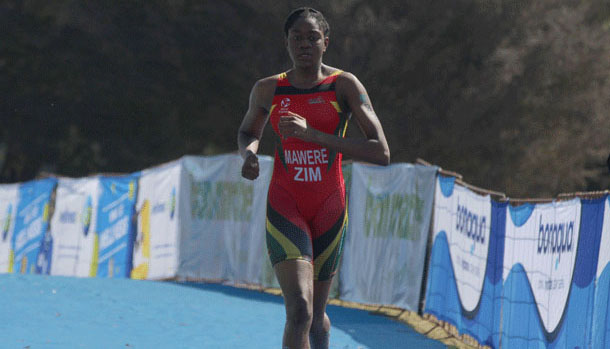 The ManicaPost
Ray Bande
Senior Reporter
ZIMBABWEAN triathlete Makanaka Mawere yesterday got the podium finish she craved when the 17-year-old claimed a bronze medal at the 2021 Bonaqua Africa Triathlon Cup held at Troutbeck Resort in Nyanga.
This year's edition was her second appearance at the race, having made her debut in the previous edition in which she finished seventh.
The multi-talented athlete, who has represented the country in three different sporting codes before, finished third behind South Africans Kira Ribbink — the defending champion — and Anika Visser in the junior category.
The Hellenics Academy student was one of two bronze medalists, with Greer Wynn also finishing third behind South Africans Bridget Theunissen and Hannah Newman.
The athletes battled it out in a 750-metre swim, 20-kilometre cycling and 5-kilometre run race.
Mawere had just recovered from a shoulder injury sustained in June at the African Championships in Egypt.
Mawere said: "I performed beyond my expectations and I am happy with my performance. I am still getting over a bad injury and such a performance comes as a huge motivation for me to keep going; to push even harder and get better.
"It was a tough race: The altitude, biking and the run were all challenging. I had to push myself. There was no one I could pair myself with, so I had to be mentally strong. It was also fun and I am charmed by the support."
South Africa's Rossouw Venter, John Makona of Kenya and Johannes Van Der Westhuizen were the top three, respectively, in junior male category.