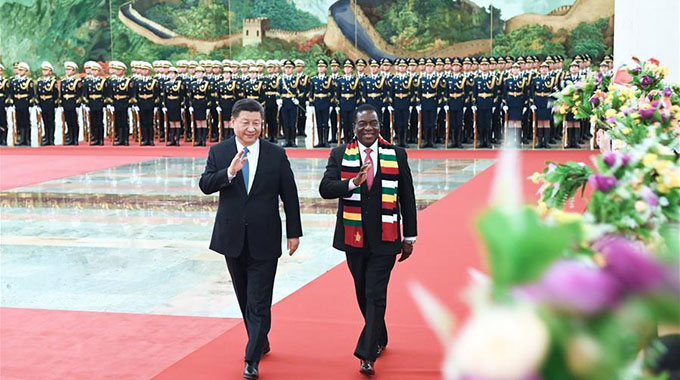 The ManicaPost
Kudzanai Gerede Business Correspondent
When Chinese President Xi Jinping in December 2015 ushered in a new era of "real win-win co-operation" between China and Africa to be backed with a US$60 billion commitment in investments tied to developing economic capacity for African countries, the gesture presented massive opportunities for African economies and for Governments to reach out to the Asian giant and negotiate fair deals.
The following year, Chinese investment in Africa rose up to US$36,1 billion in major capital projects across the continent, surpassing the US (with US$3,6 billion investment) as the biggest investor by a long stretch.
Since then, not only has African countries jostled to partner China as an economic partner, but global economic giants such as Britain and the EU bloc have also made strides in courting China as their major economic-ally for both reasons of being a huge consumer market and investor.
For Zimbabwe, despite its healthy and back-dated friendship with China, the country is yet to really harness economic fruits from this union. However, recent interests by Chinese investors in the country have left many economic observers optimistic of the future prospects.
The country needs massive investment to recapitalize its moribund industrial base and financing key infrastructural projects in sectors like energy, ICTs, transport and agriculture in order to give impetus to its economic recovery narrative.
The five-day State visit by President Emmerson Mnangagwa to China last week where he met President Jinping and signed economic pacts with massive investment deals came at an opportune time when Zimbabwe needed to step up its engagement strategy and get real investment to set the economy into motion.
A strong investor sentiment has been prevailing since President Mangagwa took over leadership last year, opening Zimbabwe for business and this was cemented by President Jinping who last week upon meeting President Mnangagwa described the event as a "new chapter" between the two countries' long standing co-operation.
The President's Chinese trip return will see funds disbursed immediately to finance the finalisation of the US$1 billion Hwange Thermal Power Station on units 7 and 8 of the plant that had stalled for close to three years due to lack of funding. Once completed the project is expected to improve power generation and supply into the national grid.
Other projects to be funded by the Chinese include the expansion of Robert Mugabe International Airport, construction of new Parliament building and NetOne expansion among others.
The Chinese have also pledged the construction of a pharmaceutical factory, a move analysts expect to develop the local industry. The Chinese have already revolutionalised the Ethiopian pharmaceutical industry in this regard into a major producer and exporter of pharmaceutical products on the continent.
Economic analyst Pepukai Chivore in an interview told Post Business that the new administration has not only showed commitment but yielded results in unlocking economic value from Zimbabwe-China friendship.
"In line with the open business narrative and the less nationalist approach in economic issues taken by the new government, it was not only proper but pertinent that the President engaged one of the biggest investors and the country's 4th trading partner especially considering its strength in the construction industry.
"Healthy ties with China have the potential to unlock real value which translates into billions of dollars in investment. They have been investing big in Africa since 2008 and their non interference approach in internal matters is welcome," he said.
Analysts have however called for Government to negotiate fair deals which will benefit locals particularly in line with value addition and employment creation ethos when these massive infrastructure projects take place.
Most Chinese firms have in the past brought in Chinese nationals when undertaking massive projects with only a few locals benefiting.
"The President should also raise concerns to his counterpart on the unwillingness of the Chinese State Tobacco Monopoly to invest in tobacco value addition in Zimbabwe as it prefers to ship unprocessed leaf. This will ensure the locals benefit through employment in these value addition industries," added Chivore.