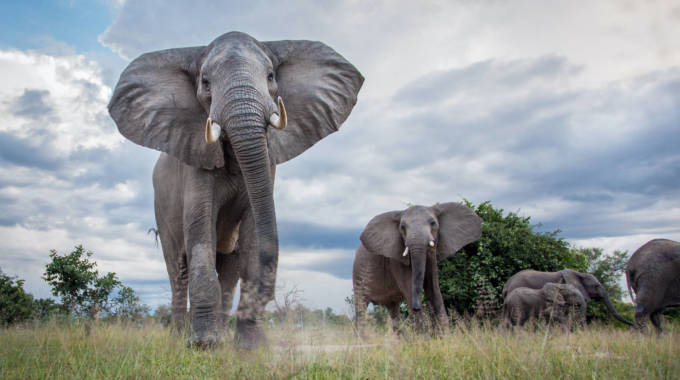 The ManicaPost
Luthando Mapepa
Chipinge Correspondent
CASES of human-wildlife conflict are increasing in Middle Save area, Chipinge, thereby affecting farming activities.
Elephants and buffaloes have on various occasions strayed from Save Conservancy and destroyed crops in irrigation schemes at Tongogara Refugee Camp.
The schemes are adjacent to the Conservancy.
Recently, elephants destroyed crops and security fences at one of the irrigation schemes.
Parks and Wildlife Management Authority spokesperson, Mr Tinashe Farawo said the human-wild conflict problem is persisting in the area due to an overpopulation of the elephants.
ZimParks and Chipinge Rural District Council rangers recently gunned down an elephant and a buffalo which had strayed to Ward 20.
Tongogara Refugee Camp administrator, Mr Johanne Mhlanga said their irrigation projects are being affected by the marauding elephants.
"We have established a vibrant irrigation scheme at the camp, but our efforts are being derailed by the marauding wild animals, especially elephants and buffaloes. We have lost produce worth thousands of dollars to wild animals straying from the Save Conservancy.
"We hope a lasting solution will soon be found because our irrigation scheme has a lot of potential to transform the face of Middle Save.
"We also want to ensure that all idle land is put to productive use and contribute to the national Gross Domestic Product. Refugees here have embraced agriculture as a means of survival and are eager to contribute towards the camp's self sustenance," said Mr Mhlanga.
At Chibuwe/Musikavanhu Irrigation Scheme, various crops which include sugar bean, tomatoes and cabbages which were ready for harvesting were recently destroyed by the marauding wild animals.
Mr Bongai Vhutuza of Chibuwe Irrigation Block B said: "I have so far lost 0.4 hectares of tomatoes to the elephants. These straying wild animals are giving us sleepless nights. They are coming at night and destroying the perimeter fences at our plots.
"As farmers we have since joined hands to guard our crops at night. We are using traditional means such as blowing fire crackers and beating drums to scare away the animals," said Mr Vhutuza.
Ward 20 Councillor Charles Mugidho said villagers should be cautious when protecting their crops.
"Villagers are risking their lives while guarding their crops. We have lost lives because of elephant and buffaloe attacks. We need a multi-sectoral approach to find a lasting solution to this challenge," said Councillor Mugidho.