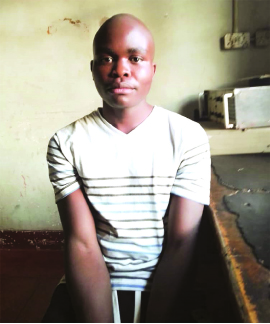 The ManicaPost
Abel Zhakata
Senior Reporter
AS detectives dig deeper into the death of 14-year-old Anna ''Memory'' Machaya, who recently died while giving birth at the Johanne Marange Mafararikwa Shrine, it has emerged that the girl's parents gave police someone else's identity card in a bid to frustrate investigations and evade arrest.
They sought to make police believe that Anna (Memory) was a major when she was married.
The shocking disclosure follows Wednesday's arrest of Hatirarami alias Evans Momberume (26) of Taguta Farm in Kwekwe, who is facing two charges of rape and sleeping with a minor respectively.
Momberume is set to appear in court today.
He was supposed to appear at Mutare Magistrates' Court yesterday, but there were delays amid reports that detectives had taken him and the baby to a laboratory in the city for DNA tests.
The girl's parents — Edmore Machaya (45) and Shy Mabika (36) — are being charged with obstructing or defeating the course of justice.
National police spokesperson, Assistant Commissioner Paul Nyathi, said detectives had made significant in-roads with their investigations.
"The suspect has been arrested. From the investigations, we also noted that Memory's nine-year-old sister was in the process of being given away to the suspect by her father as replacement. The deceased's mother also tendered someone (Memory Machaya) else's identity card to the investigating officers purporting that the deceased was an adult when she was married off.
"The minor who died in this case is Anna Machaya, born on July 5, 2006 and not Memory Machaya who was born on January 2, 1999. It is correct that Anna Machaya died on July 15 and was buried at the shrine after experiencing birth complications.
"The police are also pressing criminal charges against Anna's father and her mother for obstructing or defeating the course of justice. The parents lied to the police that Anna was born on January 2, 1999. The mother went on to give the investigators a national identity card belonging to a relative, Memory Machaya who was born on January 2, 1999.
"It was through school records in Mhondoro that the police actually proved that the late girl was born to Edmore Machaya and Shy Mabika. The police have obtained the correct birth certificate copies in respect of Memory Machaya (22) and the late girl. Memory Machaya is alive and is married to Lameck Makonye," he said.
It is alleged that Anna was offered as a wife to Momberume by her parents.
The arrangement caused her to drop out of school in Mhondoro where she was staying with her aunt and went on to stay in Marange with Momberume.
She fell pregnant and died while giving birth on July 15.
Anna was buried a few hours after her death at the shrine in the absence of her parents.
A whistleblower and sister to Anna's mother, Ms Alice Mabika, confirmed that they were denied access to the girl's body and grave at Mafararikwa Shrine.
She also said Anna's parents were in the process of handing over their nine-year-old daughter to Momberume as Anna's replacement (chigadzamapfihwa).
Another witness and Memory Machaya's husband, Mr Lameck Makonye, confirmed that the identity card that Anna's parents were trying to use to conceal evidence belonged to his wife.
He said his wife is alive.