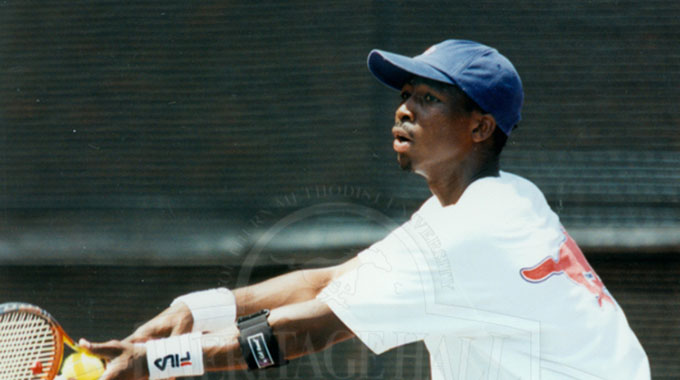 The ManicaPost
Ray Bande Senior Reporter
FOR more than three decades now, Manicaland etched its status as a powerhouse in tennis competitions with some of its products representing the nation in prestigious international competitions such as the Davis Cup contest.
Tennis players from Manicaland have made light work of opponents in different inter-provincial competitions such as the National Youth Games and even regional contests such as the Zone Six Games.
The success story of the game of tennis in Manicaland cannot be told without mentioning Mutare's reputable talent nursery — Mantas Tennis Academy.
Mantas administrator Vincent Nyatoti outlined the main reason Mantas was formed and how it has helped develop talent in Manicaland.
"The main goal was to get tennis to the marginalised or under privileged, those who might not have managed to play if this initiative was done.
''We are happy that the interest in the game has grown significantly in Mutare and that also explains our dominance as a province in the game of tennis," he said.
The high performance centre which polished the talents of such players as Genius Chidzikwe, Ronzai Saurombe and Mbonisi Ndimande among many others, was established in Zimbabwe in 2000 as a follow up to the development programme which started in 1987 with Ann Martin and Tennis Zimbabwe under the development program founded in 1986 when International Tennis Federation representative Roger Dacewell came to open centres of excellence in Zimbabwe.
Three centres were opened in Harare, Midlands and Manicaland provinces, with the under-privileged being their main target.
Of the three, only the Manicaland centre thrived, later adopting the moniker Mantas Academy.
Ann Martin, as chairperson for Manicaland Tennis Association and at one time president and vice for Tennis Zimbabwe, made it possible for most players from schools to play through the development programme.
She was targeting all top players within the province and outside offering residence at the farm.
The goal was for them to further their tennis and at the same time pursuing their tennis career
At the height of the academy's success, it boasted of state-of-the-art equipment, well-trained staff and was home to some of the best players in the land. The academy's success stories also includes facilitating scholarships for the academy's most promising students and nurturing some of the country's top players.
Among the players that came through Mantas are Chidzikwe and Ndimande, who both went on to represent Zimbabwe at the Davis Cup.
Freeman Nyamunokora, one of the top coaches in the country and the fourth black non-playing Davis Cup captain, is also a product and former trainer at the academy.
At junior level, the academy produced the likes of Alwyn Mushonga, Pauline Chawafambira, Ronzai Saurombe and Malcolm Mutungamiri, who have all represented the nation at junior level.
Nyatori said the players who have gone abroad have helped upcoming players in a big way.
"Players who are going abroad are helping local players with equipment and moral support as well as assisting in moving from Zimbabwe to United States," he said.
The long list of players who have gone through Mantas and have since secured scholarships in United States of America also includes the likes of  Chidzikwe, Pfungwa Mahefu, Trevor and Spilusiwe Ncube, Blessing Bvunzawabaya, Glory Zhou, Munashe Chikuni, Lerato Ndlovu, Zibusiso and Mbonisi Ndimande, Ronzai Saurombe, Keren Muswere, Takudzwa Muswere, Pauline Chawafambira, Kuda Nyatoti, Kuda Sengai, Edwin Sengai, Ngoni Chidzikwe, Nandi Munyulwa, Batsirai Saurombe, Panashe Gara, Beverly Matsiwe, Michael Zhou and most recently Chengeto Moyana, who left last Saturday.
Nyatoti said the academy is forging ahead with its talent scouting programme albeit lack of sponsorship.
"We are battling to keep head above water because of lack of sponsorship.
''However, we going ahead with our scouting programme in schools in high density suburbs such as Dangamvura, Chikanga and Sakubva. We also do the same here in town school at schools such as Chancellor, Baring, Mutare Junior, Victory Academy, Eastview and in Mutasa at Hartzell, the same with Rusape at John Cowie. It is meant to get those who cannot afford but can play the game," he said.