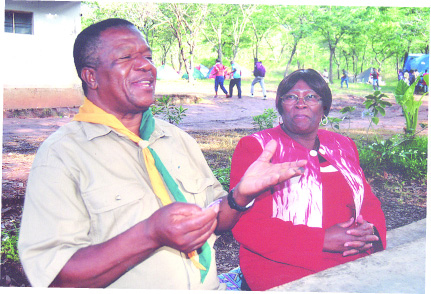 The ManicaPost
Lifestyle Correspondent
WORLD over, some people simply have more money than they know how to spend.
This is especially true for the most famous celebrities in the world, including actors, sportsmen, musicians and business executives.
Manicaland has its own fair share of these high earners and big spenders.
Most of those who have ignited the social scene have reaped proceeds from illegal activities such as smuggling fuel and bales of second hand clothes, while a good number are beneficiaries of rampant leakage of diamonds in Chiadzwa.
Whenever they arrive at any social event, all eyes are glued on them as they splash the elusive dollar.
However, there is also a very humble group that genuinely earns big and is quite about it.
It is a public secret that the hard-working folks in Manicaland — from Chipinge to Nyanga, Buhera to Mutare — are generally shy when it comes to public display of wealth.
Perhaps it is their nature.
Several businessmen, especially those of the older generation, will never publicly proclaim or display affluent lifestyles despite owning some of the most successful business empires in the province.
This week, The Weekender chronicles the lifestyles of some of the province's social magnets.
Ernest Mungwari
Transport mogul, Ernest Mungwari of Tenda Buses, is one of the humble ones, choosing to lead an ordinary life.
Apart from a fleet of buses that ply various routes across the country and beyond, Mungwari has over the years mastered the art of leading a humble life.
While he drives around in a battered Land Rover, the latest Porsche vehicles fill up his garage.
Elisha Nyamundanda
Young and upcoming businessman Elisha Nyamundanda, widely referred to as King Lusha in social circles, often paints the city red with his way of life.
He is the brains behind Ramdale Drilling Company.
Apart from expensive beverages and several luxury vehicles, it is rumoured that King Lusha was recently in the Bahamas for a holiday.
Joseph Sanhanga
One of Mutare's most successful businesspeople, Joseph Sanhanga is now a retired golfer who happens to be one of the first local investors to own properties around the border town's Central Business District.
He now spends most of his time farming wheat, tobacco, soya bean, barley, maize and sugar beans.
He loves hill walking, socialising and hunting.
Samir Shasha
A hugely reserved figure, Samir Shasha spends much of his time with his family at Leopard Rock Hotel, some 32km away from the hustling and bustling of city life, deep in the thickets of the picturesque Vumba rainforest.
He owns Leopard Rock Hotel.
Many will recall how Britain's Queen Elizabeth stayed at the hotel with her daughter, Princess Margaret, and was so fascinated by the hotel and its spectacular surroundings that she was inspired to pen some words in praise of the world class resort.
In 2011, the Leopard Rock Hotel was independently valued at US$18.50 million.
"I haven't had much leisure time since March 2020. I haven't travelled since then, nor have I vacationed in the country. I just play backgammon online and sometimes go for dinners with friends in Harare," said Shasha.
Mandla Mataure
Chimanimani businessman, Mandla Mataure, whose family owns Chimanimani Hotel, had this to say about how his family spends its leisure time.
"As a young family, we are always looking for affordable entertainment options for us to relax and unwind. We try to travel as much as possible to explore new areas even within our own district.
"We also love taking our son outdoors and sometimes have picnics together so that he can enjoy the fresh air and the beautiful mountainous areas in Chimanimani.
"When we can, we travel to other parts of the country visiting relatives and having special moments with them. Those are also good opportunities for our son to keep in contact with his relatives from both sides of the family."
Mike Mbamba & Chef Martin Kefallos
The two buddies and socialites are co-owners of the popular up-market restaurant, Rustic.
They have a strong penchant for good food, travelling as well as playing and watching golf.
Chef Kefallos also loves his booze and spends part of his time watching movies and playing pool, while Mbamba is a social soccer player who also fancies basketball.
He is a staunch Manchester City supporter and spends his weekends watching basketball, rugby and cricket matches.
Tafadzwa Jaricha
The bubbly former Miss Tourism Zimbabwe is part of the Rustic Restaurant.
Besides swimming, modelling is her life. She spends most of her time grooming young models as she now owns a modelling agency.
She also has a penchant for good food.
Alexander 'Zanda' Mazanhi
Alexander Mazanhi is the director of Peelchart Investments, a thriving peanut butter making firm situated in Mutare's Nyakamete Industrial Area.
He loves playing golf, site seeing as well as social soccer.
Mazanhi is the patron of one of Mutare's most popular social soccer team, Chipolopolo FC.
His penchant for cars is undisputed as he boasts of, among others, the latest Mercedes Benz.