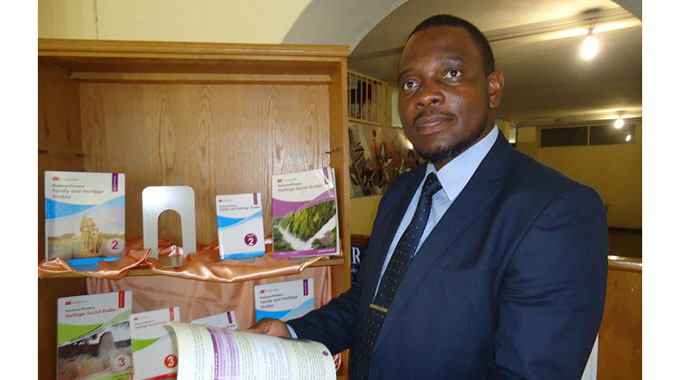 The ManicaPost
Morris Mtisi Post Correspondent
WHAT started off as a glorious, colourful and calm exhibition of academic (school) textbooks authored by Manicaland's commissioned writers, ended up a no-holds-barred and highly emotionally charged concern over schools and photocopying outlets that steal their work in broad day light.
The meeting whose purpose was a public display of the school textbooks by its commissioned authors and internal education for the members on Copyright and Piracy was organised by the Manicaland chapter of Zimbabwe Academic and Non-Fiction Authors Association (Zana).
The members exchanged valuable experiences and shared wisdom on how to enjoy and benefit from a passion for writing.
In his opening speech the chairperson of the Manicaland Chapter, Dr Hardson Kwandayi, said it was high time writers got organised and stopped  talking but began to seriously write. "Look what we have done! Isn't this beautiful! All these books on display and their writers showing what they have written," said the public policy analyst and Lupane State University lecturer.
"Manicaland is proud of you. Zana is proud of you. We are all proud of each other and what a sense of achievement and belonging illustrated by this exhibition."
The College Press-MacMillan publications manager, Mr Phillip Mudzimba, attended the exhibition. He educated the writers who included budding or aspiring authors present on how to get published.
"It is critically important that you all understand how to get published, but equally important you must also understand what challenges we face as a publisher of repute to survive in a struggling economy like ours at the moment."
Mr Mudzimba revealed that the situation was so bad that every day they are threatened with gaping viability challenges. "If we are not careful some of us will close shop, pack our bags and go home before publishing all the work we ought to publish for the Ministry of Primary and Secondary Education-a situation we are too scared even to think about," he said.
The Zana national chairperson, Dr Samuel Makore spoke on copy right and emphasized that every writer had a legal right to his or her intellectual property. "Using a writer's material without his permission is a crime. Teachers, schools and whoever else are scanning and photocopying massive volumes of authors' books are committing a crime and must be reported to the police or the publisher," he said.
He pointed out that the Ministry of Education had issued a secular warning school heads who are in the habit of photocopying books at their schools or paying outlets in that business to do it for them."
It was at this point of discussion that the issue of book piracy overtook any other business and all writers expressed deep-set anger at all forms of organised piracy especially school-based piracy which was ripping author's of their chance to make money from the proper sale of their hard work.
Some members directly blamed the police for not arresting these daylight 'thieves'. Others took the schools to task for taking authors for a ride and impoverishing them despite their hard work to feed books into the schools and make education tick.  The more angry ones wondered how school heads can say schools have no money to buy books but they have money to buy modern high performing photocopiers and expensive Chinese buses.
The Zana conference unanimously resolved to lobby police authorities, Ministry of Primary and Secondary education officials and school heads and relevant stakeholders through a high profile meeting to draw a road map to end book piracy wherever it appears in Zimbabwe. Zana members agreed to take the matter up to higher levels of authority if the proposed mini-summit meeting does not come up with practically meaningful ways of ending the piracy illegality.
The Manicaland Zana Chapter is made up of the following members:  Dr Hardson Kwandayi (Chapter chairperson), Mr Sam Chikuse (Treasurer), Morris Mtisi (Secretary-Publicity), and Ms Annaclata Guma (Chapter Representative-National Executive and Ms Jestina Mhandu (Chapter Secretary).