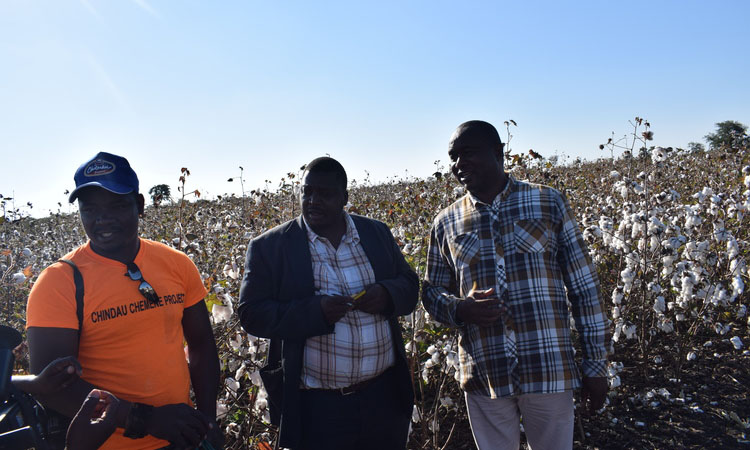 The ManicaPost
Samuel Kadungure and Freedom Mutanda
MANICALAND is set to double its cotton production for next season – as the current record crop, unprecedented high prices and increased Government support – have set cotton growers who had abandoned the crop out of frustration on a comeback.
Deputy Minister for Agriculture, Mechnanisation and Irrigation Development (Crops), Cde Davison Marapira, last week told hundreds of existing and new cotton farmers in Checheche that cotton support for next season will double to $84 million.
The move will see existing farmers increasing their hectarage and growers that had abandoned the crop, turning their land into cotton fields, hoping that the unprecedented high prices will stretch to next season. Cotton farmers in the province are enjoying a record crop and the high returns from the white gold.
About 20 037 hectares were put under cotton in Manicaland and the yield for the 2016-17 season is expected to surpass 30 000 tonnes. About 90 percent of the crop was funded through the Presidential Inputs Scheme, which has been doubled from $42m to $84m.
"Government spent $42 million on cotton production and we are doubling that support in form of input support for the 2017/18 season. We are also expecting the hectarage to increase from about 155 000ha to more than 300 000ha.
"Our farmers in Manicaland did us proud during the 2016/17 season and we expect you to up your game next season. We want to thank you for a job well done and we believe you can still do more by improving on the quantity and quality of the produce," Cde Marapira, adding that farmers should earnestly prepare for the coming season and ensure another bumper harvest.
"We expect a bumper harvest in Manicaland. We expect you to produce better than last season. Government is demonstrating its faith in you by doubling cotton support for the 2017-18 season," said Cde Marapira.
Cde Marapira urged cotton growers to destroy cotton stalks from their field to avoid a carryover of diseases and pests to next season. Most fields are still infested with the crop residue and re-growths which act as hosts for diseases and pests like nematodes and spider mites.
Destruction of stalks – either by cutting the stems and ploughing or disking the fields to pull roots out of the soil and expose them to the sun – starves and averts carryover of pests and disease into the next farming season. Slashing cotton stalks and spraying the subsequent re-growth with glyphosphate was effective, but many farmers complain that it is expensive.
"After harvesting your cotton, it is important to destroy the leftover stalks for optimum use of the field in the forthcoming season. Some farmers think it is economical to let the previous season's cotton remain in the field. They think that in the following season they will simply spray and weed the field. Nothing is further from the truth because diseases and pests hibernate in the fields, resulting in resistance to pesticides and the general decline in cotton yields in the coming season,'' said Cde Marapira.
Mr Skumbuzo Thondlana, the national treasurer for the National Cotton Farmers Association, hailed the Presidential Inputs Scheme, adding through such support, Manicaland would be able to improve productivity and quality of the lint.
"The enthusiasm is there. Existing cotton farmers are raring to go, and new and returning ones are registering and showing commitment. Definitely the Lowveld farmers will double or triple the 20 000 planted by 8 796 farmers last season.
"Government has set us (cotton farmers) on a horse and we cannot fail to ride. Our appeal is that adequate inputs, that is seed, fertiliser and chemicals be availed on time, not in drips, so that farmers concentrate on production," said Mr Thondlana, adding that cotton farming was a trade benchmarked by escalating demands for high quality lint to get better returns on their investment.
"President Mugabe will avail inputs under the Presidential Inputs Programme and cotton farmers are the beneficiaries. Farmers must improve their agronomic practices. They should comply with the stalk destruction directive because disease resistance emanates from non-compliance with destroying the previous season stalks,'' he said. Mr David Makuyana, said they were happy with the support under the Presidential Inputs Scheme, and called for the set up for ginneries in the district to add value for the crop.