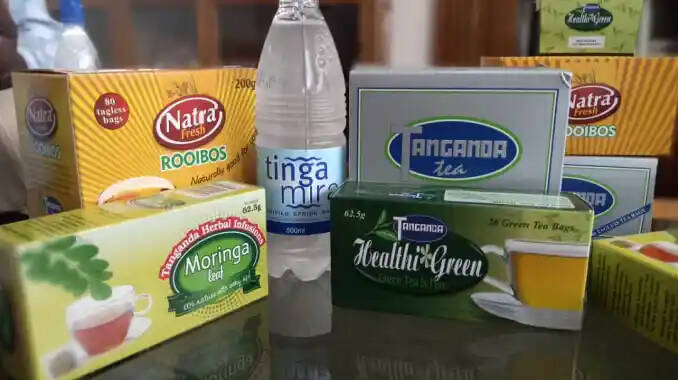 The ManicaPost
News Editor
FOUR Manicaland-based companies scooped top gongs at the recently held 2022 ZimTrade Exporter of the Year Awards.
Timber concerns, Border Timbers and Manica Boards and Doors came first and second in the Building and Construction Category.
Tanganda Tea Company scooped the first prize in the Fresh Produce Category, while they were runners-up in the Processed Food Category.
Thando Investments were the winners in the SME Exporter of the Year Category.
ZimTrade's Eastern Region Development Officer, Mr Admire Jongwe confirmed the development.
"The companies which scooped awards are actively exporting and contributing to the regional export basket and ultimately the national export basket. We hope to see more companies in different sectors trading beyond the local market by tapping into regional and international markets.It is encouraging to see new exporters like Thando Timbers scooping the best SME Exporter of the Year. This can help boost potential exporters' confidence.
"The awards are a confidence booster for Manicaland. Growth in exports can be attained, as long as we put the right ingredients together. What is critical going forward is to continue with interventions that will harness the export potential of the province and its importance as a link between Zimbabwe and the rest of the world through Beira," said Mr Jongwe.
"In August, we attended the Maputo International Trade Fair, where we took three women-led enterprises to exhibit their products and we are happy that one of the enterprises scooped an award for Best Innovative Products. This is very encouraging for other SMEs," he said.
He called for the mainstreaming and promotion of every district.
"Each district in Manicaland has unique and niche products that can be exported to various destinations. ZimTrade has been organising potential exporters into clusters so that they can easily work together and explore economies of scale.
"In support of the devolution agenda which emphasizes the need for provinces to spearhead economic development projects by leveraging on local resources, we have embarked on a drive to develop clusters and increase the production capacity of these companies to meet export demand.
"With low hanging fruits like macadamia nuts, avocadoes, arts and crafts, pineapples, citrus and stone fruits which are in demand in the United Arab Emirates, China and the European Union; Manicaland's exports has got plenty of room to increase.
"ZimTrade is also emphasising assisting collectors and processors of products such as marula, banana and baobab, products that are deemed super foods," said Mr Jongwe.
"Currently, products that are being exported meaningfully include flowers, tea, coffee, macadamia, citrus, chillies, herbs, mangoes, cotton, pineapples, sweet potatoes, honey and sugar beans.
"Manicaland Province possess logistical advantages that can help facilitate trade with the rest of the world. Our proximity to the Indian Ocean, through the Sea Port of Beira, presents opportunities to penetrate markets in the east such as China and India, among others. Manicaland is only 300km from Beira, thereby presenting a distance advantage over other ports like Durban and Cape Town which are in excess of 1000kms. Voluminous goods can be handled cheaply," said Mr Jongwe.
In June, ZimTrade led a business delegation to Chimoio in Mozambique where significant progress was made to further cement trade between Zimbabwe and Mozambique through re-establishing brand visibility of local products in Manica Province and Beira.
"The products visibility has been increasing tremendously and some of the companies that we went with managed to gain business leads and are negotiating for trial shipments of actual exports. Some have already made shipments to established retail shops.
"The mission was an eye opener for some companies and they continue to pursue the market while perfecting their products to suite that market's requirements. The business mission managed to generate over US$500 000 in terms of business leads," said Mr Jongwe.
In promoting SME exports, Mr Jongwe said ZimTrade is spearheading the empowerment of youth and women-led businesses.
"We have programmes that are tailor-made for youths' businesses to ensure they are export ready.
"These programmes focus on product quality enhancement, packaging, branding and marketing so that the products are internationally competitive.
"We also offer technical interventions through experts who assist local businesses in improving their production processes and product quality," said Mr Jongwe.