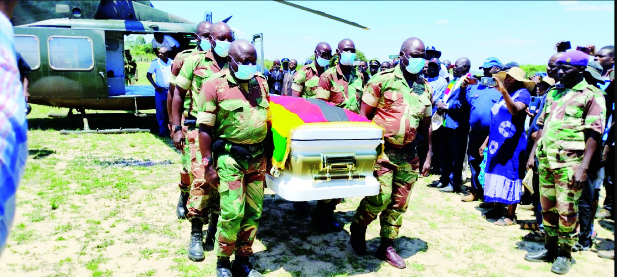 The ManicaPost
Cletus Mushanawani
News Editor
MANICALAND and the rest of the country is mourning one of its illustrious sons, the late former Provincial Governor and Deputy Minister of Industry and International Trade, Cde Kenneth Vhundukai Manyonda, who succumbed to a long illness last week and was declared a national hero.
Cde Manyonda (88) will be buried at the National Heroes' Acre in Harare tomorrow.
Nicknamed Shumba yaTsvangirai by colleagues in Parliament after defeating the late Movement for Democratic Change leader, Mr Morgan Tsvangirai during the 2000 Buhera North Parliamentary plebiscite, Cde Manyonda was described as an astute man, well-known for his dedicated service to Zimbabwe.
True to his unwavering stance on national development, the then Manicaland Provincial Governor invited 50 white farmers to attend the 1997 Independence celebrations.
Speaking during the celebrations in Mutare, Cde Manyonda said: "Now that they know they are welcome and that they are part and parcel of Zimbabwe, I hope they will continue to attend these functions. Our best bet is to come together in unison and work towards the development of Zimbabwe as one nation."
In mourning Cde Manyonda, ZANU PF national chairperson as well as Defence and War Veterans Affairs Minister, Cde Oppah Muchinguri-Kashiri said: "Cde Manyonda was an astute man who was well-known for his service to the country.
"He fought for black empowerment before and after independence. Cde Manyonda has left us with a task to continue taking the country forward," said Cde Muchinguri-Kashiri.
Information, Publicity and Broadcasting Services Minister, Senator Monica Mutsvangwa said: "He is a hero to this country, particularly to the people of Manicaland Province. Everyone in the province is shaken. As Governor, he led the province to be what it is today. He was a people's person and testament to this was also his position as acting Chief Nerutanga."
Mutasa South Member of Parliament, Cde Misheck Mugadza, who is also a relative to the departed national hero said the late Cde Manyonda was a selfless man who helped many.
He also described him as a unifier who had time to listen and address issues brought to his attention.
"Some of us are what we are today because of him as he was a fatherly figure. He motivated us to aim high in life despite our backgrounds. Some of us are now lawyers and politicians because of him. His death is a double blow as he was the acting Chief Nerutanga," said Cde Mugadza.
Mutare businessman, Mr Joseph Sanhanga described Cde Manyonda as a hardworking and principled businessman.
"The late Cde Manyonda contributed a lot to the development of Manicaland, both as a businessman and as Governor. He inspired many black businesspeople to venture into business. We shared a lot of platforms and he was a man of his words. He was also a shrewd politician and Manicaland has lost a gallant and dedicated son.
"The young generation should take a leaf from Cde Manyonda's shrewd business acumen and ensure the prosperity of this country," said Mr Sanhanga.
Cde Manyonda actively participated in ensuring the country's independence by holding various political and trade union posts, thereby leading to his incarceration by the Smith regime in 1966.
After independence, Cde Manyonda was employed to the Ministry of Labour and Social Welfare as deputy registrar in charge of industrial relations.
He joined the Post and Telecommunications Corporation as director of personnel in 1982 and was instrumental in the removal of racial imbalances in the corporation.
In 1985, he was elected ZanuPF Member of Parliament for Buhera North and during his tenure, he introduced cattle fattening programmes as well as a network of roads in the constituency.
He successfully negotiated for a grant from AngloAction in Germany for the reforestation of his constituency and Buhera South.
During the 1992/93 drought, part of the grant was used to feed people in the constituency.
In 1988, he was appointed Deputy Minister for Information, Posts and Telecommunication.
As Deputy Minister, he pushed for the introduction and improvement of rural communication networks, among other issues.
In February 1990,Cde Manyonda was appointed Manicaland Provincial Governor.
He served in that post until July 2000 when he resigned to contest in the June 2000 Parliamentary elections, together with the late Border Gezi who at the time was Governor for Mashonaland Central.
During his 10-year tenure as Governor, he co-ordinated Government programmes in the province and presided over a number of key projects, chief among them the construction and commissioning of the Osborne Dam which increased the hectarage under irrigation in the province.
The Pungwe Water Project also ended perennial water challenges in Mutare, while the launch of Nyakomba Irrigation Scheme in Nyanga has improved livelihoods of villagers.