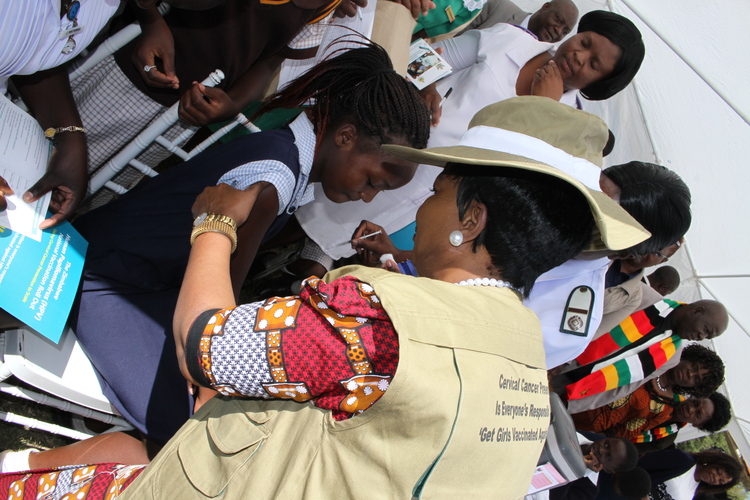 The ManicaPost
Rumbidzayi Zinyuke Senior Reporter
Manicaland is set to benefit immensely from the roll out of the HPV vaccination programme, which will help bring down cancer-related deaths in the province.
This was said by the Minister of State for Provincial Affairs Monica Mutsvangwa at the official launch of the programme in Mutare on Wednesday.
Minister Mutsvangwa said such interventions would improve the health of young women and ensure development.
"In Manicaland, the HPV vaccine should help us eliminate deaths associated with cervical cancer. There can be no development without health. When women get screened their health is guaranteed. Even the children that are born are healthy. These interventions improve Manicaland's health and when health improves, development which we seek will certainly be achieved," she said. HPV is the most common viral infection of the reproductive tract and it causes cervical cancer in women. According to official statistics, an estimated 2 270 women are diagnosed with cervical cancer in Zimbabwe annually with a mortality rate of 64 percent. Minister Mutsvangwa said approximately 4 percent of the people who get screened in Manicaland annually have tested positive for cervical cancer. She said there was need for increased access to treatment to avoid cancer-related deaths.
"They need to be treated because it is not helpful to just screen them and find that they have cancer but offer no treatment to them. As a province, we are still below targets set by Government. Our treatment rate is still at 61 percent against a target of 65 percent," she added.
The HPV vaccination programme will be rolled out in a week long campaign from May 14-18, 2018 in all schools and will see more than 800 000 girls aged between 10 and 14 years vaccinated against cervical cancer by May 2019. Thereafter, all grade five girls will be vaccinated annually. The HPV vaccine pilot project was launched in September 2014 in Beitbridge and Marondera where about 9 000 adolescent girls aged 9-14 years from the two selected districts received the new anti-cancer vaccine under.
The vaccine is administered twice, with the second dose given after six months and not later than two years since the first injection.
First Lady Auxillia Mnangagwa, who officially launched the programme said health was a key tenet of development and encouraged all Zimbabweans to allow their children to access the HPV vaccine.
"Health is intractably linked to development and healthy women and mothers are a key ingredient to a wealthy nation. As a mother, it is therefore my wish that all eligible girls be reached with this HPV vaccination irrespective of culture, religion, social status and geographical location. This ensures that the strained and limited resources and efforts can be concentrated towards the cure and support of those already infected with cancer.  It is imperative that all parents and guardians take this exercise seriously and get all the targeted girls in and out of school vaccinated. Do not block them; let us do what is best," she said.
Chief Zimunya said all chiefs in the province would engage all traditional and religious leaders to ensure they cooperate.
"We as chiefs we support this programme that you have unveiled because it helps our families. We will take it to the village heads as well as all religious sects so that knowledge spreads. For us to be called chiefs, it is because of the people we lead. But if they die of cancer, we will be rendered useless. We want our women and girls to be treated so that our country can develop. We will engage the churches so that they get knowledge about this drug and how it helps their children live a cancer-free life," he said.
He commended the Ministry of Health and child care and the Ministry of Primary and Secondary Education for working together to implement the programme