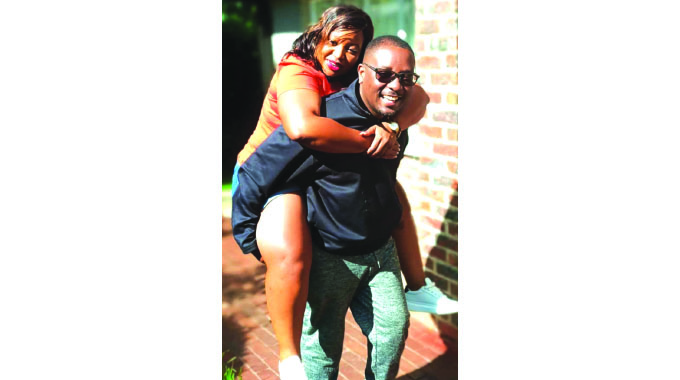 The ManicaPost
Ray Bande
Senior Reporter
UNITED States of America-based Michael Mangenje's second marriage is on the brink of collapse after a potpourri of his extra marital affairs were made public through social media. 
Michael is the son to one of Mutare's well-known business people — the Mangenje brothers — who earned fame and fortune around Mutare soon after independence.
His grandfather, John, even has a street named after him in Mutare's Sakubva.
However, the business acumen in the bloodline now seems to have mutated into uncultured bedroom prowess as Michael's extra marital affairs have been exposed on Facebook. 
Top on the list of a number of women the 40-year father of six has been seeing behind his wife's back is now based in Harare after she moved from Mutare a few years ago.
Her name is Nkosilathi Queen Nkomo.
Lurid pictures and video clips of episodes of quality time enjoyed by the two in their illicit love affair were splashed on the social media platform.
In one of the video clips, a seemingly tipsy Mangenje is seen singing along a song being played on radio while driving in Nyanga with Nkomo on the front seat.
When contacted for comment, Mangenje, who has three kids in his current union to lawfully wedded wife, Tanya Mangenje, lost his temper. "I do not think this will advance your integrity as a journalist. Let us focus on eliminating Covid-19 for now. Not sure how much she promised to pay, but it is not worth your time and effort," initially responded Mangenje.
When probed further, he said: "I realise you have the b**** to text me like this. F*** I am not a Mutare person. Guess what, good luck with your s***. Dai wanga uri munhu anoda kubatsira tataurirana (If you really wanted to assist, we could have discussed the matter). Any publicity is good publicity."
In her emotional responses to questions sent by The Weekender, Tanya Mangenje wrote: "As women are truly products of our upbringings and it is really important to dig deep and understand what motivates our drive. I would like to believe Nkosi is only here to stroke her ego. 
"I know all married women can agree that marriage is no walk in the park. There are kids, bills, fights, dreams, goals and to have to deal with knowing another sister out there is trying to be the source of another woman's pain makes it all ridiculous.
"They will tell you excuses, but guess what, we have the ring, the name, and they are still texting from the house they share. He is there because there is something of value as rough as this thing may get, but it is a rough diamond he chose. And you are just a thrill. 
"But that is not all you are. Choose to be the queen you can be, an educated woman only if you chose to, you are a woman of virtue only when you walk the path of self love and pride. Not to be a home wrecker. We need to do better. 
"Men have brotherly codes and yet women can easily tear each other down. Do not be the reason you break someone's home. All households have issues, but as women we need to learn to be part of the solution and not an addition to the problem," said Tanya. 
When asked about her intentions after the nasty discovery, Tanya said she will consider suing those wrecking her marriage. 
"We are in different places in our lives and we just have to part ways with Michael."
Nkomo read the questions sent to her on the matter but chose not to respond.
In the Facebook messages that exposed Mangenje's illicit affairs, there was mention of another woman identified as Anne Mvududu, whose romantic WhatsApp messages with Mangenje were also published on the same platform.