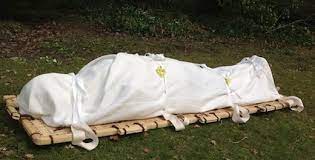 The ManicaPost
Tendai Gukutikwa
Weekender Correspondent
A MUTAMBARA man allegedly took his sister's burial shroud (fuko) from her coffin and has kept it for 20 years after her death.
Titus Mandina is said to have grabbed the shroud from his sister's coffin just before her burial. Twenty years later, it is alleged that Mandina carries the shroud everywhere he goes. lt is said his late sister is now demanding her shroud back.
According to local tradition, the dead are supposed to be buried wrapped in a white shroud.
Testifying before Chief Mutambara, Titus' nephew, Charles Mandina said his late aunt is now manifesting through the living, demanding her shroud back.
"This is not the first time Uncle Titus has done this. He is in the habit of confiscating dead people's property.
"A lot of dead family members are manifesting on our children saying that he grabbed their property. We were shocked to learn that our uncle is still in possession of the shroud 20 years after our aunt's burial
"We do not know what he is using it for. Our late aunt is coming in our dreams demanding the shroud back," he said.
The matter was brought to light after Charles had dragged Titus to Chief Mutambara's court over an estate wrangle.
lt emerged that Titus evicted Charles from his father's homestead claiming that he is not part of the Mandina family.
However, Chief Mutambara barred Titus from evicting Charles from the homestead.
During court proceedings, the Mandinas accused Titus of always demanding privacy with the dead during family funerals.
"Whenever someone dies in the family, Titus makes sure that the person is not buried in his absence.
"Whether he is in Harare or Mutare, when he hears about the death of family member he quickly rushes back home and demands to view the body privately.
"It is so scary but there is nothing we can do because he is the family's father figure," she said.
Chief Mutambara said his court needs to ascertain what takes place when Titus asks for privacy with the corpses.
"We are yet to deal with the shroud matter and now the family claims that Titus falls into a trance while viewing the bodies of late relatives.
"We need to establish what is really going on," said Chief Mutambara.