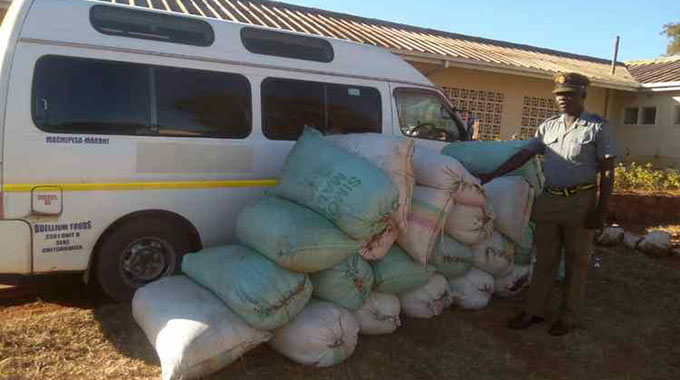 The ManicaPost
Liberty Dube Post Correspondent
POLICE in Nyanga have recovered dagga weighing more than 600kg with a street value of $1 million which had been smuggled into the country from Mozambique by two suspects through illegal entry points in Ruwangwe.
The cops trapped 27-year-old Tinashe Tapera at a restaurant in Nyanga after he attempted to bribe the officers with $US1 000 following the recovery of the illegal dagga which was stashed in a Nissan Caravan vehicle.
Manicaland police spokesman Inspector Tavhiringwa Kakohwa said detectives have since launched a manhunt for Tapera's accomplice who bolted from the scene following the burst.
"Police in Ruwangwe received a tip-off from their counterparts in Mutare that there was car which was transporting 25 sacks of 90kg marijuana from Mozambique to an unknown destination.
"Acting on the tip-off, Officer-in-Charge for Ruwange, Inspector Bere assigned his subordinates led by Seargent Panketi.
"They made a follow up and intercepted the vehicle, a Nissan Caravan, registration Number AEU 8376, at Kaitano Primary School.
"While at the scene, they searched and discovered the contraband.
"However, the two suspects dumped the vehicle and vanished into a nearby bush," he said.
The following day, Tapera contacted some police officers at the station and attempted to bribe them with US$1 000.
Insp Bere organised a trap and lured the suspect to come to Ruwangwe Growth Point where it was arranged that he would give the money to Constable Kademaunga. He was arrested while trying to hand over the money.
Tapera appeared before a Nyanga magistrate on Monday facing charges of contravening Section 157 (1) Criminal law Codification and Reform Act Chapter 9.23 (found in possession of dagga) as well as bribery charges.
The vehicle is owned by Jonathan Chipikiri.
He was remanded in custody and will be back in the dock on June 21.