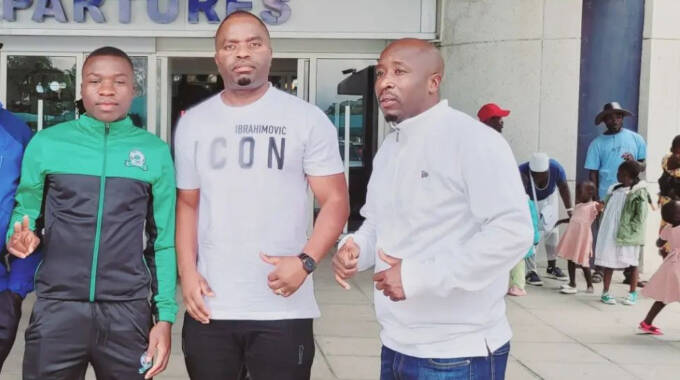 The ManicaPost
Ray Bande
Senior Reporter
WHEN Mutare businessman, Charles Chave started what has now become a household name in junior football, not only in Manicaland, but nationwide, he might not have known that the MAJESA project would be a vehicle through which hopes and aspirations of talented, yet disadvantaged boys could be realised.
One needs not to go far for a living testimony to this.
Young Prosper Padera (18) who was born and raised in Chikwariro Village in Marange is one such beneficiary.
Prosper was orphaned soon after penning a contract with MAJESA following his father's sudden death after complaining of stomach pain and headache.
What was painful, much as it was dramatic was that his father's death came exactly six days after he had surrendered his talented child to MAJESA and unequivocally told the academy management to be the parents of his offspring — as if he knew he had less than a week of his earthly life remaining.
By then, Kante, as he is adorably nicknamed by his peers after the English Premiership side, Chelsea workaholic midfielder, N'Golo Kante, was already staying at the club house since he had agreed terms with the academy management.
On Monday, Prosper touched down at Heathrow International Airport after securing a move to Leicester Soccer Academy.
MAJESA vice-chairman and renowned player manager, Donald 'King Azurie' Manhende told Post Sport that: "Prosper left for England on a 100 percent scholarship programme at Leicester Soccer Academy. He will be attending school while he waits for professional procedures to be completed by January next year."
To his credit, the exceptionally gifted Prosper has been outstanding on the field of play, let alone his unmatched levels of discipline on and off the pitch are exceptional.
Both his parents passed on.
He attended Chikwariro Primary School before he went to Mutare Boys' High for his secondary education.
In an interview facilitated by the MAJESA vice-chairman after Prosper's arrival in England this week, the youngster gave an account of how he joined MAJESA.
"I came for trials through my father who wanted the best from me as a footballer. He went to MAJESA, met with the executive and agreed terms with them, but unfortunately he passed away before I had a chance to show him how I had vastly improved at MAJESA Academy.
"I can say Charles Chave and co-director, Nomsa Chiadzwa-Chave have been my foster parents. I never thought I would know such love in my life especially after my parents passed on, but God gave me this couple and I will forever be grateful," he said.
Manhende said the academy is taking care of all Prosper's needs, both as a child and football player.
"Prosper proved to be a good player with great potential. MAJESA Academy is catering for all Prosper's needs like a parent taking care of his child," he said.