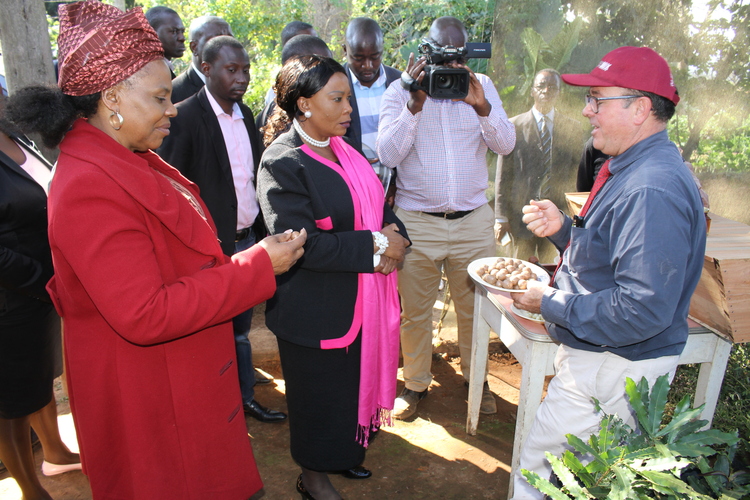 The ManicaPost
Rumbidzayi Zinyuke Senior Reporter
THE recent tour of Chipinge by First Lady Auxillia Mnangagwa was an eye opener for many who have always relegated the dormant town to the dustbins of poverty.
A lot of people have always considered Chipinge to be the back of beyond, associated with drought and famine.
They think nothing thrives in Chipinge. But they could not have been closer from the truth.
The district is a gold mine, so to speak. It is a sleeping agricultural giant that could become the biggest foreign currency earner if properly managed.
It is home to some very successful farmers who have been producing crops for export markets bringing in the much needed foreign currency to the economy.
Crops that are currently being grown successfully in Chipinge include tea, coffee, bananas and macadamia nuts.
And the macadamia nuts being grown by a number of large-scale farmers in Chipinge did not escape the First Lady's attention. She toured one of the farms – Lupard's Vlei Farm, after she had completed her visit to Mount Selinda hospital and orphanage.
The little known crop has become a cash cow for quite a number of smallholder farmers too, some of whom grow as little as 20 trees and go on to reap quite handsomely, albeit a little later than most cash crops.
Macadamia nut trees take five years to mature and farmers can only start getting profits in the sixth year. But according to Mr Dawie Joubert, one of the biggest macadamia nuts producers in the district, the profits that come are worth the wait.
"Most of our local farmers can earn a good income and live a decent life with only a few trees," he says.
He says one tree can yield up to 20kg of nuts at a time. And at $4 per kg, a farmer can earn between $25 000 to $30 000 per hectare.
An average Australian farmer has only five hectares of macadamia nut trees and this translates to an average of $150 000 per yield.
Now, you can imagine how much serious farmers who have put macadamia nuts on large scale are earning from the crop.
Lupard's Vlei farm has approximately 100 000 trees and employs more than 300 people on a monthly basis and at least 30 casual employees on a daily basis.
Their biggest market is China and the Asian country has the capacity to take up so much more of the crop if more producers come on board.
"Macadamia nuts are almost as good a foreign currency earner as tobacco but only healthier," he said.
"The crop is also less chemical intensive hence it costs less to produce than coffee, which most farmers in Chipinge have abandoned in favour of macadamia."
However, most local farmers are still growing in the industry so they have only few trees.
But that is not their biggest challenge.
Just like with most cash crops, their biggest threat is middlemen who reap them off.
"Most local farmers are losing out to outsiders who come and buy their crop off them at ridiculously low prices. They sometimes get only half the price they should be getting," said Mr Joubert.
He says the farmers were selling their crop at between $1, 50 and $2 per kilogramme only while the buyers then go on to sell in China for a better price.
But with a lot of interaction with the big producers who have been educating them on ways to make profit from their crop, most small holder farmers could start earning more from macadamia nuts.
One such area of cooperation has been the growing of nurseries to cut the cost of importing trees from South Africa.
"We benefited from research done in South Africa and we have imported that knowledge here to establish our own nursery where we grow our own trees," he said.
We also sell the trees to other farmers in the area for $5 each. Most farmers have been importing the trees, which has significantly increased their costs even before the crop is in the ground," he said.
He said the company had been training three other local farmers to establish their own nurseries and supply the local market.
To further cut costs, Lupard's Vlei farm has also constructed a cracking plant for value addition on the crop.
The factory, which offers the final step in the production of the macadamia nuts, cracks open the hard shell covering the nut to leave the final product, which is then sold to foreign markets. Not only will the cracking plant grow the macadamia nuts' value chain, it will create more employment for the local population and further cut costs for the farmer.
"South Africa used to make money from us because we would take our dried nuts, still in their shells, there for crushing so we used to lose out. But this plant means we have cut SA out of our production chain and we realise the full benefits," he said.
Mr Joubert said his hope was to value add for more local farmers to ensure that all macadamia nuts that leave the country have been cracked open to realise the best possible prices. His also anticipates the coming on board of more farmers to produce macadamia nuts on a large scale and grow the industry to almost the same size as the tobacco industry, if not bigger.
"This is one commodity where we can have efficient contract farming schemes just like in tobacco to ensure that farmers can produce efficiently and effectively."