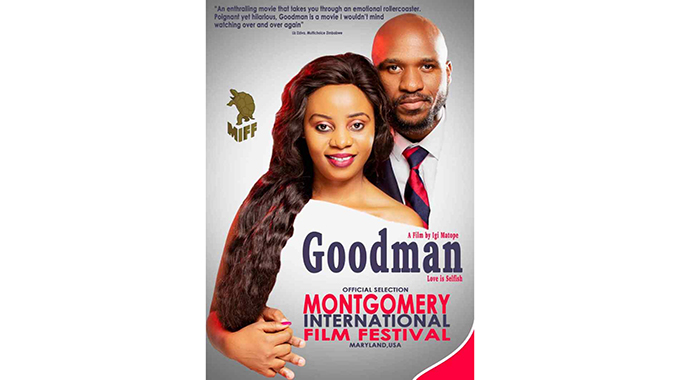 The ManicaPost
Liberty Dube Entertainment Correspondent
A LOCAL movie — "Goodman" — which was shot and produced in Mutare has been selected to be part of the prestigious Montgomery International Film Festival to be held in Bethsaida, Maryland in the US.
The festival is designed for independent filmmakers from around the world. The film will be shown online in the MIFF theatre from September 18, 2019 to September 18, 2020.
During this period, filmmakers, fans, the media, distributors who make up the membership system pay to watch the selected films.
The filmmaker gets 70 percent of the revenue.
At the end of the period, films are ranked according to the click total, average watch length and number of likes.
The top three films will receive the award of fans' choice in 2020.
"The festival is dedicated to providing a platform for independent filmmakers and art house filmmakers from all over the world to present their works and collaborate. We aim to foster a community of free thinking filmmakers, those who are pushing the boundaries of sound and vision into a new frontier. We believe the world is ready for the emergency of Art House Films and we bring distributors, filmmakers, media and fans together to achieve global awareness of the vital art form," said the MIFF in a statement.
The film producer, Kamo Phuti, said the selection was a great step towards launching their careers on the global stage.
"I am happy, humbled, thankful and encouraged. Mind you, the production of 'Goodman' was self-funded and a lot of sacrifices were made by the production team to produce a world class film that can compete globally. So I feel this official selection at the MIFF is a great step and an indication that what we (me and the production team) produced is world class and warrants an appreciation by the global audience. More importantly, this is the second time my production has been officially selected in the US, but this time around this is special in that a feature film 'Goodman' (90 minutes long) has been officially selected as compared to a short film previously selected at the Silicon Valley African Film Festival (SVAFF) 2017."
Tapiwa Marahwa, who is the lead actress added: "Just being selected is the greatest honour and achievement. Whether or not, we are going to be nominated for the awards at the end of the MIFF, this official selection is the greatest achievement and encouragement that our work is being appreciated."
Mutare-based film director, Igi Matope who, along with his company Pikicha Africa, produced the film said he was elated by the development.
The movie "Goodman" is an unfolding romance film on how the life of a decent and honest man changed overnight after a corporate party in which he hooked up with a lady-of-the-night.
The woman later blackmailed him with pregnancy.