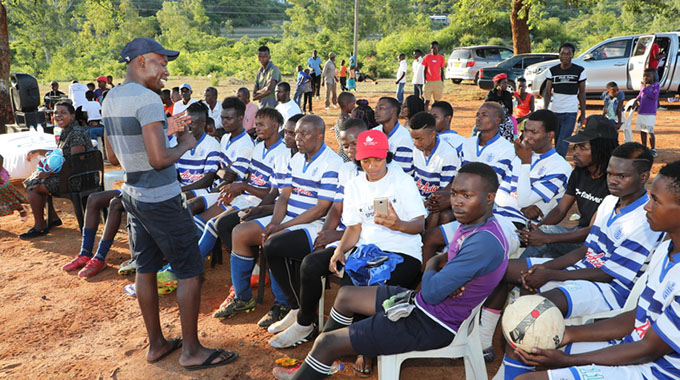 The ManicaPost
Wimbainashe Zhakaka Post Correspondent
DRIVEN by the desire to celebrate the New Year in style and ploughing back to community, the Lifa New Year Gala, whose menu included soccer among other sporting disciplines, on Tuesday exploded at Rowa much to the excitement of local folks. 
By the end of the day, winners walked away with prices worth more than $300 in the soccer, tag-of-war and netball, among other sporting genres.
In an interview with The Manica Post on the sidelines of the gala held in Ward 14, Mutare South, the gala coordinator and founder of Villa Football Club, Allan Lifa said this year's tournament, held under the theme — promoting and community development — was a huge success.
Lifa said they have been hosting the Lifa New Year gala for the past four years.
"It is not our first time to host a gala of this kind. It started as a small family event and we developed and expanded it to include the community. The gala is meant for youths, but we have also accommodated the elderly. Our thrust is to develop the youth so that they can avoid committing crime and engaging in undesirable behaviour during holidays," he said.
Lifa said the gala was his family's way of ploughing back to the community that nurtured them.
"This is also our unique way, as a family, of giving back to the community that raised us. Given the prevalent economic hardships, who are we as a family, to eat more than three meals per day while others are starving? We made sure everyone went back home with something to eat for participating in the event, be they winners or losers," he said.
Four soccer teams that participated during the gala included Villa FC from Harare, Rowa United, Legends and Lifa United. Only two netball teams – Elite Ladies and Rowa ladies — participated.
Elite Ladies scored 27 points while Rowa ladies scored 7. Lifa said they are also looking for young talent through such sport tournaments.
"It is through such tournament that we unravel future soccer players. Villa FC is my team and sometimes we give away our players to big teams rather than selling them," he said. Representing Deputy Minister of Home Affairs Mike Madiro, Gladys Ndapfinya appreciated the event saying it helped the community economically and physically.
"I see this event as an opportunity to help a lot of youths in our community. If they train hard, they might end playing for the big teams.
"I appreciate what the Lifas are doing, they have such a big heart for community," she said.