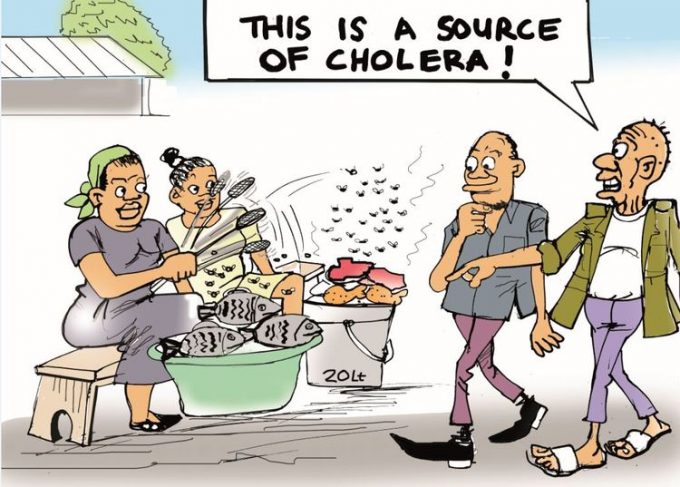 The ManicaPost
Cholera is an acute epidemic infectious disease characterised by watery diarrhoea, extreme loss of fluid and severe dehydration.
It can be fatal.
The bacteria are passed on in contaminated water or food, and thrive in dirty, unsanitary conditions, especially those which cause raw sewage to become mixed with drinking water or food.
After an incubation period of two to 28 hours, the disease usually starts with painless, watery diarrhoea, which can result in the loss of three to four gallons of fluid within a 24-hour period.
Despite being thought of as an ancient disease, suspected cholera cases are on the rise in Manicaland.
This is really worrisome and something needs to be done to combat this health problem.
It calls for collective action, not individualism. We all have to pull together without any slackening.
One death has been recorded in Rusape and at least 60 suspected cases, where people have severe painless, profuse watery diarrhoea accompanied by vomiting, which quickly leads to dehydration, have since been recorded in the provincial capital of Mutare.
Of the 60, 23 patients are still being admitted at Mutare Infectious Disease Hospital, and though Mutare City health department which handled the cases, insists none of the cases tested positive, it remains an issue of public concern as infected people may have minimal or no symptoms and can still contribute towards the spread of infection.
Cholera kills via dehydration and the public need to protect themselves against cholera by adhering to requisite hygienic standards, including, but not limited to drinking only water that is boiled or from a sealed bottle, good hand washing practices using soap or ashes under running water and eating hot food.
Hand shaking should also be avoided at this juncture. The health providers should ensure that the appropriate vaccinations and rapid response teams are readily available.
By far the best form of defence against the disease, however, is prevention. Improved sanitation and better public health considerably reduce the risks of cholera outbreaks.
The disease can thus spread rapidly in areas where sewage and drinking water supplies are inadequately treated, and local authorities in Manicaland should up their game in this regard.
Also the annual wet season with very heavy rainfall can cause fatal illnesses like cholera. It normally strikes twice a year, hitting once in the dry season when water flow is low, and then again during the wet season when heavy rains swell the rivers to overflowing or flooding.
Reducing people's exposure to the disease at the household level would help to break the chain of transmission of the disease. Local interventions including better sanitation and hygiene, water chlorination and vaccinating household members could help reduce cholera spread.
Preventing this spread within the household could enormously reduce cholera outbreaks and highlights the need for prioritising local control strategies.
This could have a huge impact, not only on the individual households, but also on the entire nation.
Anybody can be at risk— cholera is one disease that can kill healthy people quickly. We usually think a lot of these diseases will preferentially hit the malnourished or otherwise vulnerable. But cholera is something that can affect anybody.
In the unfortunate event of death, the bereaved families that opt to bury their deceased relatives in rural areas should notify health experts in their respective districts so that such burials are properly supervised to avoid putting mourners at the risk as funerals are potential gatherings where the disease can be transmitted.
Funerals are potential sites where cholera can be transmitted, and members of the public should avoid shaking hands and eating food cooked at such public gatherings.
We had one such burial in Masvosva village, Rusape that was conducted without supervision of health officials, and this should not be repeated as it puts community at risk.
While we also appreciate that the economic situation is generally hard for the citizenry, it is our appeal to vendors to heed Government's call to move off the streets.
We need to prioritise public health as improving the health of citizens can directly result in economic growth as there will be more people able to conduct effective activities in the workforce.
In working to combat diseases such as cholera, we have to fight the causes; there is a clear need for educational campaigns and other mechanisms to discourage people from living under unhygienic conditions while improving household and public health standards.