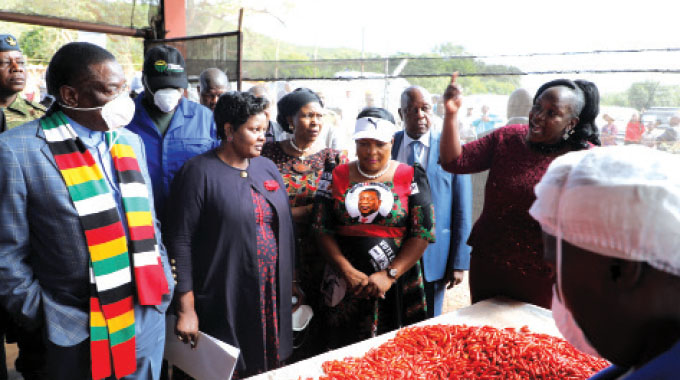 The ManicaPost
Senior Reporter
Zimbabwe is eager to engage and re-engage with the international community on an equal footing, President Mnangagwa has said.
The President said this on Wednesday while addressing party supporters at Bumhira High School in Nyanga North.
Prior to that, the President had commissioned the Nyakomba Irrigation Scheme, which has enabled the production of high value cash crops, including red chillies that are being exported to the United States of America.
President Mnangagwa's administration has been re-engaging the international community as he seeks to reposition Zimbabwe in the global family of nations, following decades of isolation.
"We will continue to engage every nation. We must come to the point where we identify the reasons that got us here. I call upon all the members of the international family to dialogue with us so that we can move forward.
Speaking on illegal sanctions imposed on the country, President Mnangagwa said Zimbabwe is paying the price for reclaiming its national heritage.
"There are some who have disengaged from us. They imposed sanctions on us following the land reform programme."
The President went on to highlight that the land reform programme is irreversible.
"However, inasmuch as we are re-engaging the community of nations, let me be categorically clear, the land reform programme is irreversible. We took back our land and we will have it                                                   forever.
"There is no negotiation on that issue because the land is the heritage of our future generations."
The President also spoke about the need for a patriotic populace.
"We must teach our children to be patriotic. Our children should love their country just as much as the Americans and the Chinese love their countries," said President Mnangagwa.
The President went on to stress the importance of strengthening Zimbabwe's currency.
He vowed to ensure the stability of the local currency despite the various machinations to destabilise it.
"To prosper as a nation, we need to have our own currency. The American currency can only develop America, while the rand can only develop South Africa and so on.
"While they plot to destroy our currency, we will continue working on stabilising and strengthening it.
Zimbabwe's new local currency was introduced in June last year when Government outlawed the use of multi-currencies, before some new notes and coins were released into circulation in November 2019.