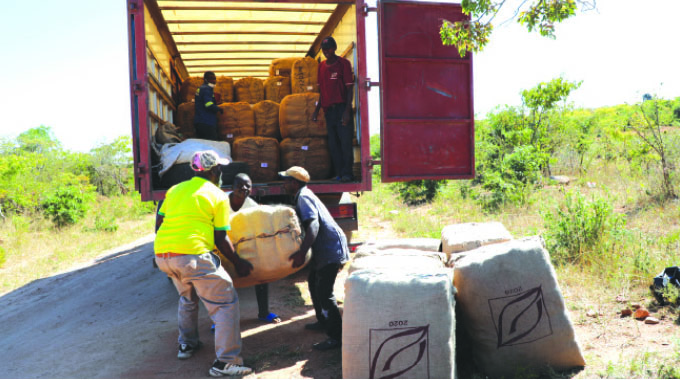 The ManicaPost
Samuel Kadungure Senior Reporter
THE 2020 contract tobacco selling season – which was deferred from last week – officially opened on Monday amid low activity as growers withheld their crop in protest over poor prices, payment delays and failure to access their hard currency from the banks.
Tobacco growers have decried the 'good crop and poor price' dilemma, saying it is threatening to push them out of business as they might not get a return on their investments.
The crop is fetching as little as 30 cents per kilogramme against a break-even price of US$3,50.
Farmers also complained of not being paid on time as well as not accessing their USD component from their nostro accounts.
A tour of Boka Floors in Rusape showed very little activity, with less than 100 bales having been sold between Monday and Wednesday as farmers withhold their crop to push for better prices.
However, fears abound that this tobacco season may turn out to be the worst for the bulk of small-scale tobacco farmers whose current crop has dropped in both yield and quality.
Zimbabwe Farmers Union (ZFU) executive director, Mr Paul Zakaria said prices are discouraging and the gap between deliveries and payment is too long.
"All the farmers have is proof that the money would have been deposited into their accounts, but they cannot access it. Farmers need to be paid promptly, banks should assist them on that issue. You cannot hold on to farmers' money for so long given that prices are going up," said Mr Zakaria.
Mr Zakaria, whose union has over 350 000 members, said foreign currency deposited into the farmers' nostro accounts should be treated as readily accessible free funds.
"Once money is paid in the nostro accounts, it must be treated as free funds and it should be accessible. Farmers must be able to go to the ATMs to withdraw their money. Banks have no excuse on this one. They must play ball and pay farmers on time," he said.
However, Mr Zakaria went on to say the price normally firms as quality improves.
"Traditionally, farmers deliver primings (lower leaves) first in order to taste the market. Price is a function of what happens on the day and most importantly, quality.
High quality tobacco will come into the market later and the price will respond to that," said Mr Zakaria.
Tobacco Farmers Union Trust president, Mr Victor Mariranyika said the minimum entry price and the price matrix enshrined in the Tobacco Marketing and Levy Act, Chapter 18:20 (Section 70), is not being implemented.
"Now that some growers cannot accompany their crop to the market, they are at the mercy of buyers. Small-scale growers who cannot meet the 100 bales threshold set by the Tobacco Industry Marketing Board (TIMB) are being adversely affected.
"Activity on the market is very slow, it is not business as usual as some growers are withholding their crop and waiting for prices to improve.
He said due to the low prices, some farmers might fail to produce tobacco in the next season.
TIMB chief executive officer, Dr Andrew Matibiri, said farmers are required to have two functional bank accounts — nostro and local currency accounts — before delivery of the crop to ensure prompt payment.
He said defiant banks would be punished for delaying processing farmers' payments.
"Farmers must report such banks to TIMB as quickly as possible to enable us to investigate and report those banks to the RBZ so that they can be dealt with. Any delays will not be tolerated because we do not want people to travel up and down during the lockdown period," said Dr Matibiri.
He urged farmers to familiarise with the Covid-19 regulations to avoid insurmountable hurdles.
"No farmer will be allowed to deliver tobacco for sale more than once per week. The farmer shall be notified of his or her tentative selling time at the point of booking. Selling floors shall accept tobacco deliveries as from 6am to 5pm, with trucks arriving outside the permissible time being turned away.
"A maximum of only two people are allowed on-board the tobacco delivery trucks.
"The "delivery today and sale tomorrow" policy will be enforced in full," said Dr Matibiri, adding that non-booked tobacco will not be accepted.
Another auction floor, Pamulka Leaf Pvt Limited, is expected to open its doors in Rusape next Monday.