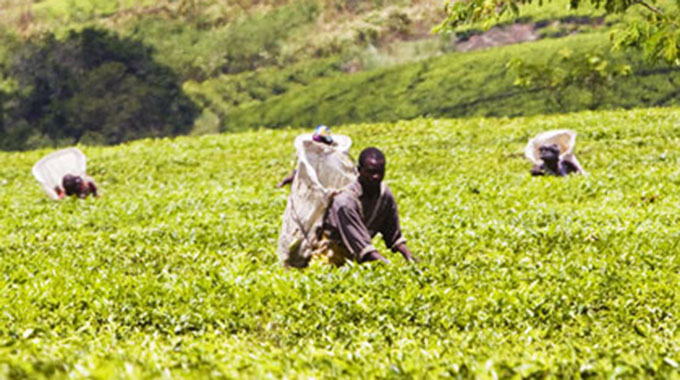 The ManicaPost
Rumbidzayi Zinyuke Senior Business Reporter
SMALL-scale tea growers in Mutasa North have lamented the high cost of labour which has significantly affected harvesting of the crop and will result in lower production this season.
They also said the payment of their crop in local currency has made labour more expensive as they have to source cash at a premium to pay workers.
The farmers sell their crop to Eastern Highlands Plantations in Honde Valley, which exports at least 95 percent of its tea to Europe, and are paid US$1,04 per kg at the interbank rate.
Honde Valley Tea Growers' Association chairman Mr Charles Sanhanga said labour was now the most expensive input, as most of the workers wanted to be paid either in hard cash or foreign currency.
"We are being paid US$1,04 at the prevailing interbank rate but the rate is not constant and the money is deposited in our accounts. When we want to hire workers to help with harvesting, they demand cash payments but then we cannot get cash easily," he said.
He said workers now preferred to be contracted by EHP during harvesting season since the company was offering food hampers as an incentive.
"Although the company pays in local currency, they can afford to offer other incentives to entice the workers.
"They have been offering them food hampers which we cannot do. This has left us at a disadvantage because we will not be able to harvest all our crop," said Mr Sanhanga.
As a result, he said farmers might be forced to prune the tea crop early and allow it to shoot while they harvest smaller portions of their field.
This will reduce this season's yield to less than the 1,8 million kg sold last year.
Farmers had only managed to produce 900kg in January this year compared to 1700kg at the same time last year.
During peak season (November to April) production usually averages 200 000kg per month.
The figures, however, drop significantly between May and October, when farmers will be pruning the crop.
"We received fertilisers from EHP last month and this was supposed to increase our production but because of shortage of labour, we could not apply the fertiliser to the whole crop. Since we have been failing to maintain the 14-day cycle of harvesting, we only apply fertiliser to the area that we are sure we will be able to harvest," he said.