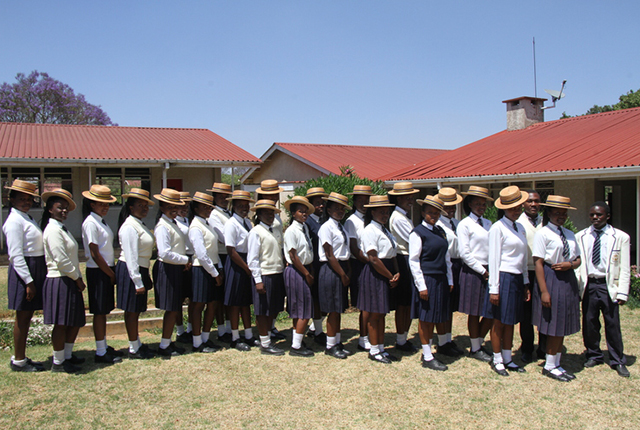 The ManicaPost
Samuel Kadungure Senior Reporter
KRISTE Mambo High School is an academic bastion that is buoyed by an unbending determination to mow down anything that seeks to stop it from landing the top spot in the league of academic high-flyers.
The school, which was established in 1964 as an exclusive girls' school with a petite enrolment and has expanded over the years, is one of the golden results producing schools in the country and jealously guards that reputation.
"Reputation is the cornerstone of power. Through reputation alone, you can intimidate and win; once it slips, however, you are vulnerable, and will be attached on all sides. Make your reputation unassailable," said school head Mr Andrew Mvere as he quoted great physiologist Robert Green's fifth summary of 48 Laws of Power.
Kriste Mambo has exceeded expectations in addressing needs of the 'whole girl' through a comprehensive, well-rounded education and environment that inspires, challenges, encourages and supports them to attain their full potential and amazing young women.
The girls are provided nutritious meals; spiritual, social, mental and emotional mentorship; have access to a multiplicity of ICT and research tools and live in a hygienic and supportive learning environment which guarantees their accomplishment.
Over the years its academic and sporting profile has been swirling upwards as a number of its girls made it into challenging professions and landed scholarships to pursue various academic and sporting genres across the globe.
No wonder why Mr Mvere is always beating his chest.
Why not when his school has produced high pass rates over the past 10 years, never scoring below 90 percent at 'O' level and 98 percent at 'A' level?
"The school has revolved into a perennial accolade of excellence in various spheres of its life. The outstandingly qualitative Ordinary and Advanced level results for 2015 were an out of the ordinary achievement scoring a 100 percent for both levels.
"Going by the statistics we collected from our rivalry schools, we are number one nationally for Ordinary level if the rankings were done like other years.
"What a feat of achievement compare to national average of 26 percent for 2015?
The young ladies have also done very well in sporting and cultural activities with teams getting to as far as national finals. They have not been found wanting on the spiritual front as we are moulding them to be complete citizens," Mr Mvere said.
On the 2016 exam classes he said: "I would like to wish our students writing exams great success as I challenge them to surpass last year's record by recording a 101 percent.
Remember, we have to jealously guard against reputation lest we become complacent and deteriorate in our performance over night".
Kriste Mambo's Vision
"Quality infrastructure and adequate resources for golden results".
Kriste Mambo Mission
"To provide high quality holistic education through the efficient mobilisation of human and material resources available, moulding the growth of an individual learner; morally, spiritually, academically, culturally, socially and physically".
Kriste Mambo's brief background
It was found in 1964 as a girls' only school with an enrolment of 200 girls, but has expanded its tentacles over the years.
The school is owned by the Roman Catholic — Carmelite Fathers — with a management comprises of nine members — the school manager Father Alexio Makokowe (O.Carm), Mr Mvere and his deputy Mr Joseph Munhuweyi, among others.
Its current enrolment stands at 606 students — 552 girls in boarding and 48 day students from the local community, of which 22 are boys.
Boarding fees is pegged at $390-00 and tuition is $130-00.
It has a staff establishment of 31 teachers (15 females and 16 males) and 25 ancillary personnel.
The school attained 'A' level status in 2000.
The curriculum
Kriste Mambo offers a rich curriculum of sciences, commercials, arts and voc-tech subjects.
It has 12 classrooms, six specialist rooms for voc-tech subjects like Fashion and Fabrics, Food and Nutrition, Computers, Library, Biology, Chemistry and Physics.
Sport, Arts and Culture
Apart from the academics, the school also offers some extra-curricular activities covering sport, arts and culture.
Kriste Mambo, like other elite schools, doesn't value arts, culture and sport education on the basis that it has social or economic benefits, but because it expands the mind and soul of the girls.
The school offers a good co-curricular education inclusive of arts, great literature novels, poetry and short stories, plays, drama, dance, visual arts, music, film and sporting genres like athletics, soccer, tennis, rugby, basket, net, volley and handball, darts, table tennis and chess.
It has won accolades at district, provincial and national levels and continues to expose the girl child to the best there is in as many art and sport disciplines as possible given their key role in moral, individual development and deeper commitment to humanist principles.
New Curriculum
The Ministry of Primary and Secondary Education is introducing a new curriculum with effect from next year and the school has covered a lot of ground work in preparation for the new dispensation.
The school was selected to pilot test on the new syllabus, and its students are already exposed to its dictates.
The role of the church
Fr Makokowe said the Roman Catholic schools provide children with an all-round and practical Christian education.
"The church is the responsible authority, and helps the students to embody Christian values through emphasis on prayer," Fr Makokowe said.
Fr Makokowe singled out supportive parents, dedicated teachers and intelligent, dedicated, committed, highly spiritual and behaved students who never want to put the efforts of their parents and guardians to waste.  "Our students are more prayerful than playful. We also talk of very dedicated teaching and non-teaching staff, who always refer to themselves as a "community".
They give serious attention to their work in their various departments," Fr Makokowe said.
Immediate achieved projects
Acquisition of a brand new Q-bus, Kombi and Head's truck.
Purchase of a 100KV generator and 12 electrical sewing machines
Construction of a 10 000 litres in-house services station and installation of nine water tanks.
Fencing the school yard.
Paving of the main entrance.
Revamping of the kitchen.
Drilling three boreholes.
Construction of a multi-purpose court.
Construction of a duplex staff house.
Purchase of mattresses, desks and chairs.
Proposed projects by 2021
Extension of lower six dining hall.
Refurbishment of gallery.
Tilling the kitchen and offices.
Landscaping school grounds.
HODs offices.
Construction of the school dam.
Staff accommodation — two per annum.
Chairs for the hall, the library and computer labs.
Geography, G&C rooms and a sick bay.
Extension of the administration block to accommodate the bursar's office.
A level science complex.
Slabs for the sports field and terraced benches.
Refurbishment of buildings and re-painting.
TVs for the hostels.
Embracing the new curriculum e.g. to include subjects like music, foreign languages.