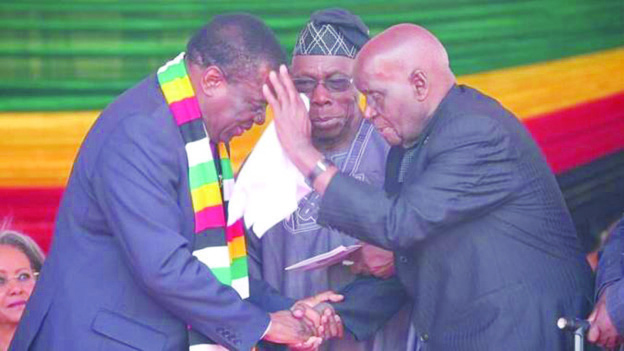 The ManicaPost
Freedom Mutanda
Post Correspondent
BACK in April 1980, I heard a soccer commentator calling out KK 11. It baffled me as the letters and numbers were meaningless to me.
By the end of the match, Zambia had lost the game 1-2.
Later on, I learnt that during the 1980s, the Zambian national soccer team were known as the KK 11, after founding President Dr Kenneth Kaunda
Here was a President of a sovereign country whose passion for soccer and the emancipation of Africa was unprecedented.
That is Dr Kaunda for you, a man whose trademark safari suits made him an icon of liberation through the length and breadth of Africa.
On June 17, 2021, the man with the trademark white handkerchief breathed his last at Maina Soko Military Hospital after being ill for a number of days.
He was 97.
Dr Kaunda's death signalled the end of an era as most of his peers lost their lives in the intervening years. These include Julius 'Mwalimu' Nyerere, Abdel Gamal Nasser, Kwame Nkrumah, Agostino Neto and many others from across the African continent.
Zimbabweans will forever be grateful to the humanist Dr Kaunda who was born on April 28, 1924, at Libure Mission in Zambia.
His parents were both teachers and religious leaders who mentored the man until he followed in their footsteps as a teacher in 1946.
Dr Kaunda is the man who pressured the Commonwealth to look into the Rhodesian crisis after a Commonwealth Heads Of Government Meeting (CHOGM) in Lusaka which culminated in the holding of the Lancaster House Conference from September to December 1979 and opened the way for a ceasefire in the country.
Later on, elections were held and Zimbabwe attained its independence from Britain in April 1980.
Dr Kaunda was against revisionism and the tendency to think that Africans are daft.
At one point as he responded to some Western backed analysts who were criticising Zambia's partnership with China in the construction of the Tazara railway line which links Zambia to Dar es Salaam, he said: "Seventy years of colonialism did not turn us into colonialists and five years of Chinese construction will not turn us into communists.''
A founding member of Northern Rhodesia African Congress, Dr Kaunda rose through the ranks to become the Secretary-General of the party which was headed by Mr Harry Nkumbula.
He loved reading the writings of Mahatma Ghandi who had a penchant for peaceful protests and other life changing antics in the face of hard core colonialists like Sir Roy Welensky, the Prime Minister of the Federation at that time.
In Dr Kaunda's own words, Mahatma Ghandi's writings "went straight to my heart.''
He was arrested in 1957 for subversion by the colonial authorities and during his time in jail, his close associate, Mr Mainza Chona, founded the Zambia African National Congress in 1958, but told the membership that the party would wait for Dr Kaunda to be freed to take up the leadership of the party.
Dr Kaunda was a bull in politics and remained so until the time of his death.
Mr Chona paved the way for Dr Kaunda to take over the leadership of the party in 1960 and he went about the business of campaigning to end the Rhodesia and Nyasaland Federation.
This paved the way for him to lead the country to independence in 1964.
At the attainment of Zambia's independence, the nation had a few university graduates.
Dr Kaunda knew that for any development to take place, his government had to prioritise education and he did just that.
His education policies saw the birth of Zambia University and several vocational colleges.
After Zimbabwe gained independence in 1980, the Zanu PF-led Government took a leaf from Mr Kaunda and provided learning materials for free.
That was the bedrock for the education system which has been the envy of many developing countries.
Crucially, the education system in Zimbabwe, as espoused by President Mnangagwa, is the cornerstone of his vision towards attaining an upper middle class economy by 2030.
Copper was Zambia's major foreign currency earner before independence and it continued to be the nation's cash cow decades after independence.
Dr Kaunda nationalised strategic industries like mining and he received much flak from his detractors, more-so after the fall in oil and copper prices in the 1970s.
Some critics would want people to remember him for the high inflation that once hit his country. However, that was a phase which could have been a result of relying on one commodity to acquire foreign currency.
The phase has since passed.
A former liberation fighter who trained in Zambia, Mr Lovemore Maseko said Dr Kaunda had a big heart and would harbour the Zimbabwe African National Liberation Army and the Zimbabwe People's Revolutionary Army at training bases in Zambia.
His country was to be pounded by the Rhodesian military machine to dissuade Dr Kaunda from supporting the Southern African nationalist cause.
Mr Maseko said: "Despite not having a sophisticated army, Dr Kaunda harboured us and his country suffered the brunt of cross-border raids and assassinations. He hosted both Zanu and Zapu, ANC from South Africa and SWAPO from Namibia.''
Dr Kaunda acted as a refuge to all Southern African liberation fighters.
He loved his fellow Africans and never wavered in his pursuit of their justice. He had scars to show for the support he rendered to the liberation parties. Fittingly by the time he fell from power, only South Africa was still under apartheid.
Mr Kaunda spread the philosophy of humanism and wrote numerous books and papers on his understanding of people.
Consequently, those who fled to Zambia were treated like Zambians as they were allowed to go to school, own businesses and land. They were never treated as foreigners because this African dream was watered by Dr Kaunda's humane philosophy.
Consequently, a young Emerson Mnangagwa conducted his law studies at the University of Zambia.
Dr Kaunda was the first African leader to open up on the devastating effects of the Acquired Immune Deficiency Syndrome (AIDS) after his son tested positive in the 1980s.
At that time, stigma was rife but Dr Kaunda took the bull by the horns and became a strong supporter of the AIDS response. He showed great leadership and courage in speaking out against HIV-related stigma and discrimination.
Along the way, KK could have made some mistakes.
He was human after all and therefore this was unavoidable.
However, that will never tarnish his legacy.
Dr Kaunda is survived by 30 grandchildren and 11 great-grandchildren; but in essence, he is survived by millions of Africans who are grateful for the sanctuary he provided to the liberation forces of Southern Africa.
Hamba kahle, famba zvakanaka, go well KK.
One Zambia, one nation.
Indeed, Africa is one nation judging by the resoluteness Dr Kaunda showed in defence of the continent.