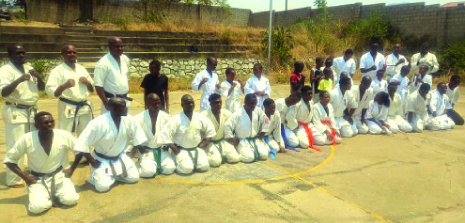 The ManicaPost
Ray Bande
Senior Reporter
KARATAKERS in Manicaland are leaving no stone unturned in their quest to make their presence felt in the Shihan Samson Muripo Regional competition slated for Chitungwiza Aquatic Complex next Saturday.
The three-time world champion, Shihan Samson Muripo will have the second edition of a karate competition named after him after the first edition in 2020.
Shihan is an honorific title for expert, master or senior martial arts instructors and is created using two Japanese characters.
The celebrated karataker, Shihan Samson Muripo was at Mutare's Raylton Sport Club last week on Saturday for a squad training that brought together 60 participants from Harare and 50 from the eastern border city.
He said: "The trip to Mutare was just a developmental tour whereby we sought to inspire and strengthen prospective Shihan Samson Muripo competition participants based in Mutare.
"It was an event that enabled those in Mutare to catch up with their counterparts from Harare who also made it to Mutare last weekend."
Shihan Muripo said there is need to promote the sport's visibility and attract sponsorship.
"I think we really need exposure so that we get the much-needed sponsorship, given that the potential is huge. There is need for funding in order for us to have more world champions.
"It takes about 10 years for one to go through that path and that involves a lot of expenses. Given the huge potential we have, I have no doubt that we will get there at some point," he said.
Mutare-based Sensei Allen Makufeni, who runs a karate and fitness class at Raylton Sports Club – Allen Fitness Centre, told Post Sport that part of the group of 50 participants who took part in last Saturday's squad training, which included women and youngsters, are eager to showcase their talents in the second edition of the Shihan Samson Muripo contest.
"We are happy with last Saturday's initiative by Shihan Samson Muripo here in Mutare. It really inspired our karatakers and a good number of them are raring to go and participate in the second edition of the competition," he said.
The Shihan Samson Muripo competition features participants from most of the SADC region including Mozambique, South Africa, Zambia and Malawi.
Sensei Makufeni said the fitness sessions they are hosting at Raylton Sports Club have helped boost wellness levels in individuals, some of whom had gained weight due to the Covid-19 inactivity.
"The good thing about the fitness sessions that we are having at Raylton Sports Club is that they help boost wellness levels in individuals, some of whom had gained much weight due to the Covid-19 inactivity.
"The classes are not just for karate, but also fitness in general whereby we have aerobics sessions and weight training that encompasses bodybuilding and power lifting," he said.
One of the local karate enthusiasts, Nillan Makuwa, said:
"We are excited by this development of promoting wellness among people, especially when we are grappling with a lot of diseases.
"Karate is not a violent sport, but it promotes discipline. People should take it serious and have proper grassroots development programmes. Clubs should also be formed in schools and communities. This can also go a long way in fighting the drug abuse scourge especially among youths.
"The business community should also come on board and sponsor this sport. We want to dispel the notion that karate is a violent sport. We want many world champions in the mould of Shihan Samson Muripo to emerge from Mutare and Manicaland at large."