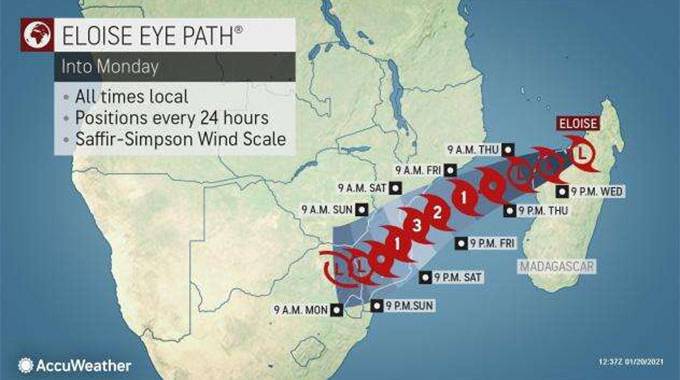 The ManicaPost
Cletus Mushanawani – News Editor
THE Metrological Services Department has warned of continuous rains and strong winds that are expected to hit some parts of Manicaland, Masvingo and Matabeleland South starting this evening.
In a statement, Met Department, said the Tropical Storm Eloise is now in the Mozambique Channel and is expected to intensify into a tropical cyclone today (Friday).
The storm is expected to make landfall in Sofala Province, Mozambique, probably tomorrow (Saturday).
Heavy rainfall, strong winds and thunderstorms are expected in several districts of Nampula, Sofala and Zambezia provinces in Mozambique from today.
Latest forecasts indicate that the storm may pass through southern Zimbabwe.
"Temporary reduction of moisture is expected over the southern half of the country this Friday due to the position of Severe Tropical Storm Eloise. By evening, rains associated with the cloud-bands of the Tropical System Eloise should start off in southern parts of Manicaland
Province. Thereafter, widesprad rainfall is expected from Saturday to Sunday. Heavier falls (in excess of 50mm) are expected in parts of
Matabeleland South, southern parts of Midlands, Masvingo and Manicaland provinces," reads the Met Department statement.
The department further warned of destructive winds that may blow off roof tops and bring down trees, as well as riverine and flash flooding.
Meanwhile, the Chimanimani Civil Protection Unit has started evacuating villagers to selected centres.
Chimanimani District Development Coordinator, Mr Joseph Manyurapasi, said the process started this morning.