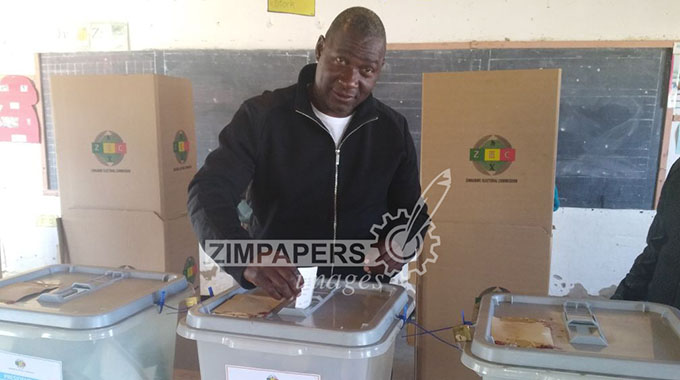 The ManicaPost
Nyore Madzianike Senior Reporter
ZANU-PF candidate for Nyanga South Cde Supa Mandiwanzira said President Mnangagwa will associate himself with new thinking after winning resoundingly in today's elections.
Speaking after casting his vote at Manjoro Primary, the Nyanga South incumbent legislator, Cde Mandiwanzira said he would also win the elections along with other Zanu-PF candidates vying for positions during today's harmonized elections.
"I think there is no doubt about who will win in Nyanga South. There is no question about this one.
"It is President Mnangagwa; it is Supa Mandiwanzira and all Zanu-PF councillors. It is not just winning but winning resoundingly," he said.
Cde Mandiwanzira said people in Nyanga South were excited to vote saying they were looking forward to real change.
"The support people have for Zanu-PF here cannot be doubted. They are excited and looking forward to real change that has been brought about by President Mnangagwa. They want to cement his leadership by giving him a totally fresh mandate, that is, his own mandate. They are very excited because President Mnangagwa has fresh ideas. He is associating himself with new thinking and not the old thinking," he said.
Cde Mandiwanzira is contesting against against Webster Ngonzwe (MDC-T) Talent Kadzima (independent) Nickson Mupotsa (#FMZ) Sanyanga Tonderai (MDC Alliance).
Zanu-PF candidate for Nyanga North Cde Chido Sanyatwe also added that people were voting peacefully and the process was flowing smoothly.
She said people had been voting in harmony and there had been change in voting patterns since 1980.
"I am the first woman to contest for Nyanga North since 1980. I am going to win resoundingly. People came out in their numbers and all has been going on well,"she said.
Cde Sanyatwe said she has not heard of any political violence in the constituency.
"My election into this position would solve the gender imbalance in Parliament. I am one of the few women who are contesting for a Parliamentary seat in the country. I am confident that I am going to win resoundingly. President Mnangagwa will also win resoundingly," she said.
She said Nyanga North had been neglected for years and had also been marginalised.
"We are appealing for infrastructure development especially the road network," she said.