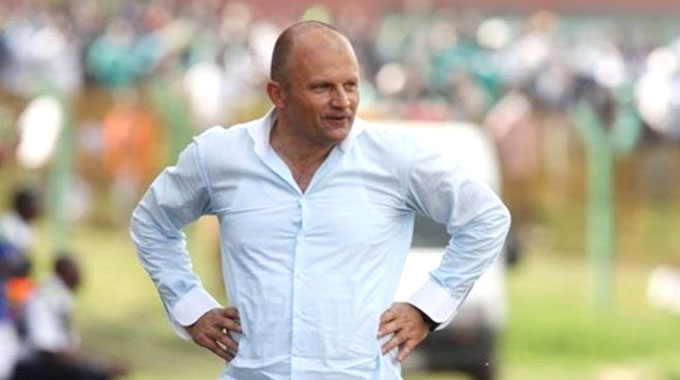 The ManicaPost
Moffat Mungazi's
THE recent appointment of Croatian coach Zdravko "Loga" Logarusic as the substantive Warriors gaffer has elicited mixed feelings from followers of the game
Taking charge of the senior men's soccer side, the new trainer's immediate task is to successfully spearhead the national team's upcoming World Cup and Afcon qualifiers as well as the Chan campaign.
With the tactician's work permit now ready and him expected to get down to serious business next week, we add our voice to the discourse of the growing chorus of disconent his unveiling has generated.
Our two cents, we trust, will make sense.
Setting it off with this disclaimer, we shall be the first to acknowledge with unreserved credit, however, and give it to him if he conjures any success and prove us wrong.
Pardon the brutal candour, this Loga guy does not cut it for us.
We welcome him with open arms, yet are taking his involvement with a pinch of salt because he looks out of depth for this role.
But what does Luga bring to the table for the overall development and growth of our national game?
That he is the best person for the job we are not convinced, given his profile parades him as not having won anything of significant note in his managerial career save only for patchy stints with some clubs across Africa particularly Kenya and Ghana.
Call this cynicism if you will, ardent reader, but we are neither impressed nor excited and doubt his coaching credentials to take our game to the next level.
Our suspicion is that he does not have what it takes.
If we look at how he has parted ways with most of the clubs he has been in charge of, especially in Kenya, then we shudder to imagine that we could be in for a rough ride with him.
Not mentioning that he hardly stays long in one job.
We habour no aversion for expatriate coaches but cannot hide our reservations either.
What the hell did we need a foreign gaffer for?
Given the problems we have had in the past with these overseas coaches, some of whom easily pass up for tourists, we query the wisdom in hiring one.
Zifa's fleeting flirtation with Valinhos and Tom Saintfiet during their brief spells with our game ended acrimoniously and need we jog each other's memories that their battles with the association turned ugly and spilled into the courts, which cost us dearly following our disqualification from the 2018 World Cup qualifiers after failing to pay the former his dues?
Another potential disaster loomed large but was averted when the latter had his outstanding dues settled to save the blushes of another expulsion from the 2022 edition of the same competition.
Because these coaches do not come cheap, are we not in for repeating the same mistakes? Besides, none has done enough to make us believe these extraterrestrial coaches can deliver! Anyone remembers the infamous and stinging words of Ben Koufie, himself another failed foreign gaffer, after he was fired from his position?
Is this not being elitist for nothing on Zifa's part? Where are our own Zimbabwe-made mentors like Norman Mapeza, Kallisto Pasuwa and Kallisto Pasuwa — to mention just these few — who, interestingly, are doing good elsewhere? Are they not getting a raw deal in this regard? That the two are tried and tested, could we not have trusted them?
While it appears plausible and sustainable that the Warriors coach has his salary pegged in local currency, will this marriage subsist for its envisaged duration? Undertaking such a commitment, did Zifa look before taking this leap?
Also, that Logarusic has conceded first spot to Ghana — who he tipped to finish top of the pile and clinch their 2022 World Cup qualifiers Group G — has armed his critics, perhaps inadvertently, with more vitriolic ammunition to savage him.
Zimbabwe were paired alongside the West African giants as well neighbours South Africa and Ethiopia for a place at the Qatar finals and the coach was quoted as telling a Ghanaian radio station: "So in the group Ghana is absolutely the favourite.
We have to fight for position number two because Ghana is definitely likely to finish first."
This defeatist attitude, reason some, will not take us anywhere. On his part Loga misfired when he singled out Ghana as the probable group winners.
What impact is this going to have on the players' attitude and mentality going into these qualifiers? As a commander of the troops, he should have declared war on his opponents rather than giving up before any shots have been fired.
Are we not there to compete, even against the best, and not settle for lesser positions? It would not be far-fetched, therefore, to suggest that the coach does not appear confident of himself and looks like he has little faith in our pool of players.
Yet others are not nitpicking and neither are they panicking, looking at the bigger picture in broader perspective.
To them this is not the time to be critical but pull in the same direction.
The guy has not even started work and it will only be fair to judge him by the output of his work, they reckon.
As well as accepting him, he deserves all the support he should get from everyone involved with our game from the association and supporters to the corporate world.
Because everyone deserves a chance in life, our coach also needs our backing. We simply have to be positive and upbeat.
Maybe Logarusic is only being a part of the bigger problem afflicting our national game, what with the boardroom squabbles and controversies that perennially dog the beleaguered Zifa.
While this coach was not the popular choice among fans, the problem is with our current leadership at the association that seems to be taking chances with our football.
Their priorities are misplaced sometimes.
Our fervent hope is that the federation exercised due diligence through a background check and ran the rule over this mentor to get into the picture of the kind of guy they were settling for because he brings with him some baggage.
Without dwelling on their past embarrassing mistakes — like failing to assemble a team for the Mighty Warriors' 2022 Olympic home assignment against Zambia's Shepolopolo — the way this administration has run the affairs leaves a lot to be desired and our game continues to suffer at their hands because they lack clarity of thought.
For things to work the mother body has to provide a conducive environment for both the players and the coach while catering for their needs and also meeting their expectations, otherwise we risk going round in circles.
That ex-Warriors trainer Norman Mapeza was reportedly available and would have considered this offer on condition that Zifa pay him a substantial amount of what they owe him and that they are still in arrears to another former national team tactician Charles Mhlauri from his 2006 stint tells a story and is an indictment on our football bosses.
Zdravko "Loga" Logarusic's work is already cut out for him and he should hit the ground running.
Good luck to the coach because he will certainly need it!
If it is about football that you care let's share the cheer because we are made for the game, mad about the game!
For interaction send your views, comments and contributions through feedback on WhatsApp or sms to 0736 036 593 or e-mail:[email protected] <mailto:[email protected]>