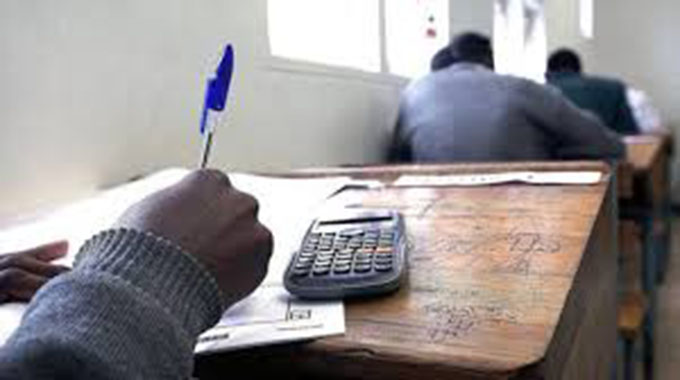 The ManicaPost
Samuel Kadungure
Senior Reporter
Before the Zimbabwe National Schools Examination Council (Zimsec) June examinations started early this week, the uncertainty on whether they would proceed due to the prolonged closure of schools as a result of the Covid-19 lockdown had been making many candidates anxious.
To some, the June examination results are key in certifying their progression to the next level of the education system.
Cancellation of any exam, regardless of the circumstances, should never be taken lightly as it determines future study choices, with the results being one of the most important criteria for tertiary and employment admissions.
The uncertainty was authored by the hullaballoo in which teachers' unions and the Parliamentary Portfolio Committee on Education wanted them postponed, while Zimsec and the Ministry of Primary and Secondary Education were on the pro-exam side.
Most parents and candidates also wanted the exams to go ahead with adequate planning and strict health guidelines.
According to their wishes, the exams started on Tuesday with precautionary measures being taken in exam centres across Manicaland. This includes physical distancing, hand-washing, sanitisation and compulsory wearing of face masks.
Manicaland has 6 092 Ordinary Level and 132 Advanced Level candidates sitting for the June exams.
Zimsec spokesperson, Mrs Nicholette Dlamini said the exams started well, with most centres observing Covid-19 prescribed regulations.
"We have not faced any major challenges and can safely say the exams started well with the majority of candidates being able to sit for the examinations," she said.
But while urban schools strictly observed Covid-19 set regulations, the same cannot be said about resource-poor rural schools.
In Makoni, some of the rural schools like Tsindi and Manonga Secondary Schools were not testing temperatures at the gate.
Candidates and visitors could even pass through the gates without wearing face masks.
"Those schools must contact their district or provincial offices because all the PPE was being distributed through their existing structures. It is something that the ministry and Government put together, so they need to contact the school authorities to collect their allocations. It is implored that every centre must observe the mitigatory measures put in place to curtail the spread of the coronavirus.
"We distributed infrared thermometers, sanitisers and fumigants for every centre and all they need to do is to pick them from their education offices," said Mrs Dlamini.
Zimbabwe School Development Committees (ZSDC) secretary-general, Mr Everisto Jongwe said Zimsec could not do away with the June exams as they are critical for parents, learners and the community at large.
Mr Jongwe said the June 29 to July 22 examinations must proceed with Government assuming its constitutional duty of providing the minimum health standards.
"Exams should go ahead. They cannot be deferred to 2021 as this will end up doubling the load. We cannot have double classes sitting for exams in 2021, so either way the exams must be written," said Mr Jongwe.
He said Government should assist through bulk procurement of appropriate PPE and related sundries like sanitisers, face masks, water containers, rapid testing kits and fumigants.
Manicaland Provincial Education Director, Mr Edward Shumba dispelled reports that some villagers were supervising exams after teachers boycotted invigilating.
"On Tuesday, we visited six schools in Nyanga, Mutasa, Makoni, Buhera and teachers were invigilating. On Wednesday I was in Chimanimani and invigilation was taking place. If anybody has any information contrary to that, may they give me the names of the schools where villagers were supervising exams. I am prepared to go there and verify.
"Teachers have been trained to conduct these exams. I was at Bumba where 10 teachers were trained, at Chakohwa High, 15 teachers were trained, the same as Nedziwa," he said.
Mr Shumba, however, admitted that some schools had no infrared thermometers and had to hire them from local health institutions.
"I was in Buhera, Makoni and Chimanimani, where the centres I visited had no major problems. However, the provision of thermometers was a challenge. We ended up sourcing them from the Ministry of Health and Child Care.
Now that parents are beginning to pay school fees, our schools will be able to buy their own thermometers," said Mr Shumba.
Mr Shumba said the invigilating teachers are merely undertaking a duty they normally would have undertaken had it not been the closure of schools due to Covid-19, hence Government is not compelled to pay invigilation fees.