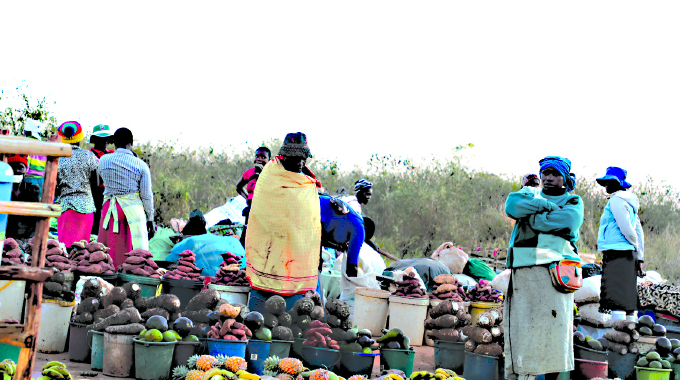 The ManicaPost
Luthando Mapepa Chipinge Correspondent
ONCE one of the busiest fresh produce markets in Manicaland, Jopa Vendors' Market in Chipinge is fast turning into a ghost area as the Covid-19 pandemic continues to bite.
Located at the junction that links Chipinge, Chimanimani and Mutare, the place has previously been a hive of activity as vendors eke a living through selling fresh produces to motorists travelling to different places.
The place was well-known for affordable yams, sweet potatoes, macadamia nuts, bananas, avocado pears, pineapples, oranges, naartjies and sugarcane.
However due to travelling restrictions put in place to curb the spread of Covid-19, vendors are now finding the going tough.
Inter-city travelling has remained banned since March as the country's confirmed cases of Covid-19 continue to spike.
When The Manica Post visited the produce market early this week, only a handful of vendors were going about their business. Some were reportedly failing to transport their produce from their farms to the market.
One of the vendors, Ms Velma Muchirinoza, sells an assortment of produce, including sweet potatoes, naartjies, pineapples, yams and roasted macadamia nuts.
She said business has declined due to the Covid-19 pandemic.
"Since the start of the Covid-19 lockdown, we are recording losses. It is no longer business as usual. The products we sell here are perishable and if we fail to sell them on time, they rot.
"We used to sell these produces to travellers, mostly people going to Mutare, Harare and Bulawayo, but very few people are now travelling. The few that are coming here are taking advantage of our plight to bargain for very low prices," she said.
Another vendor, Mr Enock Mutema, said they are trying to break even since transport costs have been skyrocketing during the past few months.
"Transport costs are eating into our profits. Our usually reliable transporters are grounded due to fuel scarcity.
"Those who offer their services are charging exorbitant prices to transport our produce since they are mostly fuelling up using United States dollars. Our prices are no longer competitive because we have to factor in the transport costs. The prices are now scaring customers away," said Mr Mutema.
In a recent interview, Chipinge Rural District Council chief executive officer, Mr Blessing Mamvosha said plans are afoot to modernise Jopa Vending Market using devolution funds.
The local authority recently demolished some of the vending stalls at the market as part of its exercise to spruce up business centres and growth points.
"We are taking full advantage of the low business activities, especially at vending and informal trading sites, to demolish illegal structures and renovate the legal ones," said Mr Mamvosha.