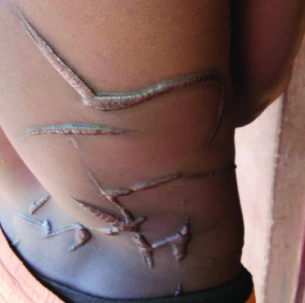 The ManicaPost
Luthando Mapepa
Chipinge Correspondent
WHEN the Chinehwaro siblings — Albert (16) and Felistas (19) — left their Makwaha home in Chipinge for South Africa early this year, they thought the gods had finally smiled on them and new financial avenues would be opened.
Having been promised jobs as till operators by a Zimbabwean businessman based in South Africa, the brothers were each expecting a monthly salary of R3 000.
The brothers believed they had given poverty a sucker punch but alas, this was not to be.
The Chinehwaro siblings found themselves joining the ever-growing list of human trafficking victims.
In a recent interview with The Manica Post, Felistas said they were lured by the Mandeep Bus crew — Tendai Mubhangi (54) and Mashrod Jecheche (37).
Felistas said the duo facilitated their journey to South Africa.
Mubhangi and Jecheche, who were arrested for trafficking the two teenagers, were however acquitted by Chipinge regional magistrate, Mr Noel Mupeiwa.
In acquitting them, Mr Mupeiwa said Mubhangi and Jecheche only assisted the brothers to secure jobs in South Africa and had nothing to do with their exploitation in the neighbouring country.
Presenting the State case, Mr Themba Dhliwayo said sometime in June, Mubhangi and Jecheche unlawfully trafficked the teenagers to South Africa.
"They recruited, transferred and assisted Felistas and Albert Chinehwaro to travel from Chipinge to the Republic of South Africa and handed them over to a businessman, Holiday Jambaya, on the pretext that they had secured employment for them as till operators," he said.
Mr Dhliwayo added: "Like many other locals looking for greener pastures, the complainants travelled to Beitbridge by Mandeep Bus, together with Mubhangi and Jecheche who had been asked by Jambaya to ensure their safe passage to Johannesburg."
It emerged that when the brothers' father, Mr Trymore Chinehwaro heard that his sons had left for South Africa, he made frantic efforts to contact them.
However, his efforts were futile as their employer was allegedly keeping them in squalid conditions in one of his warehouses, with no communication with the outside world.
Mr Chinehwaro reportedly turned the heat on Mubhangi and Jecheche, resulting in their arrest.
They went on to implicate Jambaya.
Mubhangi and Jecheche's attorney, Mr Langton Mhungu of Mhungu Law firm, together with Interpol, managed to get in touch with Jambaya.
As a result, the businessman was forced to release Albert and Felistas.
Narrating his journey and horror experience, Felistas said: "Jecheche approached us in our rural village in June and told us that he could secure employment for us in South Africa. We were so excited about the development and agreed to travel. We thought everything would be rosy as per their promise.
"We left home and went to Chipinge town where Jecheche linked us with Mubhangi. We boarded the Beitbridge bound Mandeep Bus and along the way, they bought us food in Chiredzi.
"When we arrived in Beitbridge, we boarded a Honda Fit which took us to an illegal crossing point along the South African border. We had no documents with us and when we came across the soldiers, my heart skipped a bit, thinking that we would be arrested.
"Mubhangi paid R100 to the soldiers who were patrolling the area near the railway line and we crossed into South Africa. On the South African side, Mubhangi also paid the South African soldiers some money.
"We boarded a kombi which took us to Musina. We were then transferred into another vehicle which took us to Johannesburg. Someone was waiting for us there. He escorted us to Jambaya's supermarket," he said.
However, upon their arrival Felistas said they were stripped naked and searched.
"They confiscated all our belongings. We were told that we would be working in the warehouse. We toiled day and night in the warehouse and lived there.
"If you broke or damaged something, you would receive a thorough hiding from Jambaya and his staffers. At times we would go for days without taking a bath.
"For food, it was boiled cabbage and poorly prepared sadza. At times we were forced to eat expired or stale products.
"On one occasion I tried to flee, but was intercepted by the security team. I was thoroughly bashed. I was left with scars all over the body. I was forced into solitary confinement for some days. The guards kept a close eye on me.
"I didn't know the whereabouts of my brother when I was finally released from solitary confinement. I was told that he had been transferred to another supermarket.
"For the five months we were in South Africa, we were never paid anything. Up to this day, Jambaya owes us our money. I learnt my lesson and I will never trust anyone again. It is better to be a herd-man here in Zimbabwe than to be subjected to inhumane treatment for the love of the South African rand," he said.
Felistas is happy to be free from captivity and is now back home.
He has vowed never to entertain strangers who promise desperate job-seekers heaven in the neighbouring South Africa, a popular destination for school leavers in Chipinge and Chiredzi.
Most of the victims do not have the necessary documents and this is used as a weapon to enslave them.
Mr Chinehwaro, a veterinary officer in Chimanimani, said he is a relieved man after the return of his sons from South Africa.
"I am so relieved that my children are now back home. They could have died as the abuses they were subjected to were inhumane. The boys just disappeared from home. I discovered that they had left for South Africa through my own investigations.
"I had sleepless nights for two months until a villager who had returned from Chipinge town told me that my sons had been employed as till operators in South Africa and were earning good salaries.
"However, what puzzled me was their silence. If they were earning good salaries why then were they not communicating with us?
"The villager who had given me the information advised me to give the conductors who had facilitated my sons' travelling to South Africa a token of appreciation. I asked for the conductors' contact details and I got them.
"I tried to get in touch with the conductors, but failed, thereby prompting me to enlist the services of law enforcement agents in Chipinge. I did not relent in my efforts to know the whereabouts of my children and the law enforcement agents later managed to have a breakthrough. They brought Mubhangi and Jecheche to book. This eventually led to the release of my sons," he said.
Mr Chinehwaro said his sons have permanent scars all over their bodies from the beatings they were subjected to in South Africa.