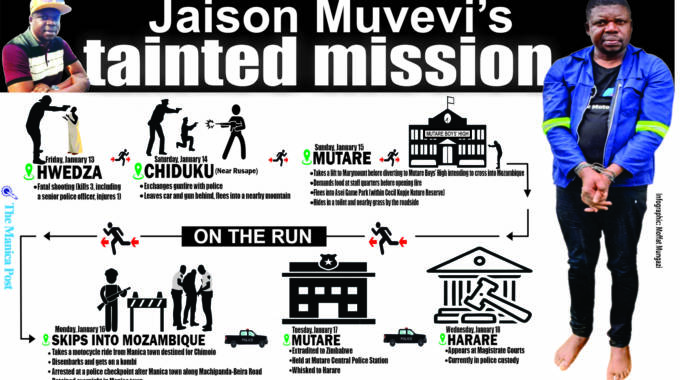 The ManicaPost
Cletus Mushanawani
News Editor
EX-CRIMINAL Investigations Department officer, Jaison Muvevi, who was arrested early this week in Mozambique after gunning down three people in Hwedza, hid in a toilet at Asei Game Park and the thickets around Mutare Boys' High School as he evaded the law enforcement agents that were pursuing him on Sunday.
Information availed to The Manica Post by sources both in Mozambique and Zimbabwe indicated that as a trained officer, Muvevi applied diversionary strategies to try to outsmart law enforcement agents who had been deployed to track him down. In his Mutare excursion, Muvevi bought a new work-suit from Wasu Shopping Mall in Mutare.
The Manica Post established that on January 13 around 10am, Muvevi visited Wasu Mall and bought a navy blue work-suit using Ecocash.
After buying the work-suit, he left and reportedly asked for directions to the border with Mozambique.
He boarded a Marymount-bound pirate taxi, resulting in him ending up at Mutare Boys' High School.
At the school, he fired three shots that missed Mr Raphel Nyahwema, a resident at the institution, on Sunday afternoon.
Among the tactics he applied at the institution, he visited the school's staff compound while barefoot and lied that he was on a mission to kill the marauding baboons in the area.
The Manica Post visited Mutare Boys' High School on Monday and managed to talk to the people who had an encounter with Muvevi.
Ms Zvikomborero Mangorwa who was the first to be confronted by Muvevi while she was taking a bath said he violently knocked on her family's door and demanded that all the occupants should move out.
"I was taking a bath when he knocked on the door. When I opened the door after bathing, I realised that there was an armed person on our door. He asked for food. He also produced a US$10 bill and asked me to buy him a road-runner chicken to prepare a meal for him, but I refused.
"He asked where he was and when I told him that he was at Mutare Boys' High School, he asked for directions to Mozambique. He was barefoot and putting on a blue work-suit.
''He pretended to leave, but when my sister came back home, he confronted her. I tried to signal to my sister to be careful as Muvevi was armed, but my sister failed to read my signal.
"She continued talking with him as he was seated outside on the pavilion. He said he was on a mission to kill baboons as he had heard that they were a menace in the area and the shots he had fired were meant to scare away the baboons.
"He insisted that he wanted food. He even said he was prepared to cook his own food, but my sister stood her ground and said she could not allow a stranger into the house," said Ms Mangorwa.
She said Muvevi then left when he realised that some people were coming to the house.
"When some of the workers came to our house after hearing the gunshots, Muvevi started walking away. One of the people's phones rang and Muvevi came back and threatened to shoot him for speaking on the phone. He later casually walked away and disappeared in the thicket," said Ms Mangorwa.
Mr Nyahwema said he was lucky to be alive as Muvevi fired the shots less than 10 metres from where he was standing.
"Muvevi confronted me when I arrived at the pavilion at the sports ground. He asked me to cook food for him but I refused. I realised that he had a gun and since I was cornered, I tried to pick a hoe-handle and that is when he opened fire. The bullets missed me by a whisker and I bolted from the scene, shouting for help. He remained behind while I ran for dear life," said Nyahwema.
ln a video availed to The Manica Post after Murevi's arrest as he was still detained in Mozambique, he narrated how he evaded arrest after visiting Mutare Boys' High School.
Muvevi said: "I went to Mutare Boys' High School and was hiding in the grass. I didn't know where the border was as I am not familiar with the Mutare terrain. I knew that the police were looking for me all along, so I had to hide. I could hear vehicles passing by since I was not far from the road.
"While I was at the game park (Asei Game Park), I took some time in the toilet, hearing people talking. I later left and hid again and could hear the police who were looking for me corking their guns.
"Hunger forced me to approach the Mutare Boys' High Compound looking for food and that is when I came across the guy (Raphel Nyahwema). l asked him to prepare food for me," said Muvevi.
CID homicide details from Harare attended the Mutare Boys' High School scene and managed to recover three nine-millimetres cartridges.
One of the bullets which missed Nyahwema perforated a geyser tank pitched at the staff quarters.
Muvevi said he crossed into Mozambique at night before hiring a motorcyclist to ferry him to Chimoio.
In another video, the unidentified motorcyclist described his encounter with Muvevi.
"Muvevi approached me and asked for a ride to Chimoio. He said he would pay me US$200. I realised that he had a gun after he pulled it out and pointed it on my back while he was seated on my bike. By then the police were following me, but I evaded them in Manica town. At one point I had convinced myself to take the risk of ferrying him to Chimoio. His offer of US$200 was too tempting for me.
"I later convinced him to board a kombi since there would be many people in the kombi. If he had insisted I had planned to jump off the motorbike at the police check point after Manica town and leave Muvevi to crush. He paid me for my services using our metical currency. He said he is a criminal in Zimbabwe and not Mozambique," said the biker.
When asked why he wanted to go to Chimoio, Muvevi said: "I have never been to Chimoio and I wanted to see how the city looked like."
Muvevi was extradited from Mozambique on Tuesday and was briefly detained in Mutare before being whisked away to Harare.
He appeared in court on Wednesday, with investigation officers applying for more time to wind up their investigations, including taking Muvevi to the crime scenes in Hwedza where he killed a police officer, Inspector Maxwell Hove; a prophet Mr Crispen Mubvana Kanerusine and a bar tender, Mr Munashe Mujanhi.