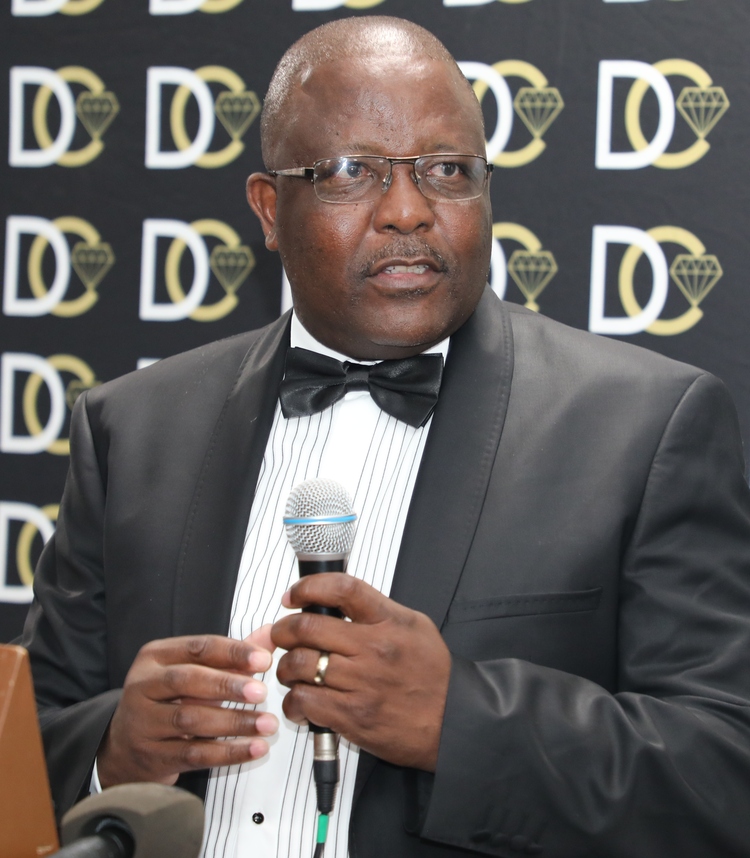 The ManicaPost
Ray Bande Senior Reporter
A CARNIVAL atmosphere is expected to engulf Mutare Boys High School grounds on Sunday afternoon when Manicaland's flagship football club for season 2019 – Manica Diamonds – officially seal promotion into Castle Lager Premiership League.
A social soccer match that will feature Zimbabwe Consolidated Diamond Company chief executive Moris Mpofu, club chairman Masimba Chihowa, secretary-general and veteran public relations practitioner Sugar Chagonda, former top flight league players and fans at 12pm will curtain raise for the main match pitting hosts Manica Diamonds and Melfort at 3pm.
The Zifa Eastern Region administration said that they would have wanted to take the league championship trophy to Mutare Boys High in anticipation of a Manica Diamonds triumph but the delay in getting medals means that they can only have the crowning moment next weekend.
Several prominent football personalities that include veteran sports caster Charles Mabika are also expected to witness the Manica Diamonds' crowning moment.
Zifa Eastern Region chairman Davison Muchena said they had already made plans to hand over the league winners' trophy to Manica Diamonds if they win after the final whistle on Sunday but the unavailability of medals meant that they can only do that much later.
"We had made plans to hand over the trophy to Manica Diamonds after the final whistle on Sunday if they win the match against Melfort. There is reasonable hope that Manica Diamonds might win that match but the unavailability of medals means that we can only do that much later," said Muchena, in a telephone interview from the Democratic Republic of Congo where he is head of the Warriors' delegation away on Afcon qualifying duty.
Given the resources at their disposal as well as their ambitions as a club, the Gem Boys, as Manica Diamonds are fondly referred to, are set to become the flagship football team for Manicaland.
Speaking during the club executive unveiling ceremony recently, Chagonda said the Manica Diamonds project is being run in terms of corporate social responsibility strategy where they are engaged in various projects that are meant to benefit the community.
"We have done a lot helping the community. One of those projects being the formation of Manica Diamonds FC which is under Sports and Recreation. We have realised that football helps the community by creating job opportunities for the locals.  We have managed to employ a number of people, key among them those from Manicaland.
"We are very happy because the club is doing very well. As we are sponsoring football we have realised that it is a sustainable vehicle for pushing brand visibility. We are very happy with this project and so far so good. The results are quite impressive. We are not only focusing on football but we have done quite a lot of projects.
"To date, the organisation has invested in borehole drilling and rehabilitation, road maintenance and rehabilitation programmes, school renovations and clinic capacitating, scholarship sponsorship and graduate trainee program benefitting the community," said Chagonda.
The Gem Boys have performed exceptionally well to avoid a defeat in 24 rounds of league matches of the 2018 Zifa Eastern Region Division One League so far but they are yet to smash the record set by Buffaloes in 2011.
Buffaloes won all but four matches of the season that they settled for draws and went on to lose the final match of the season against Prime Rangers.
Manica Diamonds can only break that record by winning all their remaining matches.
The Gem Boys can also settle for a draw once more and win all the other remaining matches, to take their tally of draws to three and even lose one match, if they entertain hopes of breaking the record that Buffaloes set.