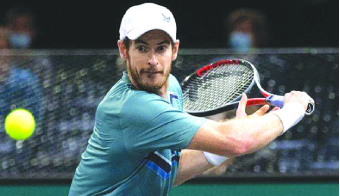 The ManicaPost
ANDY Murray says there is no longer any doubt that he can compete with the top players and he will start consistently going deep in tournaments again.
The Briton, 34, beat top seed Jannik Sinner on Wednesday to reach the Stockholm Open quarter-finals with what was one of his finest performances since his comeback from hip surgeries.
He faced American Tommy Paul yesterday (Thursday) for a place in the semis.
"I said in the last few weeks, it's coming. It's coming," the Scot said.
"And I don't know if it will be this week or at the beginning of next year, but I'm going to be pushing and getting deep in tournaments again.
"I'm playing at the top level and I'm winning matches against the top players in the world, and the ones that I'm losing I'm pushing the best players in the world. So that argument is finished. I can compete at the top level.
"When I originally came back I doubted that. It's been difficult at times to build that confidence with not getting the matches consistently, or winning enough of the big matches."
This 7-6 (7-4) 6-3 success against world number 10 Sinner comes after a few months when Murray has been pushing some of the top players close, including world number three Alexander Zverev at Indian Wells and world number four Stefanos Tsitsipas at the US Open.
His form has gathered momentum in recent weeks, with the former world number one recording his only other win over a top-10 player this year against Poland's Hubert Hurkacz in Vienna in October and reaching his first quarter-final on the ATP Tour this year at the Moselle Open in September.
When he returned to the tour in 2020 after his hip surgeries his comeback was interrupted by a series of niggling injuries, but this year has marked an improvement in terms of being able to string together more tournament appearances.
And with that have come some impressive performances against some of the young players who have come through in the time since Murray was forced to pause his career when he was at the very top of the sport.
This display against the in—form Sinner was one of them — and it was on his terms.
During his injury comeback he had sometimes tried to play in a way that shortened the points to try to preserve his body, but against the Italian he stuck out the long rallies in a tight opening set that lasted a lengthy 74 minutes.
"I played my game, the game style that works for me. At times in the last year I've got away from that a little bit. Partly outside influences at times but also a feeling that I would need to change the way that I play," he said.
"In important moments I've rushed or tried to finish points a little bit too early and maybe gone against what my instincts are.
"If I'd been more clinical and made better decisions and played the right tennis, being smart, I would have finished matches sooner, and that preserves your body. Even a few weeks ago I may have lost that first set."
If Murray beats world number 52 Paul on Thursday, he would reach his first semi-final since winning the Antwerp title in 2019.
He could face Dan Evans for a place in the final, with the British number two taking on American eighth seed Frances Tiafoe in the last eight. — Online.