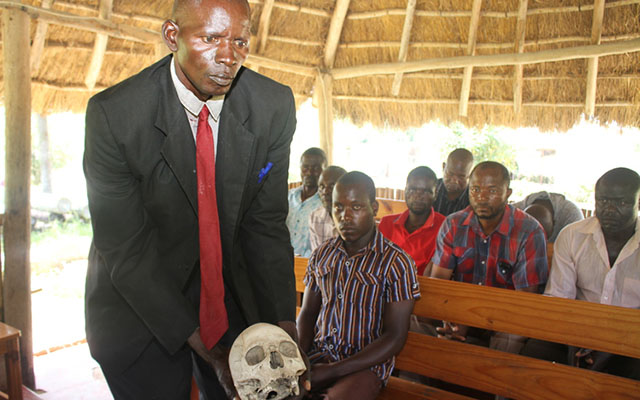 The ManicaPost
Nyore Madzianike Senior Reporter
Police say examinations done on the skull found in a field at Arda Transau proved that it was a human skull and not a baboon skull.
Manicaland police spokesperson Assistant Inspector Luxon Chananda said no arrests have been made in connection with the discovery of the skull.
"It was more of a discovery of human remains and there was no one whom we can say was found in unlawful possession of the human skull,'' he said.
Ass Insp Chananda said if investigations failed to account or point to the owner of the skull, the police would dispose of the skull.
However, Chief Zimunya said he would pursue the matter once the police were done with their investigations.
He said he would also need the assistance of Mukura and Muzaniwetu when conducting his traditional means to establish the owner of the skull.
"Once the police are done, I will then start my traditional ways of trying to establish what could have happened to the owner of the skull," he said.
The human skull was discovered by Brighton Shinga at his garden before investigations proved that it originated from Herbert Mukura's field in Tenzi Mavhima's area.
It is believed the skull was being used as part of rituals to scare away baboons and boost harvests in the area. There were also reports of ritual killings following mysterious disappearance of three people from the area.
Herbert Mukura and his former employee, Hoseah Muzaniwetu, were handed over to the police by Chief Zimunya for them to assist with investigations.
This was after the two appeared before his court explaining how the skull ended at Mukura's farm.
Mukura and Muzaniwetu confirmed having seen the skull at the field for the past two years. They said they believed the skull was of a baboon.
"I first came to Odzi in 2015 and it was when I got employed by Mukura sometime in November 2015 that I saw the skull when I was working on the fields. When I picked it, the skull was discharging a heavy stench, which forced me to drop it. I thought it was a baboon's skull.
''I left the skull and continued with my work. I kept on seeing the skull over the years and I had never thought of it being that of a human being. All along, I was thinking it was a baboon skull," he said.
Asked by Chief Zimunya why he kept the skull in the field for the past years without throwing it away and why it maintained its position over the period without being displaced during planting period, Muzaniwetu remained mum.
Muzaniwetu said he once came across a ghost on two separate occasions – incidents, which he believes had something to do with the skull.
"I once came across a ghost on two separate occasions and I want to believe that it was as a result of this skull. I was still staying at Mukura's place when it happened," he said.
On the other hand, Mukura said he only came to know about the skull in January last year.
"When I saw the skull, I called Muzaniwetu who laughed at me saying it was a baboon skull. I never touched it.
''I stay in town and I only visit Arda Transau once in a while. During my visits to the fields I would come across the skull. This year, I also saw the skull at the boundary of my field although it had changed position.
''It was only on Monday (two weeks ago) that I was surprised to be told that it was a human skull," he said.