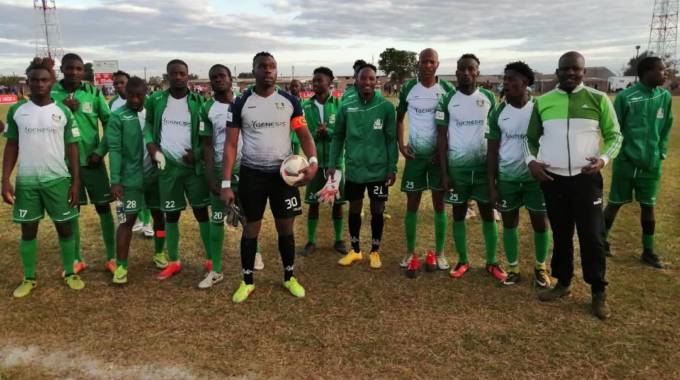 The ManicaPost
Ray Bande
Senior Reporter
STRUGGLING Castle Lager Premiership side, Tenax C.S FC who are languishing deep in the relegation zone have less than two days to find a CAF A coaching licence holder to sit on their technical bench in their Sunday's away match against Highlanders after head coach, Shadreck 'Father' Mugurasave resigned yesterday (Thursday).
Mugurasave resigned after failing to agree with the club's leadership over the return of former assistant coach, Blessing Madombi in the team's technical department.
Failure to have a CAF A licence holder on their bench will attract a heavy penalty from the league authorities, a catastrophic development for an already financially struggling club.
Zimbabwe Football Association (ZIFA) spokesperson, Xolisani Gwesela said: "The rules are crystal clear. We do not allow anyone who does not have a CAF A licence to sit on the technical bench of any given team in the top-flight league as head coach. The club has to apply for exemption if their head coach does not have that requisite qualification. They cannot use an unqualified coach. They should have known that."
Asked whether Tenax C.S FC can successfully apply for exemption with the remaining two days before they face Bosso in Bulawayo, Gwesela said: "The committee has to sit and deliberate on the merits and demerits of the application. Therefore, the exemption can only be considered after the committee sits which will not happen in the next two days."
Given that Madombi is a CAF C coaching licence holder, this leaves the Mutare correctional services outfit without a choice, but to look for Mugurasave's replacement before they play against Highlanders FC on Sunday.
Mugurasave confirmed handing over his resignation yesterday.
"I can now confirm that I have officially left Tenax C.S FC. It is with a heavy heart that I have to leave this club. I loved Tenax, I love Tenax and I will always love the club, hence the sacrifices that I made during my tenure as its head coach. If it is for the good of the club for me to step down," said Mugurasave in a teary message.
Madombi was shown the exit at Tenax about two months ago for disciplinary issues, but has since been drafted back into the technical department and Mugurasave would have none of it.
Madombi was formally introduced to the players on Wednesday.
A key member of the team's executive, Lloyd Chinawa is understood to be on the verge of quitting his post citing lack of corporate governance after the decision to bring back Madombi was allegedly shoved down the throats of the executive, coaches and the players under the pretext that it was an "instruction from Harare".
It also emerged that apart from Chinawa, another senior member of the Tenax C.S FC executive is also contemplating quitting.
Meanwhile, the Officer Commanding Manicaland Zimbabwe Prisons and Correctional Services in Manicaland, Spetosomusa Chinobva-Moyo believes that the team has time to make amends and end the season among the Top 10 teams.
Addressing guests and participants at the Manicaland Officer Commanding's Sports Tournament at Mutare Farm Prison last week on Saturday, Chinobva-Moyo gave assurance that Tenax FC can move from relegation zone, adding that there is still enough time to determine its fate in the PSL.
"Our conviction is that it is not over until it is over. I know where we are on the log standings can be a source of stress and discomfort, but we still have more matches and time to turn around the team's fortunes.
"They will surprise everyone including themselves when they end in the Top 10 of the top-flight league. It is feasible and can be achieved. We only need to support them in any way we can.
"Officers in the Zimbabwe Prisons and Correctional Services in Manicaland also have a moral obligation to support Tenax FC, one of the Premier Soccer League teams based in the province," she said.
Together with Manica Diamonds FC, Tenax are Manicaland's representatives in the PSL.
Tenax is on 17th position on the log and has lately been performing dismally.
Although they have shown potential to produce good results, even when playing away from home, Tenax C.S FC have been struggling financially resulting in low morale among their players.
The lack of sponsorship for the team has also left them without the capacity to attract players who can match the standards at the country's highest level of the game.