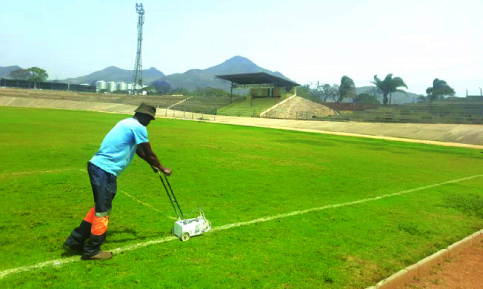 The ManicaPost
Ray Bande
Senior Reporter
EVENTS leading to the suspension of Sakubva Stadium from hosting Premiership matches and its subsequent lifting has revealed shocking lack of basic tenets of corporate governance and sheer arrogance on the part of those entrusted to run the affairs of the game in the country.
Castle Lager Premiership action is back at Manicaland's ceremonial home of football after the league authorities indicated that the match pitting Mutare outfit, Tenax FC and Harare City will be played at Sakubva Stadium tomorrow (Saturday).
Sakubva Stadium was banned from hosting top— flight league matches after one of the goalposts collapsed when a visiting Bulawayo City goalkeeper swung on it during a match against Manica Diamonds FC almost three months ago.
The ban was effected also by the state of the pitch which had suffered from being overused.
However, it is the way Premier Soccer League and First Instance Body — the arm of Zimbabwe Football Association (ZIFA) tasked with inspecting and permitting or banning match venues from hosting top-flight league football — handled the suspension of Sakubva Stadium that remains a bad advert to football management in the country.
The suspension was only communicated through the weekly PSL fixtures which indicated that Mutare-based teams — Manica Diamonds and Tenax FC — will be using Vengere Stadium in Rusape as their home ground.
No formal communication was made to the custodians of the match venue — Mutare City Council.
Even the Mutare—based Premiership clubs — Manica Diamonds and Tenax FC — affiliates of both PSL and Zifa, also learnt on the Tuesday fixtures list that their home venue had been changed to Vengere Stadium.
Elementary tenets of good corporate governance demand accountability which refers to the ability to explain every action you make in your business, something that is vital in building confidence among your stakeholders and shareholders.
PSL and FIB did not show any semblance of that.
Transparency is also yet another basic tenet of good corporate governance. Transparency and fairness, like accountability, engenders confidence.
In this case, it took just less than 48 hours after the Manica Diamonds-Bulawayo City FC encounter three months ago for PSL and FIB to come up with a fixtures list which excluded Sakubva Stadium as a match venue.
Fast forward two months later, Mutare City council sourced US$15 000 Fifa approved goal posts and worked on other facets of the stadium including the turf.
The local authority then informed the football authorities to come and do a re-inspection.
Without any semblance of fairness, those managing the affairs of the game in the country dragged their feet and took THREE WEEKS to travel from Harare to Mutare for the re-inspection of a stadium that only took LESS THAN 48 HOURS to exclude.
Meanwhile, without any semblance of transparency, PSL kept referring questions from the media to FIB, while the later referred reporters back to the former.
The lifting of the suspension was also not communicated to the custodian of Sakubva Stadium.
Mutare City Council's Acting Town Clerk, Blessing Chafesuka said: "We read about it in the Press that the suspension was lifted. No one formally communicated this to us.
"They came and inspected the stadium and we expected a formal response. In the first place, the suspension was never communicated to us. The same way we learnt about the suspension is the same way we learnt about the lifting of the suspension. We surely expect a different approach from football administrators."
Be that as it may, football fans in Mutare are looking forward to Castle Lager Premiership matches closer home.
Patrick Chagonda, a staunch football fan who made a name in local football circles because of his immense morale support for the now defunct Motor Action back then, said: "We are really happy to have PSL football back at Sakubva Stadium. This is something we have been waiting for in a long time since the match venue was suspended from hosting matches. This is also good for business in Mutare.
"We really want to thank the local media that kept probing about the developments around the issue. We really want to thank City of Mutare for also playing ball and ensuring they make amends in time. We look forward to having good times at Sakubva Stadium."