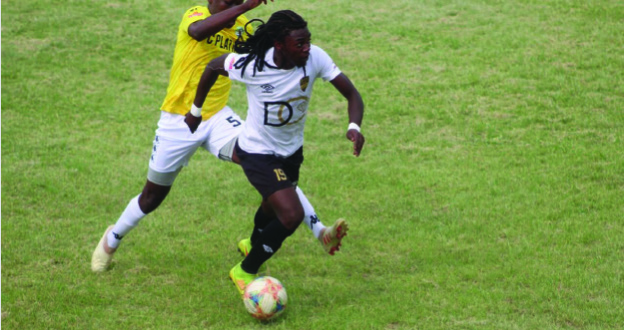 The ManicaPost
Ray Bande
Senior Reporter
WHEN folks in Rusape saw him roaming in the middle of the park at Vengere Stadium as he turned out for the now defunct Dongo Sawmills FC, they were not off the mark to see huge potential of a rising star that he was back then.
His meteoric rise captioned by moves to Africa Trust, Buffaloes, Manica Diamonds and later FC Platinum after the demise of Dongo Sawmills FC was not a surprise at all as he had done more than enough to convince everyone that he had what it takes to become the next big thing to come from the shanty suburb of Sakubva.
No wonder, it was once again no major surprise to hear and see him waltzing past opponents with ease in some CAF Champions League matches when he later turned out for Sudanese giants, Al Ahly where he earned the man-of-the-match tag in those high-profile encounters in a couple of occasions.
This is the long and short of the phenomenal rise of the now clubless, Last "Lala" Jesi!
Behold, the downturn was imminent.
The stint in Sudan did not last that long as he soon found himself being offloaded in unclear circumstances.
The former Dongo Sawmills player signed a three-year contract with the Sudanese giants.
He made an instant impact on arrival in Sudan when he scored on his debut as the Omdurman-based side drew 1-1 against Hay-Al-Arab, in a Premier League match.
Back then, Jesi featured for Al Hilal in five Champions League matches and was named man-of-the-match in two matches.
But, there were complaints that the club had been paying his salary late and the club ownership changes sealed his fate at the Sudanese giants.
Together with other three foreigners, he was released, barely seven months into his adventure.
And as the saying goes, the true measure of a man is not how he behaves in moments of comfort and convince, but how he stands in times controversy and challenges.
Jesi is no exception.
Turns his back on benefactors
With behaviour that borders on arrogance and an exaggerated sense of self-importance, Jesi not only ignored calls for interviews from this publication, but also turned his back on the very people that played a huge role in his rise to stardom.
Even up to this day, the media shy player neither responds to messages nor entertains phone call interviews.
His handler back then, George Deda, a renowned player transfer expert, told Post Sport that: "I am not sure what went wrong, but I was only told by Ngezi Platinum leadership when he had returned from Sudan that Jesi was saying I was not his manager.
"In fact, he said he did not know me. He did the same with Lovemore Mandimutsira, the man who had used his personal resources to develop his talents at Africa Trust.
"For some strange reasons, best known to himself, it appeared to me that he did not want anything to do with the people who helped him rise is his career and perhaps this is the reason he opted not to return to Manica Diamonds even though the team had a far much better offer for him when he returned from Sudan."
It was upon his return that the quartet of Ngezi Platinum FC, Manica Diamonds FC, Caps United and Dynamos were all in a race to secure the services of Jesi.
Drug abuse and disciplinary issues
Being a reserved character, Jesi does not have much of disciplinary issues, but his attitude is all what leaves a lot to be desired and gives reasonable suspicion of substance abuse.
Former Ngezi Platinum coach, Rodwell 'Doctor' Dhlakama admits that Jesi did not have disciplinary issues when he coached him at Madamburo upon his return from Sudan.
"The boy did not have much of disciplinary issues when I was with him at Ngezi Platinum. He did not abscond training and event went an extra mile to give himself more training time. I think he is one player whom any coach who intends to have him must first seek to understand him," said Dhlakama.
However, investigations by this newspaper revealed that Jesi had, or has, a weakness for intoxicating substances and at some point he even confessed to a local coach (name withheld) that he indeed once abused drugs, but had quit.
Whether it was true or not that he indeed had quit, only him knows!
Lack of sound education
While it is true that human beings have different talents and not everyone should be expected to excel in education, it is also true that basic education is important in all spheres of life.
Yes, we cannot judge a hare by its inability to climb a tree, but we surely can judge it by its survival skills and so is Jesi!
Jesi is a primary school dropout whose disadvantaged background denied him a decent upbringing and access to education.
Thus, critics can be forgiven for assuming that this sheer lack of sound education had a telling effect in his conduct and how he handled relations around him along the way.
The future
Hate him or love him, at the age of 27, Jesi, no doubt, still has a future in his football career.
Yes, there are aspects of his professional and personal welfare he could have handled better, but given proper guidance and a conducive environment, the talented Sakubva-born player can still go beyond what he has achieved so far, something that Dhlakama conceded.
"No doubt, he still has a future and like I said before, it only needs someone who understands him and gives him proper guidance. He is a talented player who can still achieve more in his career if he gets the right support he needs," said Dhlakama.
After being offloaded by Ngezi Platinum recently together with Denver Mukamba, Issa Ali, homeboy, Anelka Chivandire, Junior Zindoga, and Mandlonkosi Mlilo, it now remains to be seen whether Jesi will claw his way back to the top and be a source of pride to thousands of football fans in Manicaland that believed in him.
Please, note that Post Sport will carry analysis on how to deal with talented players who have disciplinary problems. For your feedback, please get in touch with the writer at [email protected] or [email protected] or 0773 282558.