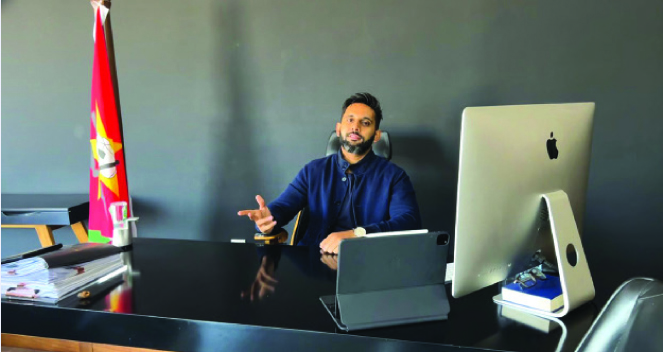 The ManicaPost
ZIMBABWE and Mozambique are both members of the Common Market for East and Southern Africa (COMESA), SADC and the African Continental Free Trade Area (AfCTA).
These trade agreements allow both countries to trade with each other duty free and quota free on non-sensitive and exclusive products.
Considering the proximity between Manicaland in Zimbabwe and Manica in Mozambique, the two provinces provide opportunities for increased bilateral trade.
Last week, our News Editor, Cletus Mushanawani was in Chimoio for the ZimTrade Outward Trade Mission to Manica Province, Mozambique, and caught up with the Confederation of Economic Associations' Manica Province's Secretary for International Business Affairs, Mr Muhammad Laher, who shared his thoughts on how the two Siamese provinces can jointly work together and facilitate trade between the two countries and beyond.
Below are excerpts from the interview.
**********
Q: Our Presidents, President Mnangagwa (Zimbabwe) and President Nyusi (Mozambique) met here in April, a move which saw the consolidation of the two countries' long-standing relationship through the signing of an agreement establishing a Bi-National Commission and adoption of agreements and Memorandum of Understanding that enhance co-operation. As businesses what benefits can you derive from this development?
A: It was a very good move by the two Presidents and this will ensure more business opportunities and prosperity for both countries. We have a common history and this should be translated into business and trade. Our Presidents have shown us the way and us on the ground we should now embrace their vision and work together to promote trade in both countries and beyond. As the economic players, we have to show the world that SADC can stand up to the challenge and become exporters of processed or finished products.
This can be achieved through regional co-operation. We should harness our different expertise and skills and develop products that can compete favourably on the international markets. We should find time to come together to explore business opportunities.
We are happy with the introduction of the visa regime that will see visitors from either country getting passes at ports of entry valid for 90 days as they will enable people to travel and stay for longer periods, meeting with their counterparts and enhancing co-operation without the hassle of having to rush back home due to limited time.
Q: Mozambique is coming from a devastating civil war which had a telling effect on the country's economy. Your currency has now regained its value and is trading at an average of 64 meticals against the United States of America dollar. What lessons are there for your Zimbabwean counterparts as they weather the economic challenges in Zimbabwe?
A: I think Zimbabwean business people have the mental capacity and will power to weather the economic storm. They are a resilient lot and should be commended for that. The secrets for success in business are persistence and hard work. You should always be looking for opportunities and capitalise on them to cushion your business even when chips are down.
Zimbabwe has a lot of manufacturers compared to us and should leverage on that to export processed or finished products. The local companies should also be aggressive on the marketing and publicity of their products on a global scale.
They need to expand their tentacles and open branches in neighbouring countries so that their brand presence and visibility is everywhere. They should also embrace technology and use it effectively to produce high quality and durable products.
Q: During interactions between Mozambican and Zimbabwean business people, it emerged that there are challenges in terms of accessing both countries at ports of entries, especially when it comes to the transportation of goods. What is really happening and what can be done to address this?
A: We are concerned with the movement of goods at the port of entries. We are subjected to ever changing laws and this frustrates businesses. However, this ZimTrade Outward Trade Mission to Manica Province here in Mozambique presented us with the opportunity to highlight some of these issues.
We are happy that the mission provided us with a chance to meet with the director of customs who heard our concerns, promised to address them and facilitate the smooth flow of trade between Zimbabwe and Mozambique.
We are certain that he is a man of his word and will do everything to ensure that we co-operate in developing the economies of the two countries. We also have a big challenge with the customs and ZIMRA officers on the Zimbabwean side as they also frustrate the ease of doing business by coming up with lists of endless demands for one to transport goods between the two countries.
There is need for meetings between the custom officials from both countries for them to find common ground and address the unnecessary delays at the border.
Q: You speak with authority on business and trade issues, how long have you been in business here in Mozambique?
A: As a family business, we have been established in Mozambique for between 50 and 60 years now and our business has transcended three generations; from my grandfather, father and now us. My grandfather used to sell electrical goods, my father traded in electrical goods and plumbing.
As for me, I have diversified and it is now an all inclusive business from electrical, construction and now furniture. We have realised that there is need to be a one-stop shop so that customers get almost everything under one roof.
When people are into construction, they start with stones, bricks and cement and when they finish, they need to paint and furnish the building and that is what we are now doing.
This has helped to create employment and business opportunities for us and the other businesses we trade with, both locally and beyond. We have also ventured into property development as well where we are constructing shopping malls which will have supermarkets and other small shops.
I am into partnership with the Mozambican Government where the Government allocated me land to build the malls and use them for 30 years and after that, I will surrender them back to Government. The place will not be left idle and income will be generated, while jobs will be created. Government will eventually benefit at the end from the developed infrastructure.
Q: You talked about property development, what can you offer to Zimbabwean businesses?
A: Since the two countries share a long history of brotherhood and neighbourliness, there is need to further develop this into business. There is a big market for Zimbabwean brands in Mozambique.
They have an opportunity to grow here and they need to take advantage of the bilateral agreement signed by our two Presidents and seriously consider Mozambique as an investment destination.
Those in the shoe industry should consider opening and spreading their brand here. Fast foods like the food inns in Zimbabwe should also come on board as there are no outlets offering those kind of services here.
We should have strong business and cultural exchange activities, even in the food industry. We should have products of both countries dominating shelves of different supermarkets, shops and hardwares in both countries.
Q: Are you walking your talk by importing products from Zimbabwe and selling them here?
A: We are buying different products from Zimbabwe, like white wash paint, black plastic and different construction materials. We attended a business conference in Harare recently where we struck some deals with Zimbabwean companies which are supplying us with some products.
There is a lot of construction work going on in Mozambique and markets are there for construction material and we cannot exhaust the market on our own, so our brothers and sisters in Zimbabwe should also come on board.
Q: As one of the vibrant and promising entrepreneurs of our generation, what is your vision for the next five to 10 years?
A: My vision is to change the City of Chimoio in terms of the view and development. This city should have a fresh touch and not the same old buildings we grew up seeing. As young entrepreneurs, we should bring positive change to the world and have eye-catching infrastructure because if we die, we do not take anything away from this world. We should leave our own legacy and this can be achieved through synergies.
We should build modern and high quality buildings that can dwarf those found in our capitals of Maputo and Harare. Both Manica and Manicaland provinces should be home to international brands and franchises for us to give better quality of life to citizens of both provinces. We should create more employment and business opportunities for our countries to emerge as economic giants.