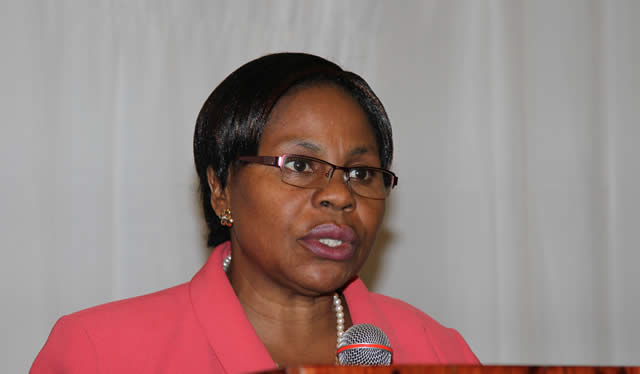 The ManicaPost
Speech by the Honourable Minister of State for Provincial Affairs, Cde Monica Mutsvangwa at the Manicaland Investment Conference: Golden Peacock, Mutare, March 2, 2018
Welcome to Manicaland Province ladies and gentleman! Today it is my utmost pleasure to welcome all of you to this game changing event in the history of not only the Manicaland Province, as well as the history of our country. I stand here today representing another dawn in 37 years old democracy. I stand here today heralding a new future which is based on inclusive economic and social development where all of our citizens must live and experience a better quality life.
This new dawn of a new hope for our people, peace, economic, social and political renewal was ushered in on November 24, 2017 at the inauguration of His Excellency President Emmerson Dambudzo Mnangagwa.
Operation Restore Legacy was the culmination of our people's desire for a new hope. The massive peaceful and disciplined demonstrations were a concrete expression for a desire to a different path to national development.
Zimbabwe is open for business is bold mantra of President Mnangagwa. Manicaland is ready to play its special role as Zimbabwe's gateway to global markets. Our country is on a new trajectory which has been evidenced by the President's achievements in the last 100 days which, among others, include:
Significant investment commitment of USD3 bn; The amendment and more clarity of the Indeginisation Act in order to remove; Impediments to businesses and attract new investments; Budget cuts to remove waste and improve our finances; Facilitation of greater use of mobile digital money thus combating the sanctions induced cash crisis; Reducing Excise Duty on fuel and small bank transfers; Confronting the scourge corruption; Encouraging honesty and integrity business practice through the three months amnesty repatriation of stolen funds; Mandated Cabinet Ministers to declare personal assets; Moves to create dedicated corruption courts in all provinces to facilitate swift justice; Clamping down on obnoxious police road blocks.
Over and above this, numerous initiatives are taking place everywhere at local and national Government level, within state enterprise and in all public institutions to begin to mirror the ideas of a new economic order underpinned by service delivery and facilitating the Ease of Doing Business so that we can begin to revive our economy, create jobs for our people and alleviate poverty
As a result of the above we have experienced and continue to experience a lot of goodwill from both local and international well wishers, Zimbabweans in the Diaspora, international development partners and international political fraternity and the global business community. The mantra: Zimbabwe open for business play to good effect in Davos at the World Economic Forum.
As Manicaland we dare not miss this opportunity to fundamentally transform our economy, attract investment, create jobs and sustainable incomes, revive our industry and improve social service delivery. The Manicaland people have taken responsibility and have been deeply humbled and highly encouraged by much of what the President stands for. His announced values constitute the core of our programme for socio-economic transformation, re-industrialisation and rehabilitation of Manicaland's economy.
This business seminar is evidence of our resolve of being a locomotive of a new recovering and developing Zimbabwe economy. We must first, however, acknowledge that we are emerging from a period of pain, adversity and despair. It has been a difficult and trying time for citizens, business and even for those of us who have been afforded the opportunity and the responsibility to serve the people in Government.
The new dispensation has opened opportunities to do whatever is necessary to usher in a new era of hope and the growth of the leadership is committed to accountability, service delivery, integrity and sense of urgency to create a better life for our people, eradicate poverty, create jobs and provide prosperity for all.
The new era is there to inspire the young, the old, women, the disabled and the disadvantaged people of out of province to dream big and aspire to live in a province, a country and a world they feel proud and confident as equally capable global citizens. Manicaland is embarking on a development path that will modernise while preserving the pristine environmental beauty which is a whole mark of this province.
We will preserve and enhance this environment even as we create more wealth for our people. Manicaland people have a proud history and exceptional contribution in the national cores of independence and national identity — courtesy of being close to free Mozambique as we fought the national liberation struggle leading to independence in 1980.
Manicaland must harness its high human resource index, the organisational discipline borne from its rich historical heritage to yet again make a sterling role in national development endeavour.
As a child of this province, I dream of a provincial economy where the needs, aspirations and energies of the majority of the people constitute the creative force for change and inclusive economic growth which acknowledges that all of us whether in Government, private sector, informal sector, civic society, churches have a stake in a provincial economy that is vibrant and creates jobs and wealth for all citizens regardless of age, gender, race or political affiliation.
Yes, we will always have challenges here and there but that will not deter us nor discourage us in creating the circumstances we desire for our province. United we can achieve more!
Since taking office, I have undertaken several initiatives in line with the President's vision of a Zimbabwe that is open for business. We have also identified quick fixes in every sector in order to expedite economic recovery and attract new investors in the province.
My team, and I are working hard and are committed to making a difference in the shortest possible time and I am personally satisfied we are well on our way to create tangible results. Manicaland as a province remains focused towards playing its part and meeting provincial set targets in the four clusters of development as set out in the ZIMASSET blue print for economic development.
Our infrastructure and utilities cluster continues to focus mainly on road rehabilitation projects and utility improvement in the areas of water and sanitation, public amenities, residential property upgrading and construction, ICT, transport, energy and power supply.
Infrastructure development and rehabilitation is key to economic growth especially the case of doing business and tourism in this province. We must do everything we can to increase tourist numbers in our province which has some of the most spectacular tourist assets in the country.
This sector has been neglected but we are addressing this as a matter of urgency. A clear example is the issue of road and air transport. Significant operations exist for investors in our infrastructure and utilities cluster.
Manicaland has to work hard to restore Mutare as the historical gateway for the Central Africa Region for Zimbabwe, Botswana, and southern DR Congo. A dry port and container deport has to be established in conjunction with the nearby ocean port of Beira.
In the energy field mini hydro projects, biomas, biofuels, biogas, solar and wind energy opportunities abound. A world class rail infrastructure linking Beira Port to Harare and the Central Africa economic hinterland and road highways with bridges to link Manicaland to the Central Africa region and Gauteng industrial heartland of South Africa.
A new international and a related aviation infrastructure to serve tourism and exports of goods and services. A fiber optic and internet backbone that will serve the needs of national and global industry and commerce. Urban renewal for old and dilapidated high density suburbs including water and sanitation provision. Construction of innovation centres, improved public amenities and dam rehabilitation and construction.
Our Food Security and Nutrition Cluster will continue to emphasise mainly on improving food security, as well as improving production and processing capabilities in the Province. Among these include increasing the hectarage of land under Command Agriculture and resuscitation of irrigation schemes to realise the goal of wholesome food nutrition for the local and export market. We have to grow our agricultural base so that it drives a vibrant agro processing sector geared for local and global markets: Establishment of agro processing and value addition plants for the numerous number of agricultural products of the province and recapitalisation and revival of existing industries in this sector.
Manufacture and/or supply of agro-inputs eg fertiliser and agro-chemicals as well as local manufacture assembly of irrigation and mechanisation equipment, restoration and expansion of the forestry sector to provide feed stock to a timber industry with a focus on furniture manufacture for the global markets.
Establishments of orchards producing avocadoes, wall nuts, macadamia nuts, pecan nuts and other fruits destined to the new middle class of populous and prospering Asian markets. Provision of micro credit and other extension services to small scale farmers so they timely deliver quality products. Establishment of organised fresh produce markets.
The Industrial Sector, especially manufacturing, is critical in creating sustainable incomes for our people while it will also create more value for our economy. I have taken the opportunity to visit some of our industries here in the province and remain impressed by the commitment of our business sector despite the challenges being faced.
We have numerous value addition and beneficiation projects and opportunities which are mainly geared at reviving the local industries in their various capacities, employment creation and increased revenue generation. These among others are:
Timber processing and timber products, canning of fruits and vegetables, production of tea and coffee products, fertilisers and stock feeds production, leather tanning and leather products, diamond cutting and polishing, jewellery manufacturing, chemical production for industrial use, agriculture, water treatment and food processing and cement manufacturing
Various incentives will be provided by the Central Government including an aggressive policy on Special Economic Zones so that Zimbabwe's highly productive labour can produce world class goods destined for the global market place.
Then we have tourism which is our flagship sector.
To date tourism remains an under-performing sector in our province. Sitting on the edge of the scenic escarpment to the Mozambique low lands, endowed with diverse ecological regions and enjoying an equable climate and situated near the pristine ocean beaches of Mozambique, Manicaland is a dream tourist destination. This should attract local, regional and global tourists.
We simply cannot afford to sit on such beauty without taking full advantage of it.
Manicaland is endowed with a diversity of tourist attractions thus arguably the second best destination in Zimbabwe, after Victoria Falls.
It is home to unique scenic and tourist sites such like the magnificent Nyangani Mountain, Vumba Heights, Mutarazi Falls (2nd Highest in Africa at 792m height), the awesome Chimanimani Bridal Veil Falls and Nyanga Game park to mention but a few.
Tourists must be ambassadors of our Province and this requires that we provide them world class facilities and service when they visit us.
In fact, it is common knowledge that investors in any country are initially attracted through tourist visits. Our Province, Manicaland offers extensive exciting opportunities to investors under the tourism sector and these include;
Development and rehabilitation of tourism infrastructure; construction of new integrated leisure resorts; development of golf estates and casinos; establishment of conference centres and exhibition parks; upgrading existing hotels and lodges and new ones; development of new theme/amusement parks; development of new tourism products eg medical and cultural tourism and new transport services by road and air. We therefore will welcome new investment in this sector so that we can create new experiences for both local and international tourists while preserving our heritage and creating jobs for our people.
With regard to the mining sector, Manicaland is endowed with an estimated 40 minerals, diamonds being the most known, to mention a few we have, gold (Mutare, Mutasa, Chimanimani) diamonds (Chiadzwa, Chimanimani), phosphate (Dorowa)vermiculite (Bepe Hills), (Buhera), limestone (Chimanimani), and salt (Chibuwe).The sector provides huge mining (modern high-tech equipment investments) and value addition opportunities. We need expensive value addition industries in the province especially for precious minerals (gold and diamonds). Our small scale miners are key to increasing gold production and we are looking at adequately equipping them and providing them access to capital so that they can increase production. Investors are welcome to assist.
In addition to the above, mineral exploration is key so that we are aware of what we have. We encourage investors to also seriously look at mineral exploration opportunities in the province.
Under Social Services Cluster, it is critical to improve the quality of life of our people. We continue to pay attention to access to affordable health and education including access to affordable housing. Opportunities, among others, include the rehabilitation of district and provincial hospitals and allied staff accommodation needs. Investment in new medical technology especially in oncology, radio therapy, urology, under education opportunities lie in the establishment of private schools and tertiary institutions.
We will be launching an "Invest in Manicaland Province" magazine soon, which will provide investors with more details of investment opportunities per sector. There you will be able to find all the opportunities which I have briefly touched on there.
Key Investments to date; To date we have seen major investments by companies such as Willowton Zimbabwe which has made a great impact to Manicaland and is expected to set up a crushing plant which will promote value chain development, particularly in the edible oils and cosmetic sector.
Mega market is another major investor who are setting up a maize and flour milling plant in the province. Ecosee Zimbabwe in partnership with Farm Green, a leading supplier of liquid — organic fertiliser in South Korea aim to produce and distribute eco–friendly agro-based fertilisers in Zimbabwe and introduce the use of microbial fertilisers which are environmentally friendly.
The project which will run country side is expected to cost $70 million and set up plants in Marondera and Manicaland. Added to this agricultural Rural Development Authority (ARDA) in partnership With Agriliance, a local mining, tourism, agriculture, consortium and consultancy firm, the public and private partnership has embarked several agricultural revival programs in the province
ARDA seeks to resuscitate its Risitu Estate in partnership with Agriliance. Agriliance will also resuscitate project in dairy and livestock, macadamia, avocadoes, pecan and cashew nuts, maize, soya beans, timber, potatoes, butternuts, to mention a few.
I also recently took a delegation of business people to the Manica Province in Mozambique and we are expecting their delegations to visit us in future to continue to discuss and trade linkages we can all benefit from. We are also planning visits abroad for our business sector to increase international business linkages and potential new investments.
Above all this, we continue to be approached by potential investors in mining, agriculture and tourism, infrastructure development and energy. All are welcome!
The message today is that Zimbabwe — Manicaland are open for business and it will be through people like yourselves that all the opportunities we are exploring can become a reality. We appreciate that the ease of doing business is critical success factor and we are all paying attention to streamlining our processes both national and provincial level.
Your continued feedback is welcome. Let me reiterate that we are now in a new economic order, a new era which requires a new paradigm that is premised on quality and social justice and puts the primacy of human well-being above anything else.
The new era also calls for a new cooperative politics in which public officials uphold a high standard of accountability, integrity, ethics and show respect citizens. As your Minister of State, this is the politics I choose and I look forward to your continued support.
In conclusion, let me take this opportunity to express my gratitude to the organisers of this conference. It is indeed heart-warming to see many of you here and I trust that you will have fruitful discussions in this conference so that we may see an improvement in the economic activity of the province and the quality of lives of our people.
As I always say my door is open so feel free to engage us. I thank you!