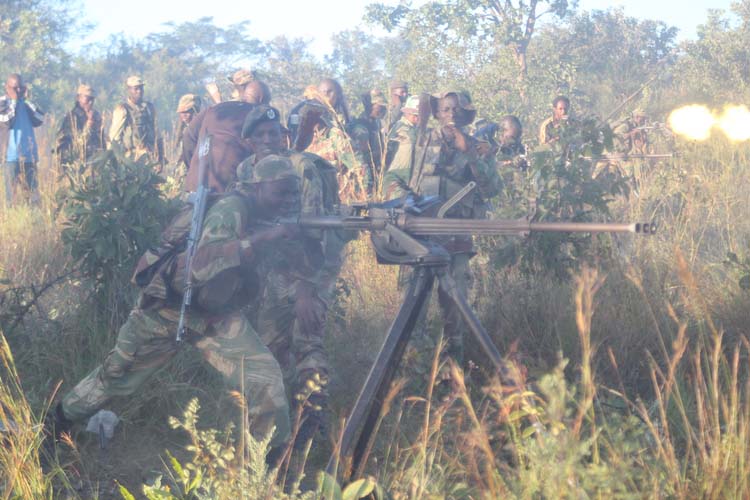 The ManicaPost
Moreblessings Mugumbate Post Correspondent
IT is crucial to invest in military training to create a professional army ready to achieve combat success and face all challenges of the 21st century, a senior Zimbabwe National Army (ZNA) officer has said.
Chief of Staff, Quartermaster Staff, Major General Hlanganani Tapson Dube said this when he officiated at the joint graduation ceremony for the Company Group Commanders' Course (CGCC) and Platoon Commanders' Course (PCC) at All Arms Battle School in Nyanga last Friday.
Maj Gen Dube said the physically demanding training was meant to augment the graduands' physical fitness and capability to withstand the pressure associated with battles.
"I am aware that you went through an intensive training pertinent to your respective levels of command in aspects of operational art, practical application of principles, procedures and drills at tactical level. The rigorous training was meant to improve your physical fitness and endurance as commanders to withstand the stressing demands of warfare," he said.
Major Gen Dube underscored the need for officers in the ZNA to remain disciplined, highly trained and exemplary to their subordinates in line with the Presidential Commission bestowed upon them on their scrolls.
In emphasising the point he quoted Publus Flavius, a 4th century Roman writer who said: "The military owed their conquest of the world to no other than continual military training, observance of discipline in their camps, and unwearied cultivation of other arts of war."
He commended 14 female graduands for performing equally well and matching with their male counterparts in every aspect of training adding that their involvement in such mainstream courses was illustrative of the ZDF's commitment to gender balance as stipulated by the country's Constitution.
"The continued increase in the numbers of female students on previously male dominated mainstream courses is an affirmation of the ZDF's commitment to gender equality as outlined in the Constitution of our country," he added.
Major Gen Dube also hailed the joint military training with SADC countries, which had witnessed the consistent enrolment of foreign students in various ZNA courses saying it was vital in fostering peace and cooperation within the SADC region.
One allied student from the Tanzanian People's Defence Forces was among those who graduated on the day. A total of 67 students graduated with certificates, 27 of which were CGCC students.
Captain Victor Chikambure of Josiah Magama Tongogara Barracks emerged best student for CGCC whilst Lieutenant Bonwell Sibanda of 32 Infantry Battalion was the best student for PCC.