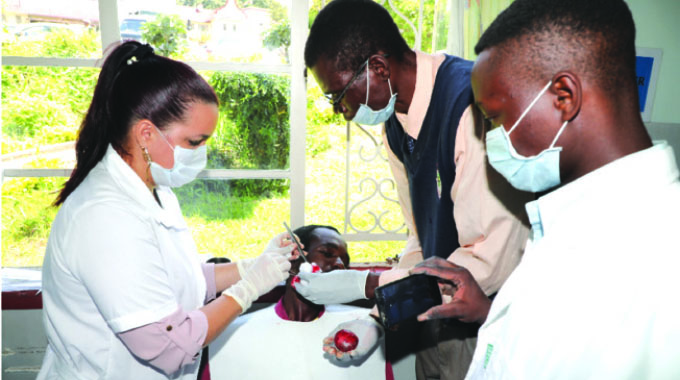 The ManicaPost
Liberty Dube Post Correspondent
SEKURU Jackson Muhone (78) of Sakubva had lost hope and lived each day as if it was his last.
He had spent years battling prostate cancer and had been nursing a huge lump on his thigh.
However, the trooping in of 21 specialist Indian surgeons, under the Zim-India Medical Mission (Vocational Training Team), last week turned out to be his turning point after years of excruciating pain.
Sekuru Muhone had no means to pay for surgery, but was literally brought back to life after successfully undergoing free surgery at Mutare Provincial Hospital, thanks to the Indian surgeons.
"I had no money for medication. I had no means to raise funds for surgery. I had lost hope. This is a miracle," he said after successfully undergoing surgery.
"I am extremely grateful. I lost friends and relatives to this condition. They could not get medical recourse because they could not afford it. My fear was that I was going to die. The lump was so painful and I could not do anything about it. This mission has rescued me," said Sekuru Muhone.
The free medical mission is a Rotary International project put together by three clubs — the Rotary Club of Chitungwiza, Rotary Club of Chandigarh (India) and Rotary Club of Mutare.
By Tuesday, over 700 patients suffering from different ailments had been assisted.
Another 1 300 patients were expected to be assisted by today (Friday), when the mission ends at Mutare Provincial Hospital and St Joseph's Mission Hospital.
Ms Natalia Chikwakwama, who travelled all the way from Harare, to benefit from the free medical mission, was at a loss of words.
The doctors did a loop electro-surgical excision procedure (LEEP) on her. Again, she had lost hope.
Private surgeons wanted US$1 500 for the same surgery and the amount was beyond her reach. 
"They told me the surgery was critical, failure of which I would die of cervical cancer. I could not afford it and I have been having sleepless nights over that. I am grateful to these Indian doctors for coming to my rescue," she said.
Miss Vaina Dhliwayo (26) had this to say: "I was recently informed that I had fibroids. It worried me because I could not afford surgery. When I heard of the Indian doctors, I came to try my luck and the gods smiled on me. I underwent successful surgery, and I am so grateful. May God bless these doctors."
In a major boost set to alleviate a myriad of challenges faced at Mutare Provincial Hospital, the specialists will donate an assortment of equipment, instruments and the medical supplies they brought.
The specialists also trained some local doctors, who will continue conducting the operations.
Indian dental specialist Dr Gulshan Thrakral said: "In dentistry we have come up with the latest equipment, materials and supplies.
"On average, we had 125 patients per day. We are doing root canal treatment, fillings as well as extractions. We will leave all the equipment and instruments like portable dental unit and compressor, among other things. Besides, we will also impart knowledge and skills to the local doctors." 
The doctors last conducted mission work in 2015 when they carried out about 1100 individual surgeries against a set target of 800.
Indian Ambassador to Zimbabwe Mr Rungsung Masakui said the team has a lot to offer. 
"They are collaborating with local doctors, and it is not just about helping the patients, but also to empower and capacitate local doctors.
"The governments of Zimbabwe and India will continue working on several collaborations in the medical and pharmaceutical industry. As we speak, three consignments of medicines worth millions of dollars are on their way to Harare," he said.