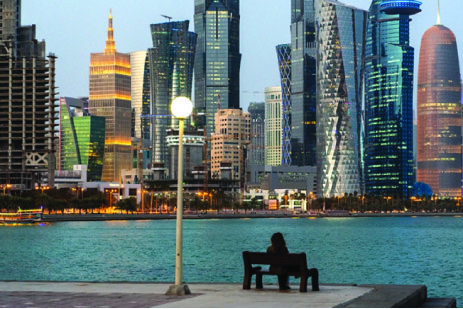 The ManicaPost
Ranga Mataire
Group Political Editor
IN July last year, Qatar's new Ambassador to Zimbabwe, Mr Tariq Al-Ansari, said something very fundamental that should be taken seriously by both the private and public sectors in the country.
Speaking to journalists soon after presenting his credentials to President Mnangagwa at State House, Ambassador Al-Ansari said: "We are countries of the South and we believe in south-south cooperation and new are going to explore various opportunities of trade between our chambers in the area of livestock, agriculture and important minerals in the area of mining because Zimbabwe is rich in these opportunities."
Reading the ambassador's words, one can easily notice the apparent good will from the Qatar's side to strike mutually beneficial economic deals that will spur development and improve the lives of people of the two countries.
Regarded the world's wealthiest country owing to its small population and rich reserves in oil and gas, Qatar offers vast export opportunities for Zimbabwe, particularly in the agriculture sector.
Based on its GDP per capita, Qatar is ranked among the Top 10 richest countries in the world for 2015 and 2016 – according to data from the World Bank, the United Nations and the International Monetary Fund.
Despite sanctions imposed by its neighbours – Saudi Arabia and the United Arab Emirates – the country's economy has continued being on a growth trajectory.
While the country is rich in oil, gas and other fossil fuels, Zimbabwean companies need to take advantage of the fact that the country is diversifying its economy through the Qatar Investment Agency and is exploring opportunities in tourism, mining and other sectors.
So important is Qatar to Zimbabwe's economic matrix that soon after his inauguration as President of the Second Republic, President Mnangagwa was invited to visit the Middle East nation by High Highness Sheikh Tamim bin Hamad al Thani.
Discussions between the two leaders centred around Qatar's thrust for a post-oil economic agenda premised on unlocking opportunities in agriculture, mining, tourism and infrastructure development.
Bilateral ties and prospects for cooperation were taken to new heights with the signing of agreements in the fields of agriculture, trade and technical cooperation.
It is also because of the discussions between the two leaders that unhinged doors for the introduction of direct flights between Zimbabwe and Qatar in August last year.
As Zimbabwe seeks to diversify its export markets envisioned in the National Export Strategy launched by President Mnangagwa in 2019, Qatar presents a promising market for locally produced products and services. Given the position of Qatar as an airline hub, local exporters should be able to find it easy to connect with the rest of the Gulf Cooperation Council, which are important market for Zimbabwean products like horticultural produces.
There is now an opportunity for local exporters to reduce costs and time unlike before where they were faced with hefty costs of flying goods through connecting multiple flights.
Exporters now need to understand the import structure in Qatar and requirements for landing products into the market. According to the 2020 Trade Map, Qatar imported products worth around US$25,8 billion and major supplies were the United States of America, China, United Kingdom, Germany, India and Turkey.
Zimbabwean exporters have an opportunity to supply an array of products in sectors such as horticulture, household furniture products, meat, essential oils and pharmaceuticals.
Fruits and nuts are some of the low hanging fruits for export for local farmers.
Zimbabwe's fruits are globally regarded as tastier and of better quality compared to the competition.
According to ZimTrade, top products already grown in abundance in the country that can be exported to Qatar include pineapples, avocados, guavas, mangoes, dates, figs, citrus fruits, berries, bananas, apples, pears, watermelons and papayas.
Apart from fruits and nuts, there is also a viable market for edible vegetables and certain roots and tubers whose total import figure in 2020 was US$239 million.
Other vegetables in demand in Qatar include onions, shallots, garlic, leeks and other alliaceous vegetables, tomatoes, dried legumes and potatoes.
Zimbabwe's agriculture sector has the potential to produced imported products in demand in Qatar.
There is also a high demand for household furniture that includes beds, mattresses, lamps and lighting fittings. Considering that furniture products are bulk in nature and generally require ocean freight, local manufacturers are encouraged to produce modular designs that can easily be assembled at the final end market or by the end use at their home.
A promise market for sheep, goat and fowl meat abounds in Qatar with imports amounting to US$198 million for goat and sheep and US$191 million for fowl meat last year.
This is an area that has great potential and awaits to be utilised by local farmers.
Of all the countries that President Mnangagwa has visited since his inauguration, Qatar is a unique destination given its current uneasy relations with its four Arab neighbours and the undeniable fact that since the discovery of oil, the country has become one the richest nations in the world.
The pathway has already been prepared by President Mnangagwa's diplomatic arsenal premised on the rallying call of "Zimbabwe Open for Business."
Not so long ago, before the discovery of oil and gas fields in 1939, Qatar was just a poor country literally depending on its neighbours for sustenance.
In 1973, oil production and revenues increased dramatically, catapulting Qatar out of the ranks of the world's poorest countries and become one of the countries with the highest per capita incomes in the world.
So Zimbabwe has a lot to learn from Qatar's experience. Unlike Qatar, which is predominantly a desert country, Zimbabwe boosts of huge flora and fauna and large tracts of arable land.
While many in Zimbabwe may regard Qatar as a far off distant country, it is important to note that the country's relations with the Arab state date back to the early 1990s.
Diplomatic ties at the level of non-resident ambassadors started on June 11, 1998.
A Memorandum Of Understanding was signed between civil aviation authorities in the State of Qatar and Zimbabwe on June 5, 2007, while an air services agreement was signed between the two countries.
Aviation is one area where Zimbabwe can establish strong bonds with Qatar Airways rose from being a regional carrier to 'best airline in the world'.
There is therefore need for the two countries to develop a road map that deals with issues of agriculture and exploit the advantage that Zimbabwe has in producing non-genetically modified produce ranging from livestock or animal protein to plant or plant of crop protein we well.
It is thus not a coincidence that President Mnangagwa was accompanied by his Lands, Agriculture and Rural Development Minister, the late Perrance Shiri during his trip to Qatar.
This was an acknowledgement of because the huge export potential in cereals, horticultural produce, cotton and tobacco.
Another sector that is critical for Zimbabwe's economic revival is the tourism sector, which resembles a long hanging fruit given the potential it has in generating the much needed foreign currency.
Zimbabwe needs to learn from Qatar's ambitious five-year development plan aimed at boosting visitors from 964 000 as of 2007 to 1,5 million in 2010.
The Qatar government allocated some $17 billion for tourism development, most of which towards hotels, exhibition space and infrastructure.
As a measure to keep up with the rising number of tourists, the Qatar government set a goal of increasing hotel capacity to 400 percent by 2012 a feat that it has already achieved.
Qatar is critical in fulfilling President Mnangagwa's vision of improving infrastructure and having a prudent driven financial sector.
Qatar has one of the most sophisticated transport system in the Gulf.
In terms of the banking sector, Qatar is arguably the only country in the Gulf region that managed to escape the direct impact of the global subprime fallout- emerging as the best performing of the Gulf Cooperation Council markets (GCCC) in the last quarter of 2008.
Qatar is different from other countries that Zimbabwe has bilateral ties with in that relations are not weighed down by historical baggage or fundamental differences on the international arena.