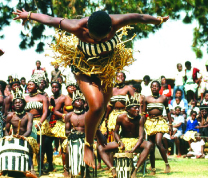 The ManicaPost
Friday Lessons with Sir Mwanyisa
GREETINGS learners, parents and guardians!
Welcome to your Visual and Performing Arts weekly lessons brought to you by your favourite newspaper, The Manica Post.
I expect you to have an exercise book and a pen to write the work given as exercises.
Today, our topic is on the importance of dance in life.
You are expected to explain the importance of dance in life.
Each culture has its own dances and it is easy to associate dance with the origin of ethnic groups.
Apart from the common functions of dance that include entertainment, communication, emotional expression and aesthetic enjoyment, dance plays an important role in society.
Employment creation
In our previous lessons, we learnt about occupations in dance. Dance on its own is a career.
One can be a choreographer, a dance therapist, a teacher, an administrator or choose many other career opportunities in dance.
Development of thinking skills
The art of dancing to various rhythms is practiced during dancing.
The ability to change or alternate moves is complex and calls for creativity and innovation.
Just like physical exercise, dance promotes the development of mental skills.
Thinking skills are not only confined to dance but to other areas of life, including education.
Discipline
Those involved in dance need to be committed in order to master the skills. Commitment is a form of discipline.
Discipline is developed through the ability to follow directions from the director, then imitate and follow routines as instructed.
Discipline is an important value that constitutes qualities of ubuntu.
Health and fitness
Health and fitness are not only developed through nutritional foods but also through dance.
The ability to coordinate the muscles to move to proper angles and positions, flexibility and coordination can be achieved through dance.
As one engages in dance patterns, the respiratory and circulatory systems are improved.
Development of social relations
Human beings are naturally social beings and dance teaches people how to socialise with others as they dance in groups.
Working together eliminates discrimination whilst promoting unity and cooperation.
It is through dance that people appreciate individual uniqueness and own limitations.
Knowledge about music
Dance is incomplete unless accompanied by music, rhythm or beat.
There is need to match the rhythm, beat or music to the dance style.
The meaning of dance should be in line with the theme of the theme.
Developing confidence
Self confidence is an important part of personality development.
Students develop confidence through being used to perform to the audience at different functions.
Such experiences help students to face challenges in real life situations.
Confidence is important in developing a positive self image about one self.
Dance is therefore important for social and economic reasons.
These include employment, discipline, health and fitness, social relations and knowledge about music.
Task
Find out more about the importance of dance.